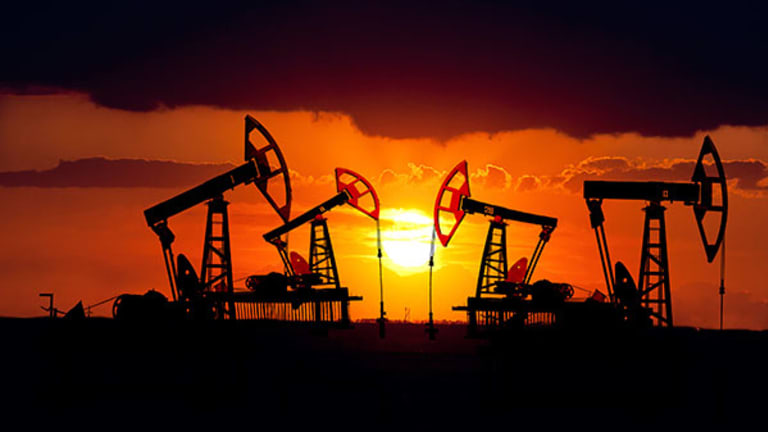 Sudden Backdraft in Oil Prices Likely to Crimp Earnings Outlooks, Boost M&A
Energy behemoths report third-quarter earnings this week and for investors, there is a lot to be concerned about.
NEW YORK (TheStreet) -- A sudden backdraft in oil prices could temper a host of earnings from energy bellwethers scheduled this week, led by Chevron (CVX) , ConocoPhillips (COP) , Exxon Mobil (XOM)  and National Oilwell Varco (NOV) . In the process, profit growth could lead to renewed interest in M&A to boost production profiles for some and asset sales for others due to less attractive ROI.
Oil executives are likely to suggest the recent slide in global oil prices has been an overreaction and long-term fundamentals remain intact. However, cash flow is still king. Investors need to hear that if the slash in oil prices does in fact linger, something Goldman Sachs is now expecting, companies are positioned to weather the storm, especially in geopolitically unstable areas like the Middle East, Russia and Africa. 
Along with the free fall in WTI and Brent oil prices, investors shouldn't overlook the weakness in Henry Hub natural gas prices heading into this winter season, something that could make ConocoPhillips earnings more vulnerable.
A focus on efficient production growth in the E&P space may further force consolidation with companies like Marathon Oil (MRO)  and Anadarko Petroleum (APC)  as likely takeover targets. Exxon has been rumored to be interested in Andarko and SandRidge Energy (SD) , a company with recent executive turmoil and a more attractive stock valuation.
A need to gain exposure to liquid natural gas may also make Cheniere Energy (LNG)  a possible buyout candidate, especially since the company needs cash for expansion at a time the U.S. is considering more gas exports. Talisman Energy (TLM) , which has seen option call buying escalate, has been a target of Repsol YPF (REPYY)  , a deal that could happen more sooner than later given energy prices depressed, despite management being coy on the subject.
Further strengthening the case for M&A is gasoline prices at four-year lows. This could be a double whammy for E&P players with refinery exposure since refinery revenues and operating margins will likely further weigh on earnings and outlooks. Weak refinery margins may hurt companies like Valero (VLO)  and Tesoro (TSO)  in addition, investors may be questioning the timing of Exxon's additional $1 billion investment to expand its Antwerp refinery in Belgium. Companies like BP (BP) , Sinopec (SHI) , CVX and Total (TOT)  may also need to consider synergistic acquisitions to boost efficiency or they may decide to shed assets to boost cash flow. Keep in mind, Total, may be less inclined to pull the trigger on a move in 2015 with a new, young CEO at the helm.
The sudden, tragic death of Total's CEO Christophe de Margerie may also prompt E&P executives to address succession plans on upcoming earnings calls. Rex Tillerson, age 61, has now been the CEO and chairman of ExxonMobil since 2005 (two years longer than his predecessor Lee Raymond). That is longer than the average 5.5-year average for CEOs.
If oil prices remain weak, dividends could come under pressure for some E&P names needing to find new ways to boost earnings and offset a slowing production profile.
However way you slice it, for investors, this earning season will likely be turbulent for Big Oil and that should make for an interesting 2015. 
This article is commentary by an outside contributor, separate from TheStreet's news coverage.
At the time of publication, the author had no positions in stocks mentioned.
Follow @bluephoenixinc