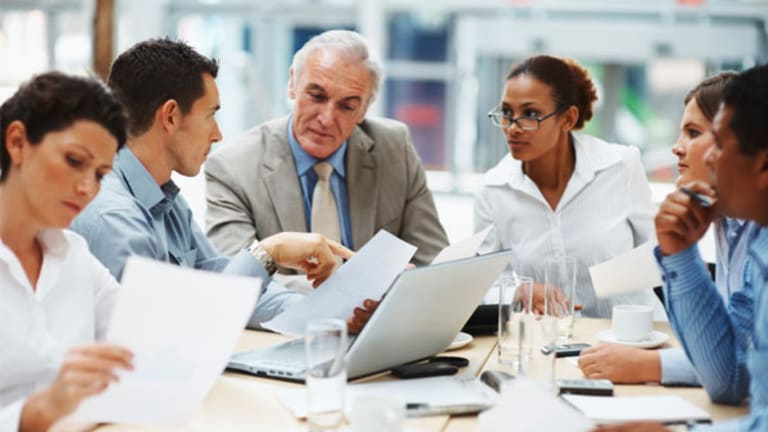 Successful Leaders Roll With the Punches: Leadership Matters
The CEOs of Xerox, Amazon.com and PepsiCo are making the necessary adjustments to lead their companies.
The CEOs of Xerox, Amazon.com and PepsiCo are making the necessary adjustments to lead their companies.
"A ship in harbor is safe -- but that is not what ships are built for."
-- John Shedd
NEW YORK (
) -- This quote, first published by Shedd in 1928, depicts in large part the challenge of the new generations of CEOs beginning to take over the reins of the corporate world. Throughout the globe, recently appointed leaders are finding, that even with long succession development, the role they planned to play has morphed into something more complicated and more urgent. The good news in all of this is that there are several leaders that seem poised to make the adjustment and drive full steam ahead. Here are three to watch.
Ursula Burns, CEO, Xerox.
Burns was appointed in May to take over from the somewhat legendary Anne Mulcahy. Burns is not only the first African-American woman to run a major U.S. public company, she's also the first woman CEO of a major public company to succeed another woman CEO. With all of these firsts, Burns has her hands full to reestablish
Xerox
(XRX) - Get Report
as more than just a copier maintenance company.
She seems to be doing that. Xerox has beaten analysts' earnings estimates for the last two quarters. With recent announcements of new technology in color printing as well as some exciting developments in glossy paper made from sustainable resources, Xerox seems to be steering in the right direction. While some employees have said Burns' focus is too much on the financials, she also has been mentored by Mulcahy over the last couple of years to take this role. Her willingness to focus on her strengths while surrounding herself with others who can fill in the gaps likely will drive her success in the future.
Jeff Bezos, CEO, Amazon.com
I've written in this column before about
as a leader and while not everybody will agree with everything regarding my assessments, I stand by the fact that he is worth the recognition. However, for the purpose of talking about leaders in current times, the amazing leadership characteristic that Bezos has is his ability to mold the culture of
Amazon.com
(AMZN) - Get Report
to adapt to changing conditions. He is obviously visionary and he clearly doesn't mind taking risks. But more importantly, he takes his company with him.
I have often worried about companies that adopt the method of studying "best practices," not because they can't improve their processes, but because by definition they are followers of what others have done before. Bezos has created a customer-focused culture, in large part because having a competitor-focused company means you always step second, or lat. Focusing on the customer means employees can be more engaged in the growth and identity of the company. And for strong leaders, employee engagement is a primary tool to business growth.
Indra Nooyi, CEO, PepsiCo.
It would be impossible to list successful leaders of today without including Nooyi as perhaps one of the most talked about CEOs in the pack. In fact, 2009 marks the fourth straight year that Nooyi has been chosen the most powerful woman in the U.S. by
Fortune
. Nooyi today spends much of her time traveling the globe, visiting
PepsiCo
(PEP) - Get Report
employees and partners around the world as she has focused on the role of a "visible" CEO. In times of uncertainty, she believes that followers want to see their leader, and she is doing everything possible to make that happen.
Focusing on conditions for success of employees is part of the what makes Nooyi's approach so successful. Recently recognized by
BusinessWeek
as one of the "Best Places to Launch a Career," PepsiCo was also lauded for its investment in compensation, training and advancement opportunities for employees. While focusing on connecting with employees, Nooyi also is known for her efforts to raise awareness in the battle against climate change and other environmental issues. The balance between the internal and external focus sets her apart from many of her peers.
The lessons we have learned in the last few months have been mostly from leaders who have lost their path or forgotten their role and their impact on others. It is easy to become cynical about leadership and to believe that all successful corporate leaders are cutting corners and hiding the "truth." Media loves controversy and as a result it is more difficult to find the positive examples of success that we need to see.
It's not important that you try to emulate Burns or Bezos or Nooyi. What is important as a leader is that you remember that success can be found in the most difficult times. In fact, it is easy to be a great leader in great times (at least in the eyes of your followers). But that's not what leaders are for. Leaders make a positive difference when times are challenging. If you pay attention to what's going on around you, you'll find these positive and successful leaders everywhere. Perhaps they won't be in the headlines as often as the terrible ones, but they are there nonetheless. It is worth it to take the time to find them.
-- Written by Todd Thomas in Southfield, Mich.
Leadership Development Specialist, L. Todd Thomas ("Dr. Todd") PhD, M.S, M.A, is Founder of
IMPACT Consulting and Development
. Dr. Todd holds a PhD in Human Communication, Masters in Educational Psychology and a Masters in Interpersonal Communication. He was a professor at North Carolina State University and Indiana University before leaving for the corporate world. He led Organizational Learning at Rockwell Avionics and was the executive responsible for Organizational and Executive Development at Daimler Financial Services for 10 years. Dr. Todd has coached and consulted with over 3000 leaders from 40 different countries spanning 4 continents. He is a speaker, seminar leader and the author of "Leading in a Flat World: How Good Leaders Become Greatly Valued." Other titles include "Life Lessons for Leaders" and "Stop Wasting Your Time: Creating High-IMPACT Meetings" as well as the "Leadership Integrity Quotient(tm)" leadership assessment.