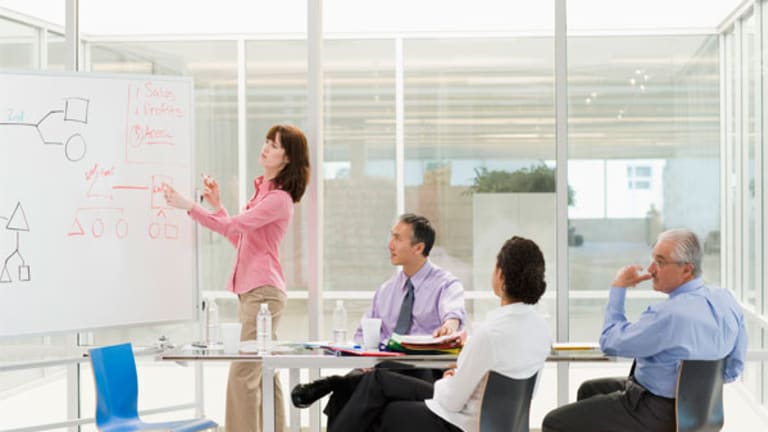 Successful Buybacks Need Clear Message
A share buyback can be a powerful tool to strengthen a corporation's hand. The key to unlock its potential is consistent communication with shareholders.
The following commentary comes from an independent investor or market observer as part of TheStreet's guest contributor program, which is separate from the company's news coverage.
NEW YORK (
) -- Amid continued concerns about the unemployment rate and torpid U.S. economy, many of the nation's largest corporations have been quietly
stockpiling huge cash reserves
, too uneasy about future market conditions to hire new employees or even invest in their own operations.
Analysts say second-quarter earnings reports for
Dow Jones Industrial
companies
that cash and short-term investments at 24 of the 30 companies has grown to $256 billion, up 18% from one year ago. Among companies with larger-than-normal cash reserves are
Caterpillar
(CAT) - Get Free Report
(up threefold);
Microsoft
(MSFT) - Get Free Report
(up 43%);
Johnson & Johnson
(JNJ) - Get Free Report
(up 57%); and
Coca Cola
(COKE) - Get Free Report
(up 38%).
Apple
(AAPL) - Get Free Report
, it is worth noting,
reported a cash reserve of $75.876 billion
, more than the U.S. government.
In recent months, with stock prices under pressure and cash on hand, companies such as
AOL
(AOL)
and
News Corporation
(NWS) - Get Free Report
announced that they will use those cash reserves to
buy back
their own stocks. They join a long list of others that have announced stock repurchase programs, including giants such as
Best Buy
(BBY) - Get Free Report
,
Disney
(DIS) - Get Free Report
,
(FLR) - Get Free Report
,
Home Depot
(HD) - Get Free Report
,
Pfizer
(PFE) - Get Free Report
and
Visa
(V) - Get Free Report
. And the list goes on.
>> Get your financial news on the go with TheStreet's iPad app.
Hoarding cash seems like sound fiscal policy to many, given the 2008-09 financial crisis and credit crunch still casting a pall in the boardrooms and offices of corporate America. Long-simmering worries over the seemingly intractable debt crisis in Europe and continued economic turmoil and market volatility here at home, were naturally exacerbated by Standard and Poor's decision to downgrade the U.S. government's AAA credit rating and also by the
U.S. Federal Reserve Bank's
recent
.
While many analysts see stock-repurchase programs as a boon to share price, the strategy also has harsh detractors. When the stakes are as high as they are in this market, any company that is likely to find itself ready to authorize a share repurchase must have in place a communications plan to ensure its ultimate success in creating share value. And, with corporate credibility at or near all-time lows and shareholders willing to believe the worst until proven wrong, companies must seize the narrative before analysts and talking heads write it for them.
Consider a few arguments in favor of repurchase programs. Supporters argue that they
represent a strong vote of confidence
in the market in general, and in the company's future prospects and ultimate value of its stock, in particular. They argue that it makes sense for a company to buy back its own shares when it believes that its
best use of excess cash is to invest in itself
, particularly when that decision is based on a capital allocation strategy with clear metrics that ensure a promising rate of return.
When a company repurchases its own stock, the number of outstanding shares on the market is, of course, reduced and the value of those remaining is increased. Repurchase programs can also
improve a company's all-important earnings share
and generate interest in the stock, increasing demand and improving price. Finally, repurchase programs are a means to prevent dilution of management control and to fend off takeover attempts.
Critics, on the other hand, are quick to point out that there is
little evidence
that the short-term gains that sometimes follow a buyback announcement -- such as
AOL
recently made, for example -- can be sustained over the long haul. They argue that, even when buybacks seem to be good investments, companies would be better served by hiring or investing in capital improvements or other securities. And, they note,
buyback announcements are just that - announcements
, with no obligation for the company to abide by their promises to repurchase shares of stock if market forces change.
Which of these arguments will ultimately win the minds of a skeptical investing public depends on how articulately a company explains the merit of the program. The market system, fundamentally, is built on trust and investor confidence without which companies cannot hope to build lasting share value.
But commitment to the ideal is not enough. Companies need a plan, well-crafted messages, and credible spokespeople. Comprehensive and effective communications drive more than a one-way flow of information from company to investor; they also fosters a dialogue among management and the investor community that saturates the marketplace with persuasive arguments, enhances value, and closes the door on detractors.
This commentary comes from an independent investor or market observer as part of TheStreet guest contributor program. The views expressed are those of the author and do not necessarily represent the views of TheStreet or its management.