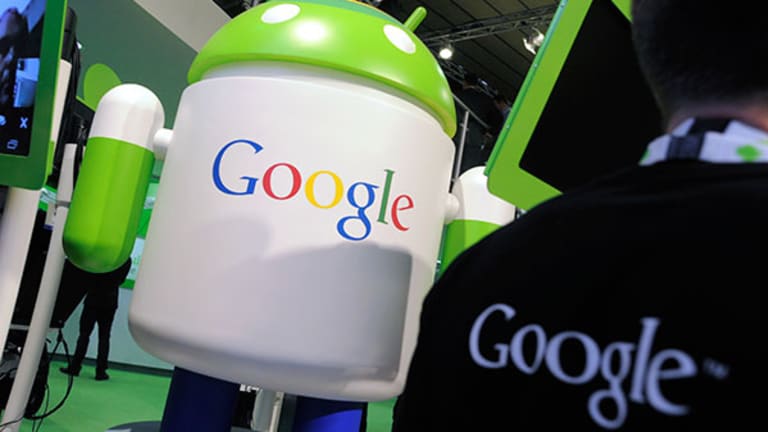 Appleundefined iOS and Alphabet (GOOG) - Get Alphabet Inc. Class C Report Android users share fewer things in common than previously thought. Further, the most devout fans of these mobile device operating systems get touchy fielding criticisms of their preferred operating system; and they don't hesitate to criticize the opposition.
This may be because they use the systems differently. It's easy to criticize what you don't need. 
A survey by mobile ad vendor Apps Flyer found that Apple and Android users download apps at different times of the week and day and for often different purposes. Apple users tend to download apps more on the weekend. The study found that Apple users tend to be wealthier and more interested in business-related apps than Android users. 
data by
It remains to be seen which company's system will generate the most users and greatest loyalty. That said, the findings may resonate significantly with investors studying companies that rely on apps for revenue, and on the companies themselves as they make decisions about where to allocate research and development budgets.  
These questions arise amidst and interest and unpredictable time in the technology and online spaces -- one in which advertising is playing an increasingly important role. For many companies, the key to success will depend on their ability to generate online advertising revenue.
In turn, that will depend on their ability to pinpoint audiences. 
Yet many companies lack a mobile strategy, perhaps because they are not confident in their understanding of the space. Even some of the biggest online brand names, including Twitter and LinkedIn, have struggled to generate enough revenue from mobile ads -- or to demonstrate that they soon will -- to satisfy investors and analysts. 
data by
That ability may ultimately dictate whether some online firms, social media, retail or otherwise, thrive or languish. 
Apple Users Pay More
The AppsFlyer study looked at 1.1 billion paid installs and found that Apple users are wealthier than Android users. That may be because Apple phones cost a premium and don't offer any truly low cost options. Android users, meanwhile, have the choice of similarly priced phones or low cost options.
In turn, this may mean that users have different desires when choosing to pay for an app. Apple users are twice as likely to pay for a business-related app or productivity app. Android users, however, are three times as interested in social networking apps and much more interested in entertainment. Knowing what users of either operating system are interested in is a good way for app developers to target the right audience.

The times when Apple and Android users download new apps also differs. Apple users are 25% more likely to install new apps on the weekend than the weekdays. Android users consistently install apps throughout the week, with a small 6% increase during the weekend.

Why This Matters
These findings are especially important because companies are increasing their investments in mobile apps. In 2013, only 7% of companies reported having a mobile app strategy. In 2015, app developers Red Hat Mobile reported in its annual survey that 52% of companies have a mobile app strategy.
In the most recent survey, nearly 80% of companies planned to increase their investment in mobile by more than 10%.
The reasons for this increased focus on mobile are varied. Some of the companies reported that they're doing it to transform their business. Others say it's to automate existing business processes.
The Decline in Tech?
Many different types of companies from a wide range of industries have invested in app development. Spotty results for their app strategies have been particularly painful for the social media giants Twitter and LinkedIn. 
Twitter has one of the most successful apps in drawing users. Yet its inability to develop a robust ad strategy, including for mobile, was a major factor in costing the company's former CEO, Brian Costello his job, and has continued to frustrate investors. Twitter shares have declined more than 35% in 2016 based on its closing price Feb. 11. A number of senior executives have more recently left the company. 
Despite a smartly monetized and popular app, the professional networking company LinkedIn's stock price dropped more than 47% last week, although that may have come because the company issued lowered guidance for the coming quarter. Regardless of that, or whether it is caught up in another dot com-like bubble, LinkedIn will have to do improve its ability to generate revenue from advertising. 
This article is commentary by an independent contributor. At the time of publication, the author held no positions in the stocks mentioned.