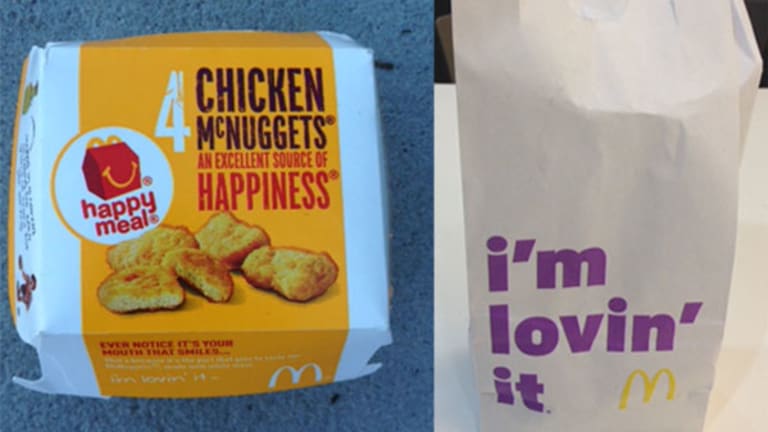 NEW YORK ( TheStreet) -- McDonald's (MCD) - Get McDonald's Corporation (MCD) Report  garnered plenty of attention on Super Bowl Sunday for a new promotion in which lucky customers can score free food simply by dishing out a hug or fist bump. But it's going to take a lot more than that to generate good feelings on the part of customers and investors. 
One key ingredient: the promotion of new healthier products of the kind that have caused people to migrate from McDonald's the past few years to the likes of burrito kingChipotle (CMG) - Get Chipotle Mexican Grill, Inc. Report and better burger jointShake Shack (SHAK) - Get Shake Shack, Inc. Class A Report , whose IPO scored a huge debut last Friday.
As part of the campaign, between Feb. 2 and 14, randomly selected customers will be asked by a McDonald's worker called a "Lovin' Lead" to perform an act of kindness to pay for their meal instead of cash. One hundred customers per store will be chosen to win free grub from their local McDonald's restaurant over the course of the campaign.
The first test of this marketing experiment, which certainly has the potential to go wrong on social media as folks seek out freebies and workers push the envelope of qualifying loving acts, begins on Monday.
The hugs-as-currency program essentially asks consumers to venture back into a McDonald's restaurant they once loved, drop a hug, and hopefully be selected at the checkout counter for free burgers and fries. The problem is that once inside the restaurant, those same consumers may well be reminded of why they don't like McDonald's in the first place, such as the absence of healthy alternatives, slow lines, greasy-smelling restaurants and a huge menu that continues to be stuffed with classic calorie bombs.
The disconnect between McDonald's TV marketing and McDonald's in real life comes at a time where the company, headed by a new CEO, is trying to transition to more upscale restaurant designs and a slimmer menu in order to reconnect with its defecting customers and reverse several quarters of U.S. sales declines. But Sunday's well-publicized Super Bowl ad tellingly references no food at all except for a customer ordering two hash browns and a small coffee.
McDonald's is spending its sizable TV marketing budget on ads that run counter to those from others in the restaurant industry. Competitors are emphasizing low-calorie dishes or sandwiches with a health and wellness angle.
Sandwich shop Subway, for example, began airing a TV spot late last year promoting "protein-packed" chicken with no artificial flavors. The company also called attention to the freshness of its lettuce and tomatoes in the commercial, which was set in a test kitchen with flaming grills and chefs in white coats.
Similarly, Applebee's, owned by DineEquity (DIN) - Get Dine Brands Global, Inc. Report , has started running a TV commercial for its new, affordable "Pub Diet" menu. Not only does the commercial highlight new entrees that are easy on the wallet and under 600 calories, but it tells the consumer the dishes are likely to include healthy grains or the superfood quinoa underneath their protein of choice.
The effect of McDonald's spreading the love at its restaurants won't be seen until it reports February sales results in early March. Should those sales disappoint, embattled McDonald's execs will need some hugs themselves.
This article is commentary by an independent contributor. At the time of publication, the author held no positions in the stocks mentioned.