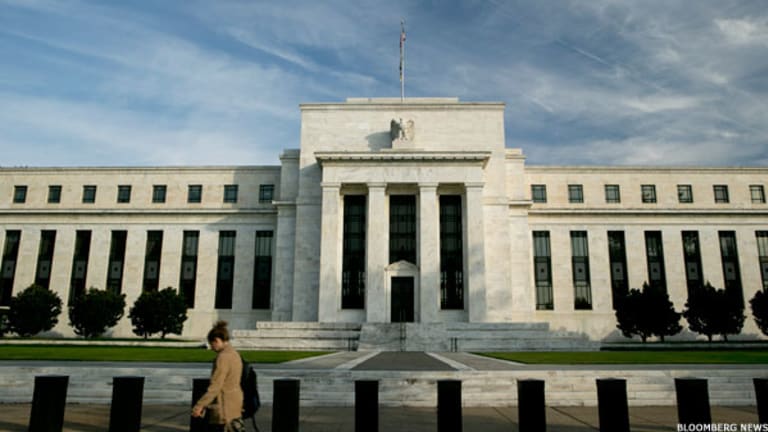 Strong GDP Growth Just Part of the Story: What We Really Learned About the U.S. Economy Today
The strong GDP numbers out today are just a part of the economic picture in 2014, going into 2015.
WEST CHESTER, PA (TheStreet) -- The enormous upward revision to third quarter U.S. GDP is the highlight of today's barrage of economic data, but it is backward-looking. New data on consumer spending, durable goods and new-home sales helped us assess the economy midway through the fourth quarter. 
The good news is that the economy is ending 2014 on a better than expected note, with consumers doing the heavy lifting. Real spending rose 0.7% in November, a brisk 4.5% gain annualized over the prior three months. This added more than a percentage point to our tracking estimate for fourth quarter real consumption.
The tailwind to consumer spending from lower gasoline prices is just beginning. Our rule of thumb is that each penny change in the price of a gallon of motor fuel saves or costs consumers $1 billion over the course of a year. Gasoline prices have fallen by 86 cents per gallon over the past year, so consumers should save nearly $86 billion, or 0.7% of annual nominal consumption. For perspective, this is noticeably more than consumers spent on household appliances in 2013, and could increase if gasoline prices continue to slide.
Lower gasoline prices will free up cash for consumers to spend elsewhere, and what households do with the savings will determine the direct economic impact. Some will pocket the difference, while others will pay down debt. New data on the savings rate suggest consumers are spending rather than pocketing the savings. The savings rate fell from 4.6% to 4.4% in November.
The good news on consumer spending was partially offset by disappointing housing and durable good order data. Housing continues to disappoint. New-home sales were soft in November, falling 1.6% to 438,000 annualized units, the fourth decline in the past six months. Revisions to prior months shaved 18,000 off new-home sales, leaving them within the range seen since early 2013. The U.S. economy has historically thrived when housing does well. However, it's not a necessary condition, as residential investment has contributed little to growth recently and real GDP has risen by at least 4.5% in three of the past five quarters.
If new-home sales were bad, durable goods orders were worse. Orders unexpectedly fell 0.7% in November, the third decline in the past four months. Some orders appear to be missing. For example, aircraft industry data showed a jump in civilian orders, but the durable goods report didn't capture that.
Core capital goods shipments rose 0.2%, reversing some of October's 0.9% decline. November's gain left shipments down 0.4% annualized over the prior three months. Some slowing was inevitable and is attributed to lower oil-related capital spending, but the durable goods data are inconsistent with survey-based data. We believe durable goods overstates the weakening in business investment.
All told, fourth quarter real GDP is now tracking 2.6% at an annual rate, up from 2.1% prior to today's flurry of data.
The fourth quarter will appear to be a disappointment now that third quarter U.S. GDP was so strong that pessimists will struggle to find a dark cloud. The revision confirmed that the economy has settled into a period of above-trend growth while reminding us that we can't put a lot of stock in the government's first estimate of GDP-measuring the economy in real time is difficult and requires a number of assumptions.
Third quarter GDP growth was revised to 5% from 3.9% at an annual rate. This was the economy's best quarter since 2003. The revisions exceeded expectations by more than 0.5 percentage point. There were sizable upward revisions to consumer spending and fixed investment.
The revision caught many economists by surprise. Revisions between the government's second and third GDP estimates used to be fairly small. This changed following the expanded use of the Quarterly Services Survey. Since then, revisions between the second and third estimates have grown to 0.4 percentage point on average in absolute terms, up from 0.2 percentage point from 2000 to 2010. Since 2013, the average absolute revision is even larger, averaging 0.7 percentage point.
The bulk of the upward revision was concentrated in segments where the QSS is used as source data. For example, healthcare spending growth was revised to 4.6% from 1.9% at an annual rate. Intellectual property was revised to 8.8% from 6.4% at an annual rate. For perspective, trend growth in intellectual property had been running around 4%.
The policy implications of the incoming data is minor as the strong third quarter won't test the Federal Reserve's patience, yet.
Read Ryan on Moody's Analytics Dismal Scientist.
This article is commentary by an independent contributor. At the time of publication, the author held no positions in the stocks mentioned.