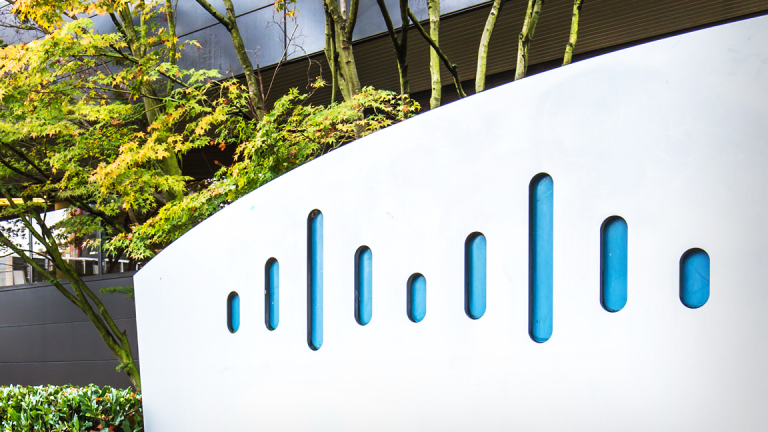 Strong Earnings From Cisco, HPE and Others Bode Well for Enterprise Tech Stocks
Quite a few enterprise hardware and software firms, including ones that struggled during much of 2017, have turned in strong earnings reports this year. Their IT spending commentary has also been positive.
One after another, major enterprise hardware and software vendors have delivered upbeat earnings reports in recent weeks.
The list includes both companies that have been taking share and benefiting from major secular trends, as well as ones that have been ceding share and/or facing secular headwinds. And when paired with upbeat commentary from IT giants and research firms, this provides reasons to think that corporate IT spending is set to grow at a healthy clip in 2018, as firms encouraged by healthy GDP growth and tax reform loosen their purse strings after holding them tightly in recent years.
And while markets haven't failed to notice the good news, the strength of the broader IT spending environment might allow many of the companies benefiting from it to rally further.
Over the last two weeks, we've seen a long list of good January quarter earnings reports from enterprise tech firms. Among the standouts:
Cisco
Cisco Systems (CSCO) - Get Free Report followed up on a slight October quarter sales/EPS beat with a stronger January quarter beat. The networking giant also issued above-consensus April quarter guidance and reported its product orders grew 5% annually, much better growth than the prior quarter's 1%. A 14% increase in Commercial orders (i.e., orders from non-Fortune 500-type companies) was the biggest driver.
HP Enterprise
HP Enterprise (HPE) - Get Free Report , which struggled for much of 2017, trounced estimates and hiked its fiscal 2018 (ends in October) EPS guidance. With the help of acquisitions and a strong Intel (INTC) - Get Free Reportserver CPU upgrade cycle, HPE saw double-digit server, storage and data center networking sales growth.
Salesforce.com
Salesforce.com (CRM) - Get Free Report beat estimates with the help of accelerating revenue and billings growth, and issued above-consensus quarterly and full-year guidance. The cloud CRM software giant also reported its unbilled deferred revenue balance rose an eye-popping 48% annually to $13.3 billion, a big improvement from the October quarter's 34% growth.
Workday
Workday (WDAY) - Get Free Report beat sales, EPS and billings estimates, and hiked its fiscal 2019 (ends in Jan. 2019) subscription revenue guidance. The cloud HR/financials leader's revenue growth slowed slightly, but was still at an impressive 32.5%.
VMWare
VMware (VMW) - Get Free Report beat estimates and issued above-consensus quarterly and full-year guidance. License revenue growth improved to 20% from the October quarter's 14%, and strong license bookings growth was reported for the vSAN storage virtualization platform and VMware's end-user computing (PC virtualization and enterprise mobility software) businesses. However, shares sold off on worries about the impact of a potential reverse merger with parent Dell.
Splunk
Splunk (SPLK) - Get Free Report handily beat estimates and offered above-consensus quarterly and full-year sales guidance. The machine data analytics software leader's revenue and billings growth respectively improved to 37% and 44% from the prior quarter's 34% and 38%.
Palo Alto Networks
Palo Alto Networks (PANW) - Get Free Report beat estimates and issued better-than-expected April quarter and fiscal 2018 (ends in July) sales, EPS and billings guidance. The next-gen firewall and security software vendor saw product revenue and billings growth improve to 20% apiece from the prior quarter's 14% and 15%.
The Rest
Before this, we saw a slew of tech companies with heavy enterprise exposure post strong December quarter (calendar Q4) reports. The list includes Action Alerts Plus holding Microsoft (MSFT) - Get Free Report-- the software giant beat estimates, reported 98% growth for its Azure public cloud business and saw 10% growth in Office commercial revenue. As well as Intel, which easily beat estimates on the back of 21% sales growth for its Data Center Group (DCG). A strong server CPU upgrade cycle helped DCG's enterprise and government sales rise 11%, in spite of the long-term pressure these sales from cloud infrastructure adoption.
One could also add that Amazon Web Services (AWS) saw revenue rise 45% in Q4, an improvement from Q3's 42% growth. Q4 earnings season did see a somewhat disappointing report from IBM (IBM) - Get Free Report-- Big Blue beat estimates with the help of a strong mainframe upgrade cycle, but offered subdued 2018 EPS and free cash flow (FCF) guidance -- but by and large was also pretty encouraging for enterprise tech names.
In addition to posting strong numbers, many big-name enterprise tech firms are providing upbeat commentary about near-term spending trends. "I think people are more optimistic in general," said Oracle (ORCL) - Get Free Report co-CEO Mark Hurd at a mid-February Goldman Sachs tech conference. He added that when companies see "a [global] GDP number that starts with a three," they tend to become optimistic. The World Bank has forecast 3.1% 2018 global GDP growth.
Cisco CEO Chuck Robbins offered similar remarks at the conference. "[T]here's a great deal of optimism right now in the global economy, probably more consistent than I can certainly remember for a very, very long time," he said. More recently, VMware CEO Pat Gelsinger stated on his company's earnings call that 2018 IT spending forecasts from research firms, though predicting stronger growth than for 2018, may still be a little conservative. "I think it's a very optimistic outlook for tech overall," he declared.
In January, research firm Gartner forecast global IT spend would rise 4.5% in 2018 to $3.68 trillion, after growing 3.8% in 2017. But that forecast only called for 0.6% growth in data center hardware, which -- with the qualifier that cloud adoption remains a long-term headwind -- looks cautious in light of the numbers Cisco, HPE, Intel and others have reported. Software spending is once more expected to outperform: Gartner sees its growing 9.5% this year, after having grown 8.9% last year.
Given what enterprise tech earnings reports have looked like so far in 2018, it might just be a matter of time before Gartner and its peers raise their full-year spending outlooks.
This column originally appeared on Real Money, our premium site for active traders. Click here to get more great columns like this.

On 'Technically Speaking'
Apolo Ohno, America's most-decorated Winter Games athlete ever, joined our 'Technically Speaking' podcast to give his impressions of this year's Games in South Korea, as well as to talk about a new blockchain start-up that he co-founded.