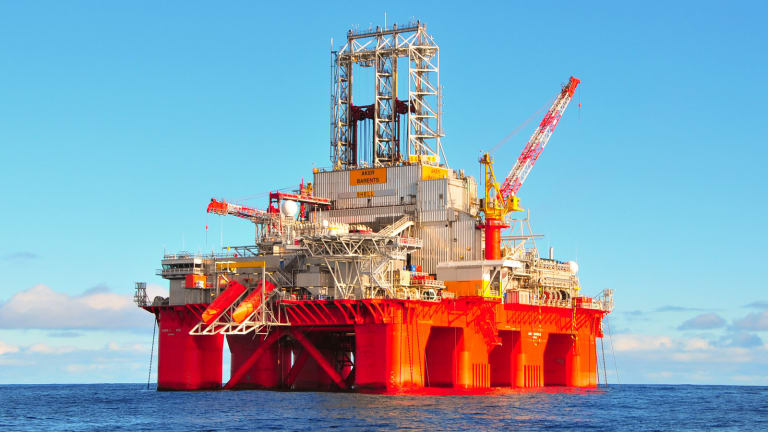 Stressed-Out Stock: Transocean Is Sinking Fast Amid Debt and Low Oil Prices
The debt-saddled driller is trapped by a merciless combination of falling rig counts, slowing demand and burgeoning oversupply. As oil prices continue to fall, the news will only get worse.
Today's oversupply of oil is presenting a catch-22 for the long-suffering energy patch, and that's bad news for the weakest players, epitomized by offshore drilling services giant Transocean (RIG) - Get Transocean Ltd. Report . The combination of a global oil glut, flagging energy demand and plummeting oil prices is crushing rig counts, explaining why Transocean is part of a group of distressed and "Stressed Out" stocks that TheStreet will be monitoring through these choppy markets.
U.S. crude prices now hover at $31 a barrel, about 71% lower than their highs in midsummer 2014. Some analysts warn that oil prices could fall as low as the $20 range, which would be the death knell for a host of overleveraged companies in the energy patch.
The sheikhdom that started this mess, Saudi Arabia, is now trying to step back from its disastrous price war and reduce output to bolster prices. However, events have spiraled beyond the OPEC leader's control. Strategists at Goldman Sachs recently declared it was "highly unlikely" Saudi Arabia could succeed in convincing major players such as Russia to reduce output, saying higher prices would simply bring dormant production back on line, which in turn would depress prices again.
The highly cyclical drilling services sector has been particularly hard hit.
According to the latest Baker Hughes rig count data, the U.S. crude oil-rig count has fallen by 41 rigs so far in 2016. Meanwhile, the U.S. Energy Information Administration estimates that U.S. crude oil production could fall by 116,000 barrels per day this month.
Not surprisingly, the benchmark iShares US Oil Equipment & Services (IEZ) - Get iShares U.S. Oil Equipment & Services ETF Report exchange-traded fund is down 7.4% year to date and 31% over the past year. Transocean's stock is down 19% year to date and 43% over the past year.
All oil-service companies have taken it on the chin, but Transocean is in the worst shape because of its massive debt and deteriorating cash flow. With a market cap of $3.4 billion and a far-flung global presence, Switzerland-based Transocean uses internal cash flows and capital markets to finance new build rig campaigns. A major problem for the company is that it primarily offers deepwater and harsh environment drilling services, two areas that were booming when oil prices were high, but which are now getting drastically cut back as oil prices drop.
As beleaguered exploration and production giants such as Chevron and Exxon Mobil reduce their offshore budgets, the riskier and more expensive offshore sources of energy -- i.e., those that are the farthest from land -- are first on the chopping block, in favor of closer to shore prospects that are cheaper.
During the glory days when oil was trading from $80 to $100 a barrel, Transocean overexpanded and is now leveraged to unsustainable levels. As new rig contracts in 2016 continue to dwindle, so will revenue for drillers. Those with the weakest balance sheets will suffer the most stress.
According to Transocean's latest operating results, the company's cash from operating activities weakened in the third quarter of 2015 compared with the same quarter a year ago. During this period, the company's operating cash flow decreased 26.5% to $648 million. And the company's new debt is on the rise. In the third quarter, Transocean's net debt-to-EBITDA ratio was 6.4, or 32% lower compared to the previous year's third quarter. Net debt is total debt less cash and marketable securities.
Transocean is scheduled to report fourth-quarter and full-year earnings on Feb. 24. On average, analysts expect the company to report earnings per share of 71 cents, down from 95 cents a year before. On average, analysts also expect the company's revenue to fall a sizable 24% in 2015.
Transocean stock now has 22 underperform or sell recommendations from Wall Street analysts. There are only 4 buy or strong buy recommendations and 11 holds As energy prices continue to gyrate and fall, the news will only get worse for Transocean.
For more articles on distressed stocks to avoid, read Real Money's "Stressed Out" stocks coverage. You can find more information on the index here.
As we've just explained, debt-laden Transocean is a terrible place for your money. For a complete list of the world's most dangerous stocks, download our free report. Using a little-known financial "health test," the stocks on this list are a failure in every category. Click here now to make sure you don't make the mistake of owning one.
John Persinos is editorial manager and investment analyst at Investing Daily. At the time of publication, the author held no positions in the stocks mentioned.