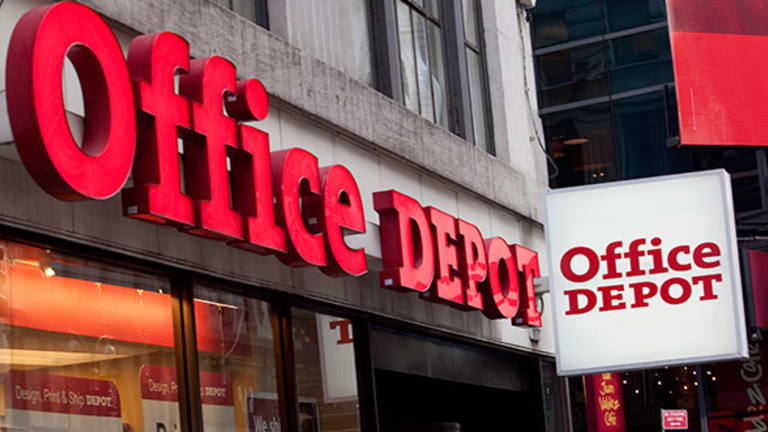 Publish date:
Stressed Out: Staples' Business Woes Could Help Its Bid for Office Depot
Staples may seek to convince regulators that it needs the smaller Office Depot in order to better compete with online rivals.
Staples may seek to convince regulators that it needs the smaller Office Depot in order to better compete with online rivals.
Staples' (SPLS) latest portrayal of itself as a business under siege by online foes could help in its bid to land smaller rival Office Depot (ODP) - Get Report .
Office Depot is a member of Real Money's Stressed Out index of 20 troubled companies that carry unsustainable debt loads and have a history of burning cash and resources in the absence of steady cash flow.  
On Monday, Staples announced a major shake-up in its executive ranks, citing the need to run more efficiently in a world where Amazon (AMZN) - Get Report and Walmart (WMT) - Get Report  hawk cheap office supplies online. 
The company promoted Shira Goodman, previously president of Staples' commercial business, to oversee the entire U.S. operation. Gone is long-time Staples U.S. chief Demos Parneros, who will step down by March 3. John Wilson, currently president of Staples' European division, will run international operations.
"We are streamlining the organization and building a simplified structure that will speed decision-making and enable us to focus on driving profitable growth," said Ron Sargent, chairman and CEO in a statement. Sargent added, "These changes will help us compete in a rapidly evolving marketplace, either as a standalone company or in combination with Office Depot."
The "rapidly evolving marketplace" cited by Sargent is one that has taken a toll on Staples.
According to research firm Euromonitor, the U.S. market for office supplies sold in stores has been in a protracted decline since 2007 and totaled $11.7 billion in 2014. Staples' market share fell to 38.2% in 2014 from 40.6% in 2013, estimates Euromonitor.
Staples' U.S. same-store sales fell 2% in the third quarter on declines in tablets, computers, tech accessories, and ink and toner. For the year, Staples earnings -- excluding items -- have dropped to 63 cents a share from 66 cents year earlier, with sales lower by 6.2% to $15.7 billion.
Meanwhile, the post-holiday season management overhaul hints at Staples being more open to shed assets -- such as by selling stores and commercial accounts -- to appease regulators concerned about diminished competition if the two companies merge. So far, the companies have proposed the sale of assets with revenue of up to $1.25 billion.  
The maneuver by Staples also signals that the business remains under pressure due to a rising number of online competitors.Staples currently operates over 2,000 stores in the U.S., but its new executives could seek to shutter under-performing stores following a thorough review.
Shares of Office Depot have gained about 2% since Staples' restructuring announcement this week, as investors hope regulators appreciate the meaning of the latest actions, and sign off on a deal. A combined company would likely move aggressively to cut over $1 billion in expenses, raising the prospect for solid earnings and cash flow that could be used to pay down debt.
Still, convincing regulators remains no easy task.
On Dec. 7, the Federal Trade Commission (FTC) filed a complaint charging that the proposed deal would violate antitrust laws by significantly reducing competition nationwide in the market for "consumable" office supplies sold to large business customers. Further, the complaint alleged that by eliminating competition between Staples and Office Depot, the transaction would lead to higher prices and reduced quality.
"The commission has reason to believe that the proposed merger between Staples and Office Depot is likely to eliminate beneficial competition that large companies rely on to reduce the costs of office supplies," said FTC Chairwoman Edith Ramirez.
An administrative trial to decide on whether the deal can go through is scheduled to begin on May 10, 2016.