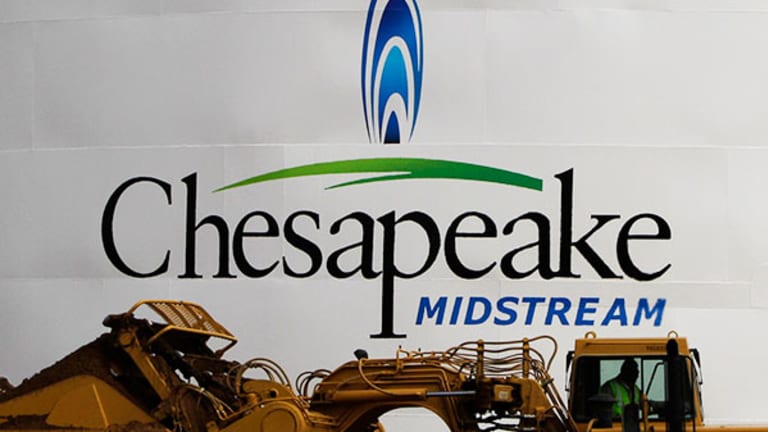 Stressed Out: Is This the Death Knell for Chesapeake Energy?
News of restructuring sent shares of Chesapeake Energy (CHK) plummeting Monday. Is there any room for improvement?
Editors' Pick: Originally published Feb. 8.
As oil prices plunge to their lowest levels in more than a decade, energy companies are keenly feeling the sting. Just last week, Royal Dutch Shell undefinedannounced that its adjusted profit had fallen 56% for the fourth quarter of 2015, compared with a year earlier. Oil blue-chip Exxon Mobil (XOM) - Get Exxon Mobil Corporation Report posted a similarly steep drop in earnings and revenue. And Chevron (CVX) - Get Chevron Corporation Report has posted its first quarterly loss in more than 13 years. But no energy company is looking quite as beleaguered -- or as toxic -- as Chesapeake Energy (CHK) - Get Chesapeake Energy Corporation Report . This stock is part of a group of distressed and "Stressed Out" stocks that TheStreet will be monitoring through these choppy markets.
On Monday morning, Chesapeake shares dropped more than 50%, to their lowest intraday level in 16 years. The stock, now changing hands at around $1.90, has lost 90% of its value in the last year.
What was the catalyst for this massive selloff?
Plummeting energy prices obviously are behind the stock's longer-term downtrend. West Texas Intermediate crude is currently trading near $30 a barrel, driven lower by fears of global oversupply and no sign of production cuts anytime soon.
The reason for Monday's selloff, however, was a report from Debtwire that the company has hired law firm Kirkland & Ellis to assist in restructuring its $9.8 billion debt load.
In order to break even, U.S. energy companies such as Chesapeake need crude oil priced in at least the $40s. With oil prices expected to stay at record-testing lows, companies are doing their best to remain liquid.
They're doing this merely to survive another few months, on the hopes that crude prices will eventually rise. Law firms such as Kirkand & Ellis that specialize in restructuring are being summoned to help with the process. According to Forbes, "Basically they're maxxing out their credit cards before the banks can cut them off."
Investors in Chesapeake's debt are rushing for the exits on fears that Chesapeake will not be able to pay or roll over that debt. Bond notes due March 2016 have plummeted from 95 cents last week to around 73 cents today. Longer-dated issues, including bonds maturing in 2017, are at all-time lows around 30 cents.
Standard & Poor's recently downgraded outlooks and credit ratings for 13 companies in the oil and gas sector. "While oil prices deteriorated over the past 15 months the U.S.-based investment companies we rate had been largely immune to downgrades," the S&P report said. "However, given the magnitude of the recent reductions in our price deck, most of the investment-grade companies were affected during this review."
S&P cut Chesapeake's credit rating to "CCC+" due to "unsustainable" debt leverage. This is now a dangerous stock of the first magnitude.
Across the energy sector, low crude prices have oil companies plunging and investors struggling for the exits. However, Chesapeake Energy, with its mountain of debt, is particularly stressed out with no sign of improvement anytime soon.
For more articles on distressed stocks to avoid, read Real Money's "Stressed Out" stocks coverage. You can find more information on the index here.
As you can see, Chesapeake Energy looks like a stock to avoid. However, if you want to see a list of the absolute worst stocks you can own right now, I urge you to take a look at this report called 29 Dangerous Stocks: Sell Now! Inside, you'll see a full list of the market's most overvalued stocks, and learn the process you can use to keep avoiding them in the future. Click here now for a copy.
This article is commentary by an independent contributor. At the time of publication, the author held no positions in the stocks mentioned.