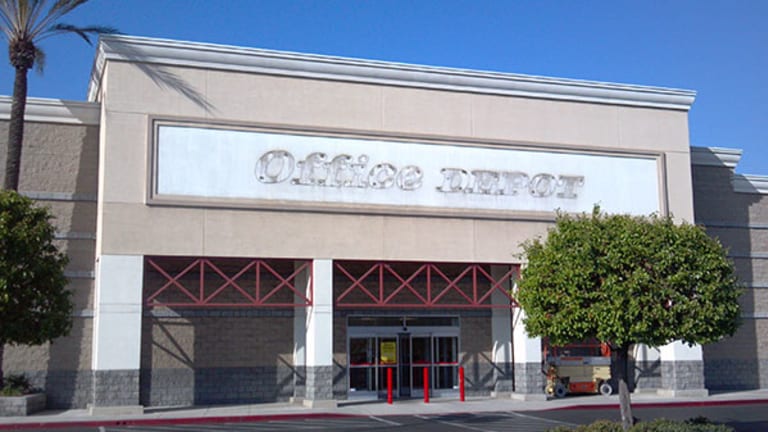 Stressed Out: Is Office Depot the Next RadioShack?
Office Depot has lost 90% of its value in the last 24 years -- and still has more room to fall. Are you prepared?
Editors' Pick: Originally published Jan. 29.
In early 1992, shares of Office Depot (ODP) - Get Free Report traded for over $50 a share. No one knew it at the time, but that would be Office Depot stock's all time high. 
Fast forward 24 years to today -- Office Depot stock is now trading for around $5 a share and is part of a group of distressed and "Stressed Out" stocks that TheStreet will be monitoring through these choppy markets. The company has lost around 90% of its value over the last 24 years.
Could the once-great retailer go the way of another former powerhouse, RadioShack? It's possible.
Despite massive declines over the last two decades, wealth destruction at Office Depot is likely not over.
Shares of Office Depot peaked in 1992, but they didn't lose the bulk of their value until the Great Recession of 2007 to 2009.
data by
In June of 2008, shares of Office Depot were trading for around $35 per share. By October of 2008 (just five months later), shares of Office Depot were trading for around $5 -- the same level they are at today. While some stocks are recession-proof thanks to strong competitive advantages in stable industries, Office Depot is not one of them:
2007 earnings-per-share of $1.43
2008 earnings-per-share of negative $0.88
2009 earnings-per-share of negative $0.90
2010 earnings-per-share of negative $0.12
Office Depot did not return to profitability until 2014; it took the company half a decade to recover from the last recession.
The company suffers during recessions because its larger corporate clients slash spending -- resulting in falling revenues and earnings for Office Depot. Consumers and small businesses also cut back on purchasing office supplies during difficult times.
Office Depot's business is far more reliant on its sales force which makes deals with businesses and the government than one would expect. In total, 41% of Office Depot's operating income comes from its business solutions division -- not its retail operations.
Long-Term Decline
Office Depot's long-term decline is due to changes in the office supply industry.
The company has to compete with deep discount big-box stores like Walmart, Target, and Costco -- all of which have a price advantage over Office Depot. The company also has to compete with online retail giants Amazon and (to a lesser extent) Walmart's online operations. On top of this, Office Depot is competing with Staples for office supply sales both online and in store.
Office Depot is simply the weakest of any of the major players in its industry.
Speaking of the industry, the office supplies industry is changing rapidly. Printer and ink sales are down -- which used to drive traffic to Office Depot. The change toward digital and electronic products in work environments is a net negative for Office Depot. These goods can be easily purchased elsewhere; either online or in big box electronic stores like Best Buy.
The factors that are pushing Office Depot closer to its corporate grave are surely not stopping. They aren't even slowing.
If You Can't Beat Them...
Office Depot and Staples are planning to merge. Note that Office Depot already owns Office Max. The merger would create an office supply company with about 70% market share in North America -- it it ever happens.
The time the deal has to get finalized has been extended by Office Depot and Staples to May 16, 2016. The reason the deal had to be extended is because the Federal Trade Commission has raised litigation to block the merger.
At this point, it is unlikely that a merger between Office Depot and Staples occurs due to the combined company having too large a market share.
A similar ruling recently killed a deal betweenSysco and U.S. Foods -- who were Nos. 1 and 2 in their respective markets; just like Staples and Office Depot.
Office Depot Is Cheap for a Reason
Office Depot is currently trading for a forward price-to-earnings ratio of just 9.
The company appears cheap at current prices and as Warren Buffett says:
"Price is what you pay, value is what you get"
(Click here to see 17 of Warren Buffett's best quotes analyzed.)
There is not much value left in Office Depot. Long-term declines have greatly diminished this once-strong stock.
Further, Office Depot's performance during the last recession shows the company cannot handle recessions. The company has triple the long-term debt it had during the last recession.
When the next recession hits (and we could already be in the early stages), Office Depot could very well go the way of RadioShack and close its doors permanently.
For more articles on distressed stocks to avoid, read Real Money's "Stressed Out" stocks coverage. You can find more information on the index here. 
This article is commentary by an independent contributor. At the time of publication, the author is long WMT.