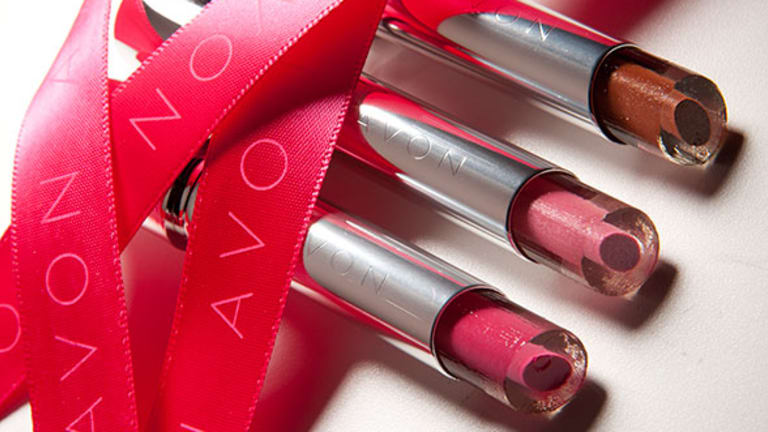 Stressed Out: Avon Is Calling -- Should You Answer?
Avon released dismal fourth-quarter earnings last week. Some analysts argue that the stock is a value play, but we think that is putting lipstick on a pig.
So far in 2016, there have seen many ups and downs in the stock market, often courtesy of earnings season.
Good news from companies such as Facebook has given their stocks hefty pushes upward. And weaker-than-expected reports from major companies such as Amazon have sent investors running for the exits.
Sometimes sell-offs merely provide good opportunities to scoop up shares of companies at fire sale prices. And sometimes they are just a reminder that a company is seriously flawed and that its stock is poised to fall.
The latter would seem to be the case for Avon Products (AVP) - Get Avon Products, Inc. Report , which released disappointing fourth-quarter and full-year earnings results last week.
Fourth-quarter total revenue fell by 20% to $1.61 billion. The company also reported a net loss of $333 million, or 76 cents a share, as compared with a loss of $331 million, or 75 cents a diluted share a year earlier.
This stock is part of a group of
distressed and "Stressed Out" stocks that TheStreet will be monitoring
through these choppy markets.
For the full year, sales fell by 19%, and the company had a net loss of $1.1 billion. These results mean that Avon is part of a group of fundamentally weak stocks that are in trouble.
Driving the dismal performance was declining revenue from the company's international operations. Fourth-quarter Latin America sales performed the worst, falling 26% year over year to $779.2 million.
Fourth-quarter sales for the company's Europe, Middle East and Africa segment declined 13% from a year earlier to $669.5 million. The Asia-Pacific division saw a decline in revenue of 16% to $158.6 million.
Last year, Avon divested 80.1% of its North American business in a bid to revive the division, which is now controlled by Cerberus Capital Management. The North American division thus no longer forms part of Avon's continuing operations.
After the earnings report, shares of Avon plunged by 23%.
Since then, however, the stock has risen and is up more than 6% on Wednesday.
AVP data by YCharts
But this move higher doesn't necessarily mean brighter days are ahead for the company. Instead, Avon looks like a doomed stock that in the past year has dropped by more than a whopping 62%.
The problem lies with Avon's outdated sales model. The company still relies on direct sales by brand representatives.
In these days of social media and beauty blogs, the Avon Lady wields less power.
Avon is aware of this and just last month announced a turnaround plan to improve the company's online presence along with other steps to modernize the business. The process will cost about $350 million and take three years.
But competition is fierce, and there is no guarantee that Avon's brand is strong enough to shift to depending on social media and the Internet for sales. In addition, management is focusing on spreading the business into developing markets such as Latin America, but potential customers there aren't as familiar with the brand as those in North America who watched their mothers and grandmothers purchase Avon cosmetics.
And let's not forget that the company owes more than $2.3 billion in debt.
Avon is a distressed stock for good reason. Although it might look like a good buy today, that is just lipstick on a pig.
Avon Products looks like a stock to avoid.
For more articles on distressed stocks to avoid, read Real Money's "Stressed Out" stocks coverage. You can find more information on the index here.
To see a list of the absolute worst stocks to own right now, take a look at this report called 29 Dangerous Stocks: Sell Now! Inside, there is a full list of the market's most overvalued stocks, and investors can learn how to avoid them in the future.
This article is commentary by an independent contributor. At the time of publication, the author held no positions in the stocks mentioned.