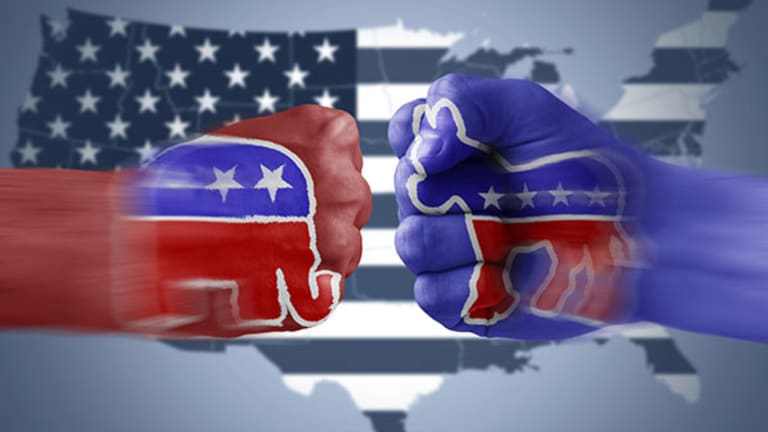 Publish date:
Streaming Video Means Larger Role for Facebook and Twitter in 2016 Election
Presidential campaigns are increasingly using video to present their message and engage voters
Presidential campaigns are increasingly using video to present their message and engage voters
NEW YORK (TheStreet) -- Nearly one year before election day, interest in the 2016 U.S. Presidential Election is high. Television ratings for the first two Republican Presidential debates have exceeded even the most optimistic estimates. But voters will be relying increasingly on online avenues to learn what happened, particularly video.
This will be the first Presidential election cycle where streaming will play a pivotal part in how candidates convey their message and how voters will learn about them. This is largely because such outlets as Meerkat, Periscope, YouTube and Facebook (FB) - Get Report have become go-to sources of information. They offer a more dynamic, engaging quality than print. Video is the latest development in how people communicate.
It is television in bite-sized pieces for limited attention spans and a thirst for the dramatic. The 2012 Obama campaign used video in 2012 to supercharge fundraising. They recognized video's power for portraying the President's vision for a second term. The Obama videos, which were accessible via apps, repeatedly spurred a flood of donations. The videos typically captured the candidate in what seemed were scripted moments – sometimes backstage only minutes before giving a speech. Donors felt as if they were sharing a private moment with the President.
Political consultants from both parties saw the Obama team's success and have even better tools with which to work. Video teams can produce better quality videos faster. They also have a keener understanding of how voters will respond to content, a result of algorithm-based systems that can dissect big data.
Expect Facebook and Twitter (TWTR) - Get Report to figure prominently in how each campaign positions its message. Reaching audiences on these social networks is paramount to a successful digital media strategy. Technology marketing companies will play a bigger role in helping the parties reach voters quickly with the most effective content. In some instances, they will be able to extract a clip from a live feed and deliver it to one of these social media networks – or others.
Among the end results: voters will be able to catch important events – blunders and successes – before they appear elsewhere. Online video will become the place for breaking news. Mainstream news outlets will follow social media outlets as they have been doing increasingly for most major events.
The cloud will be more important in this election than it was in 2012. It will enable campaigns to produce higher quality videos on the go. These campaigns will not have to depend on full-scale television production systems. They can use a laptop and camera to stream a video to a cloud using Long-Term Evolution (LTE) networks or WiFi. The video then becomes easily available to platforms throughout the U.S. – and beyond. Campaigns may even use Meerkat and Periscope to create interactions with voters, including the possibility of question and answer sessions. LTE is a standard of wireless communication of data for mobile devices. 
Live streaming may be part of election night itself as voters track results via their mobile devices. That would somehow be fitting given video's part in the build-up.
This article is commentary by an independent contributor. At the time of publication, the author held no positions in the stocks mentioned.