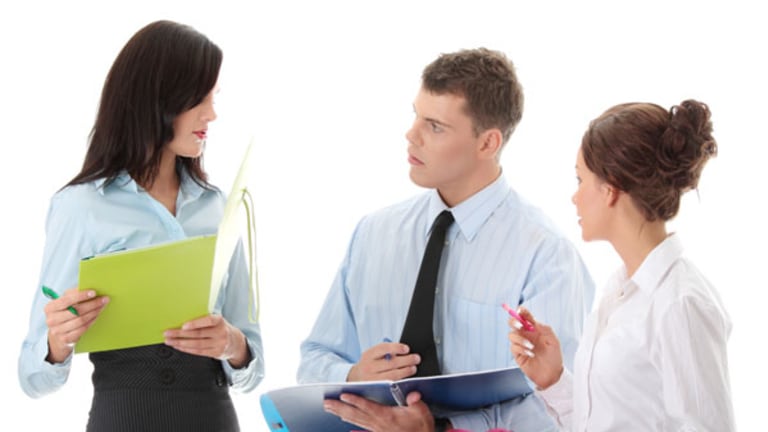 Warren Buffett's Wealth More Consistent Than Words
Warren Buffett says there won't be any U.S. double-dip recession, but the Berkshire Hathaway CEO hasn't give investors much reason to trust market "predictions," even from investors as smart as he is.
(Warren Buffett, Recession story updated for Buffett comments to CNBC, Moody's share sale, new Forbes 400 list)
OMAHA, Neb. (
) -- The Oracle of Omaha has spoken: no double-dip recession! No wait, that was last week.
Berkshire Hathaway
(BRK.B) - Get Berkshire Hathaway Inc. Report
CEO and don of old school American capitalism Warren Buffett predicted last Monday that there will be no double-dip recession and things are all A-OK with the U.S. economic recovery.
It seemed to be a bullish signal for investors, and the financial press grabbed Buffett's words and ran with them. Yet just a week later, Buffett is saying something different ... or at least amending his bullish statements.
Based on new statements given by the Oracle to
CNBC
it seems that there is no chance of a double-dip recession because we are still in a recession, according to Buffett. But didn't the National Bureau of Economic Research just declare the recession ended, as of June 2009? Did you really expect Buffett to agree with a cadre of elite, academic economists? Sure, and next he will start donating money to the Charitable Fund for Underpaid Investment Bankers, and Buffett righthand man Charlie Munger will trade in his seat on the board of Costco for a seat on the board of the Ford Foundation.
Buffett's comments may seem like the same old faith in the U.S. economy that the Berkshire Hathaway chief has evinced all along, and we should take them with a grain of salt for that reason alone. From saying Berkshire Hathaway's acquisition of railroad Burlington Northern was a bet on the U.S. economy, to investing in
Goldman Sachs
(GS) - Get Goldman Sachs Group Inc. (The) Report
at the worst moment of the financial crisis as a way to use his financial might to restore faith in the U.S. financial system, Buffett has always played the part of carnival barker for U.S. capitalism, calling all Americans to show conviction in their nation's financial future.
Warren Buffett also said last week that as a sign of his faith in the U.S. economy, Berkshire was hiring again. Yet now, Buffett is saying something less enthusiastic about hiring, too.
>>>View Warren Buffett's Portfolio
There's a big difference between investing billions of dollars in railroads or an investment bank and opining on the future of the U.S. economy. Buffett put his money where his mouth often is in the case of Burlington Northern and Goldman Sachs, but should it matter to investors when Warren Buffett offers investors rah-rah quotes about the U.S. recovery that aren't backed by huge investments, or even backed by comments made the next week? It's words versus deeds, acting versus action. And now, even the words are changing from week to week.
In Buffett's comments to the Montana Economic Development Summit last week, Buffett noted that Berkshire Hathaway is again hiring. Still, the fact that Berkshire Hathaway is hiring again doesn't exactly guarantee an economic recovery. Berkshire Hathaway had mass layoffs during the economic crisis, so getting back to normal doesn't necessarily mean surging ahead.
Now in comments given to Buffett media pal Becky Quick of
CNBC
-- it often seems that Buffett has a freelance media staff of three, comprising Andrew Ross Sorkin of
The New York Times
, Becky Quick and Carol Loomis of
Fortune
-- Buffett has more or less proven that the less optimistic view of hiring is the true case.
Buffett responded to Quick's question about employment by saying, "Adding very few people.... The railroad will have added a fair number of people, because if you've come back 61%, you've come back from a fair amount unemployment. But if you take our carpet business, it fell from 13 million yards a week, we'll say, to seven million yards a week. And with that cost 6,500 jobs. We're back up to maybe nine million yards a week. But we haven't had to add yet. If we get to ten million, we'll start adding people. But it -- it's lagging and it'll continue to lag."
Beyond Warren Buffett's comments on Berkshire Hathaway adding workers, there was little in his comments to the famed meeting of the Wall Street titans known as the Montana Economic Development Summit that wouldn't be classified as the typical boilerplate optimism about the U.S. economy.
"I am a huge bull on this country.... We will not have a double-dip recession at all. I see our businesses coming back almost across the board," Warren Buffett is quoted by
Bloomberg
as saying at the Montana event.
In fact, Buffett ruled out a double-dip recession. There was no mincing of words from the the Berkshire Hathaway CEO in expressing his confidence: "We will not have a double-dip recession at all.... It's night and day from a year, year and a half ago."
Now we know why there won't be a double dip recession, based on Buffett's more recent comments to
CNBC
: we're still mired in the old recession.
"I think we're in a recession until real per capita GDP gets back to where it was -- before," Buffett said. "That is not the way the National Bureau of Economic Research measures it. But I will tell you that to any -- on any common sense definition, the average American is below where he was before, or his family, in terms of real income, GDP. We're still in a recession. And -- and we're not gonna be out of it for awhile, but we will get out of it."
Buffett gets a lot of heat from the financial press that aren't in love -- or in awe -- of him, for being a hypocrite on the issue of derivatives, or over his investment in Goldman Sachs while he berates investment banking as an occupation. However, in this case, Warren Buffett has spoken the words himself that indicate why investors shouldn't pay attention to each and every word, from the bold the the hesitantly bold to the equivocating words, that he issues on the U.S. economy.
Remember when Warren Buffett was called to testify before the federal government's Financial Crisis Inquiry Commission (FCIC) back in June? Buffett refused to come forward voluntarily, and the feds had to issue a subpoena to get the Berkshire Hathaway chief to show up and provide testimony on the issue of the rating agencies.
>>Reluctant Warren Buffett Forced to Testify
Warren Buffett said the feds were wasting his time, and he had nothing worthwhile to offer on the subject of the rating agencies and the financial crisis. Yet when the FCIC began to interrogate Warren Buffett, the Oracle of Omaha kept coming back to one idea. It was clear pretty quickly in his testimony that Buffett was using the old public relations maxim of "answering the question you wanted them to ask, not the one they asked" and that he had a sound bite or two from which he wasn't going to wander away.
Over and over again, Warren Buffett made the point that even the smartest people in the world can't predict a financial crisis, and it's a fool's game to even discuss the subject of a financial crisis and why or how it happens. The Berkshire Hathaway chief went so far as to invoke Sir Isaac Newton in his financial bubble evasions before the FCIC. Buffett noted several times that Sir Isaac Newton invested in bubbles.
The logical conclusion of Buffett's testimony was that any attempt to predict financial downturns are pointless, and anyone who thinks it's a good idea to trust the smartest people in the world for advice on investing are making a mistake, as the best and brightest are still among the ranks of the fallible institution known as humanity.
>>Warren Buffett Crisis Commission Testimony
Sure, it was humble Warren Buffett, no surprise there. The man who is the second-richest in America, but was simply a lucky winner in the "ovarian lottery," thinks the humble way to go is to say it's beyond any individual's ability to opine on such intricate forces as the market's ability to take a turn for the worse beyond our ability to see coming.
If it's the case that even people as smart as Sir Isaac Newton and Warren Buffett are useless to investors as market prognosticators, then why do the financial headlines scream with every minor word of confidence that Warren Buffett offers on the U.S. economy? Especially when a week later he chops those words up, and reissues them as a less enthusiastic view of a minor economy recovery.
By Buffett's own words, neither he, Isaac Newton, NBER, or anyone else can claim to see such events before they happen, so maybe we should stop following Buffett's never-ending whistle-stop tour of comments about when and where and by how many carpets the U.S. economy will recover.
It seems there are only two cases in which Buffett is showing real consistency recently, making more money than any other American and selling shares of Moody's. The Forbes 400 -- the list of the 400 Richest Americans -- was just issued for 2010, and Buffett is again No. 2 behind
, with an estimated net worth of $45 billion.
>>Richest Americans Get Richer: Forbes 400
A little bit of that wealth has come from Buffett's big stake in Moody's, and that's his other recent show of consistency. After selling 1.3 million shares of Moody's concurrent with his comments on the economy in Montana, Berkshire Hathaway has followed up on that sale by unloading another 560,000 shares of Moody's, a sale that was filed with the SEC late on Wednesday.
There is too much back-and-forth in the latest "I've got your back, U.S. economy" comments from Buffett. So if there is anything that investors should be doing based on Buffett's words, maybe it should be limited to checking to see if there is any Moody's left in the personal portfolio, and hoping some of that wealth from the Forbes 400 -- which increased 8% this year -- trickles down to those Americans still living through the recession Buffett says the country is still stuck in.
--Written by Eric Rosenbaum in New York.
>To contact the writer of this article, click here:
NAME
.
>To follow the writer on Twitter, go to
.
>To submit a news tip, send an email to:
.
RELATED STORIES:
>>Richest Americans Get Richer: Forbes 400
>>Top 10 Big-Hearted Billionaires
>>Reluctant Warren Buffett Forced to Testify
>>Warren Buffett Crisis Commission Testimony
Copyright 2009 TheStreet.com Inc. All rights reserved. This material may not be published, broadcast, rewritten, or redistributed.