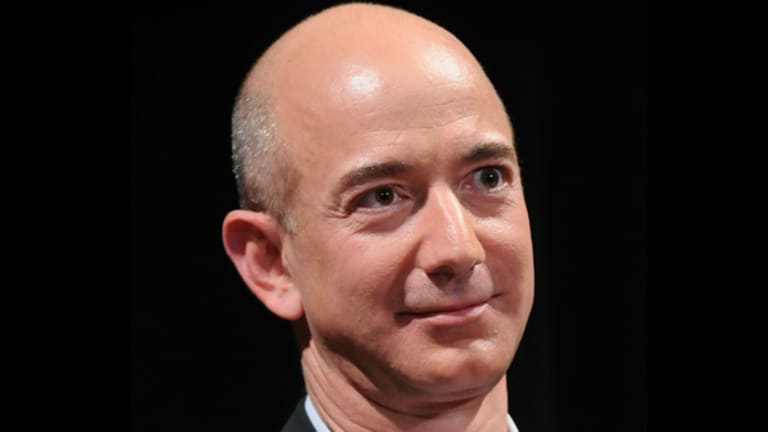 Stop Hating Amazon or Jeff Bezos Will Have You Killed
Love it or leave it, Amazon, Apple and Starbucks are taking over the world.
NEW YORK (TheStreet) -- "Crazy Cramer," as my daughter calls him, hit the nail on the head in a Real Money column about Amazon's (AMZN) - Get Report massive $3 billion bond offering:
Perhaps the most salient part of this bond deal? It's the fact that Amazon has opportunities that big. I bet if you asked most of the retailers in this country what they could do with $3 billion they would say "I don't know, we are pretty much everywhere we want to be already, maybe we can buy back stock.
Extend that out. If you asked most companies -- retail or otherwise -- what they could do with $3 billion they would say,
no clue
" ... maybe we could buy back stock."
Soon-to-be-departed
Sirius XM
(SIRI) - Get Report
CEO Mel Karmazin said exactly that to Cramer
several weeks ago. Even
Apple
(AAPL) - Get Report
sits on its cash, opting to defy Steve Jobs with a dividend/buyback. Like so many other companies, it keeps much of its war chest overseas.
Review my
article history on Amazon
. Follow me
.
I have been saying it every which way for over a year. Forget what your Grandpa taught you about investing as he held court at breakfast over the business section. We don't measure tickers by eighths anymore. Your MBA will do you no good here. Guys like Jeff Bezos rule the world. And they threw the MBA playbook -- at least the conventional one -- out the window a long time ago.
Pretend you live in a dictatorship. A brutal, awful dictatorship where women get stoned for wearing skirts and toughs randomly pick men off the street and beat them senseless for swigging a beer in public. A place where The State says "Jump" and you say "How high?"
But, if you can call it one, there is a bright side to this dictatorship. When you're about to get stoned or have your butt whipped, you can pull out the all-clear card. Some form of proof that you are an Amazon stockholder. At that point, you can take off the skirt and wave an open bottle if you so desire.
Because, like it or not, fair or not, Amazon is good for the country. And, if you're even a wee bit patriotic, you should support this company.
Tuesday, on my Twitter, guys I respect (like Adam Lashinsky at
Fortune
) called Amazon out for a press release where it said
We doubled the number of Kindles we sold, year-over-year, on the holiday weekend
. The complaint: Amazon never gives us unit sales so we have no way to quantify the statement.
Who cares!? Why does it matter? The company does a freaking trillion dollars in revenue every quarter. It's the only one in the nation
really
spending to help stimulate the economy. OK, wait, Howard Schultz at
Starbucks
(SBUX) - Get Report
deserves equal credit.
Point being -- guys like Bezos and Schultz have opinions on politics and such. Everything from gay marriage to the fiscal cliff. From time to time, they express them. But they never use something as external and out of their control as gridlock in Washington as an excuse to not spend and seize the massive opportunities that are in front of them.
Since 1999, people have doubted Bezos and Amazon (and Schultz and Starbucks). And, since 1999, they have proven the critics wrong. When will the bears learn their lesson?
Together with Apple, Amazon and Starbucks are in the process of taking over the world. This is not a bad thing. It should help spur more innovation and more competition, as long as we cut through the haters who feel the need to cut down the man at the top.
--Written by Rocco Pendola in Santa Monica, Calif.
Rocco Pendola is
TheStreet's
Director of Social Media. Pendola's daily contributions to
TheStreet
frequently appear on
CNBC
and at various top online properties, such as
Forbes
.