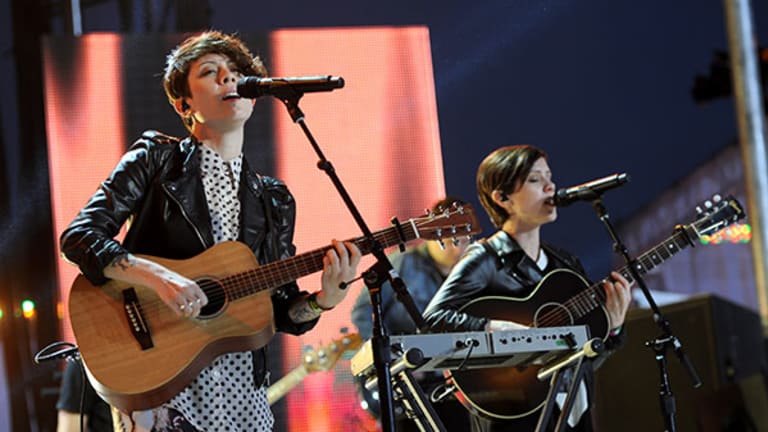 Stop Calling Music 'Indie' -- There's No Such Thing
From Tegan and Sara to Lou Reed, fervently independent musicians need a little deep-pocketed help every so often. It's an artist/patron relationship, not "selling out."
PORTLAND, Ore. (TheStreet) -- No band is an island.
The last time I saw Tegan and Sara, the Canadian sisters were performing a relatively intimate set at the Berklee College of Music's Performance Center in Boston in support of their then-newly released 2007 album
The Con
. It was largely on the pop side of their folk-pop aesthetic, but the small room lent itself to their spare presentation and vocal-heavy songs like
.
Flash forward six years and two albums later to Seattle's Bumbershoot music festival this year and the Quin sisters are on stage in Key Arena with a full backing band and big-screen background video singing their
Billboard
Top 40 hit
. There are fans with sweet haircuts pogoing in a hockey rink-sized pit, there are lights bathing the upper tiers that must have taken a lighting technician a few solid days to design and there's the faint whiff of recently legalized Washington weed in the air as mortified fans of Tegan and Sara's headliner -- Fun. -- come into the building.
So how do you go from faint traces of Ani DiFranco tunes one minute to electronic dance pop produced by a fellow accustomed to working with Kelly Clarkson and Pink? Well, turning 30 and wanting to wipe away the Sarah Singer/Songwriter days of your 20s will do it, but a little cash certainly helps. As they told
Buzzfeed's
Jessica Hopper, the success of
Closer
gave Tegan and Sara the opportunity to recoup some of their expenses and make a little more for themselves by getting the song into a commercial.
" I can see why some bands might find that grotesque, but it's part of the business now," Sara Quin told BuzzFeed.
The fact is that it's been part of the business for a good, long while. It's only recently that it's become an essential part of it. Before a slight uptick in digital music sales and a big boost in vinyl sales yielded a 0.3% boost in overall sales last year, music sales in the U.S. had dropped every year since 1999. Yes, that date aligns with the rise of Napster, the dawn of file sharing and free music and the bottoming out of songs and albums as commodities. Where a band could once sell its music, go on tour and do fairly well for itself without being in Jay-Z/Taylor Swift territory or "selling out," the first part of that equation faded out a long time ago.
Now everybody sells out, and the corporate patronage is more than welcome. While bands no longer have to exist under the thumb of Warner, Universal or Sony to make a living for themselves, they do occasionally have to sell a song to
General Motors
(GM) - Get General Motors Company Report
or
Ford
(F) - Get Ford Motor Company Report
(as
,
and
did by lending their songs to car commercials),
Anheuser-Busch InBev
(BUD) - Get Anheuser-Busch InBev SA/NV Report
(as
did with Bud Light Lime),
Samsung
(which introduced much of the world to
) or
Apple
(AAPL) - Get Apple Inc. Report
(as
,
,
and even big-label
did to great effect).
That ad and TV show licensing is called sync, and it went from a minimal revenue stream a decade ago to a $342 million pipeline in 2011 -- the first year that International Federation of the Phonographic Industry (IFPI) began tracking it. While Lou Reed sold
and his own image to Honda to help it sell scooters in the 1980s, Moby mastered the practice by licensing all 18 tracks of his album
Play
for commercial use in 1999.
Credit Moby for seeing where the industry was going and recognizing one of the few ways that an artist could still sell 18 million albums at a time when the entire music listening world was stealing its favorite tracks. Fifteen years ago, music was a $38 billion industry. By last year, it had shrunk to $16.5 billion. In the U.S., it's down to about $4.4 billion and, as Hopper noted, that's what companies like
McDonald's
(MCD) - Get McDonald's Corporation Report
,
Coca-Cola
(KO) - Get Coca-Cola Company Report
,
General Motors
(GM) - Get General Motors Company Report
and
AT&T
spend on marketing alone.
There's a stock ticker behind just about every move an artist can make in today's recording industry. There's also a sprawling infrastructure in place to make sure artists and companies find each other. Back in July, Aaron Scott of
Portland Monthly
profiled Sara Matarazzo, Chris Funk and other
who've made names for themselves pairing lesser-known bands with companies like Motorola, Target, Nike and J. Crew and filmmakers like Noah Baumbach, who just used her selection of French cinema songs in
Frances Ha
.
But what about live shows? Aren't those supposed to be the main cashflow artery for any "independent" musician? My colleague Rocco Pendola has gone into great depth about the
most artists face and the fact that just getting people out of the house to spend on a cover charge, drinks and potentially parking or at least a subway ride is getting increasingly trickier. Never mind that, in some cases, you're paying that cover charge to hear people
shout down your favorite artist, talk through a performance or hold their glaring smartphone right in your line of sight
just so they can post a minute-long, shaky video with the sound quality of a garbage disposal.
That's what's getting companies like Pandora and others into the
game. By letting musicians perform in front of a laptop and cut out some venue and promotion fees, artists keep more cash in the pockets and fans get to keep the groove they've worn into their couch nice and warm.
But what about integrity? What about that DIY work ethic? What about Dischord Records? Listen, it would be lovely if the world played along with Ian MacKaye during his Fugazi days and created an ecosystem in which artists could sustain themselves on $5 shows and publishing rights alone. But that's not happening. MacKaye was just one of the folks who helped artists find a path to independence from label influence and control, but the world musicians have to operate is -- in a whole lot of ways -- even more unfriendly to musicians and artists trying to make a living doing what they love.
Granted, there are still plenty of artists out there who refuse to place their work in commercials, but even alternate licensing routes run them afoul of corporate influence. Want to license to film?
Fox
(FOXA) - Get Fox Corporation Class A Report
,
Sony
and
Time Warner's
(TWX)
"indie" divisions would love to pay you. Television? Even the check Washed Out received for letting the folks behind IFC's
Portlandia
use its song
Feel It All Around
as the show's theme traces back to
AMC Networks
(AMCX) - Get AMC Networks Inc. Class A Report
.
Unless musicians are independently wealthy or willing to crash in a squat and spare for change, they're not "independent." They have a whole lot more freedom than major label artists who have their terms dictated to them, but there's still a brand attached to many of the financial decisions related to their music.
In a sharp turn from the music landscape of 20 years ago, being comfortable with that hard-earned brand money has become an indie mark in its own right. Carrie Brownstein built her indie credibility with the entire Sleater-Kinney back catalog, so why not take
American Express'
(AXP) - Get American Express Company Report
money for playing
Portlandia
-style characters
? Lou Reed's artistic credentials were already well established by the time he pitched for Honda and he didn't veer from them once that commercial was in the can. Even Tegan and Sara didn't put their folk-pop sound on the shelf after doing a cover of the Bangles'
for
Target
(TGT) - Get Target Corporation Report
years before
Closer
.
There's a whole lot of support out there for artists willing to take it. However, there are way too many corporate benefactors behind all that artistic freedom for "indie" to be a fitting term. There's a distinction to be drawn between label musicians and their counterparts, sure, but neither functions independently. Major label signees function more as employees or, worse indentured servants. Those who spurn labels with the help of benefactors should lay claim to the sole title long assumed by colleagues who've accepted such patronage: Artists.
-- Written by Jason Notte in Portland, Ore.
>To contact the writer of this article, click here:
Jason Notte
.
>To follow the writer on Twitter, go to
.
>To submit a news tip, send an email to:
.
RELATED STORIES:
>>Here's Your Thanksgiving Playlist
>>We Keep Paying The Cost Of Our Wars
>>Blockbuster's Self-Inflicted Tragedy Is Our Loss
Jason Notte is a reporter for TheStreet. His writing has appeared in The New York Times, The Huffington Post, Esquire.com, Time Out New York, the Boston Herald, the Boston Phoenix, the Metro newspaper and the Colorado Springs Independent. He previously served as the political and global affairs editor for Metro U.S., layout editor for Boston Now, assistant news editor for the Herald News of West Paterson, N.J., editor of Go Out! Magazine in Hoboken, N.J., and copy editor and lifestyle editor at the Jersey Journal in Jersey City, N.J.