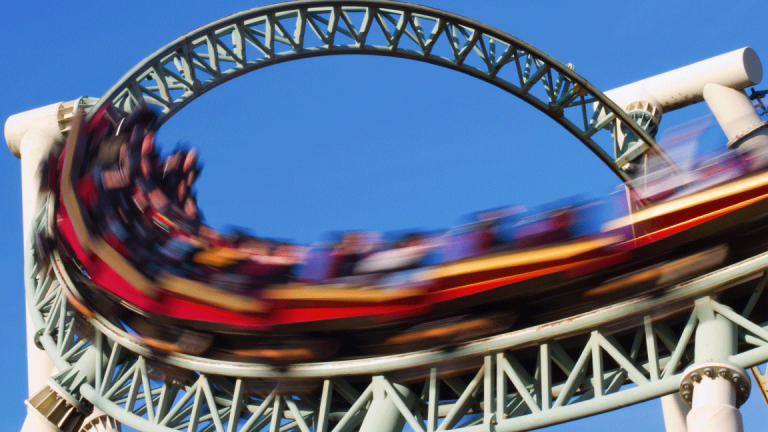 4 Big Things to Watch Now That the Dow Has Lost Nearly 1,200 Points in 3 Days
Stock will try hard in the coming week to overcome increasingly negative sentiment. Facebook's stock looks for a bounce higher, finally. And the NY auto show kicks off.
Cut the nonsense stock pumpers.
While being down hundreds of points on the Dow in a day isn't what it used to be, it's still a big deal. String a couple of those sessions together, and it could potentially become an even bigger deal. This concern is what will dominate Wall Street trading screens on Monday, as the Dow tries to turn it around after losing nearly 1,200 points between Wednesday and Friday last week. 
Reversing the fresh bearish sentiment in the market, fueled by one part the unknown of President Trump's new trade war with China and other the Facebook (FB) - Get Meta Platforms Inc. Report  data breach fallout, won't be easy. A bruising selloff on Friday has left the Dow slightly below its Feb. 8 low. The S&P 500 is only 0.2% away from testing its Feb. 8 low. 
With the economic calendar somewhat light and first-quarter earnings season still weeks away, the market will remain news-driven. If last week was any indication, a market at the whims of headlines -- mostly from Trump -- isn't too good a place to be.  
Here are four things TheStreet will be watching early on in the week. 
Jim Cramer's BIG Call With Investors
Market volatility has returned with a vengeance. Once hot tech stocks such as Netflix (NFLX) - Get Netflix Inc. Report have started to be sold in favor of value names. A U.S. trade war with China is no longer just a what if, it's underway. As an investor, you need to know how to successfully navigate this environment.
TheStreet's founder Jim Cramer will talk exclusively with members of his Action Alerts Plus club on Monday at 11:30 a.m. ET. Doing nothing right now is not an option. Sticking your head in the sand is unacceptable. You better be on this call if you care about making money in the stock market. Bottom line. 
Join the call here.
Key companies held in the Action Alerts Plus portfolio: Alphabet (GOOGL) - Get Alphabet Inc. Report , Apple (AAPL) - Get Apple Inc. Report , Citigroup (C) - Get Citigroup Inc. Report , Comcast (CMCSA) - Get Comcast Corporation Class A Common Stock Report , Facebook, Broadcom (AVGO) - Get Broadcom Inc. Report , Activision Blizzard (ATVI) - Get Activision Blizzard Inc Report , Microsoft (MSFT) - Get Microsoft Corporation Report , Amazon (AMZN) - Get Amazon.com Inc. Report , JPMorgan & Chase (JP) - Get Jupai Holdings Limited American Depositary Shares each representing six Report M, Goldman Sachs (GS) - Get Goldman Sachs Group Inc. (The) Report , Nvidia (NVDA) - Get NVIDIA Corporation Report . 
Facebook: Will the Selling End?
Facebook's stock only had one session in the green last week -- shares rose slightly on Wednesday as investors wagered ahead of CEO Mark Zuckerberg's first interview since the Cambridge Analytica news broke last Sunday. The prime-time CNN interview did nothing to ease the minds of investors, with shares finishing lower by 14% on the week. 
At this point, Facebook may have to pre-announce first-quarter earnings and try to provide an upbeat full-year outlook if it wants to calm investors (for now). It's unlikely the barrage of apology ads Facebook took out in newspapers around the world over the weekend will do much to reverse sentiment. 
Market Turmoil
On the positive side, should the market continue to hemorrhage losses the Jerome Powell Federal Reserve may not be so quick to lift interest rates again at their May 1-2 meeting. Perhaps that's why bank stocks such as JP Morgan & Chase and Citigroup have been some of the worst-performers in the market the past month, each incurring an average 11% plunge. Bank stocks tend to do well in a rising rate environment as the institutions earn fatter profit margins on lending activities.   
But even if the Fed does stay the course on rates, investors need not be too worried: stocks have historically done fine against the backdrop of higher interest rates. 
Hat tip to LPL Financial for the below data. 
New York Auto Show Kicks Off
One should expect headlines coming from the auto show on the impact of Trump's steel tariffs. They likely won't all be derived from interviews with executives on the Javits Center floor -- the automakers always have intimate dinners with industry influencers during the week. TheStreet will be at several of those dinners with the biggest names in the auto business. Be sure to follow TheStreet's Scott Gamm and Anders Keitz on Twitter as they will be on the floor chatting it up with executives. 
Car of the show: The Rimac C_Two will be on display for the first time in North America. It's a hyper car (electric super-car) with 1,888 horsepower and 1696lb-ft of torque from its electric motors. The byproduct of this insane power is a 0-60mph time of just 1.85 seconds and a top speed of 258mph. Tesla (TSLA) - Get Tesla Inc. Report who?
Check it out below.