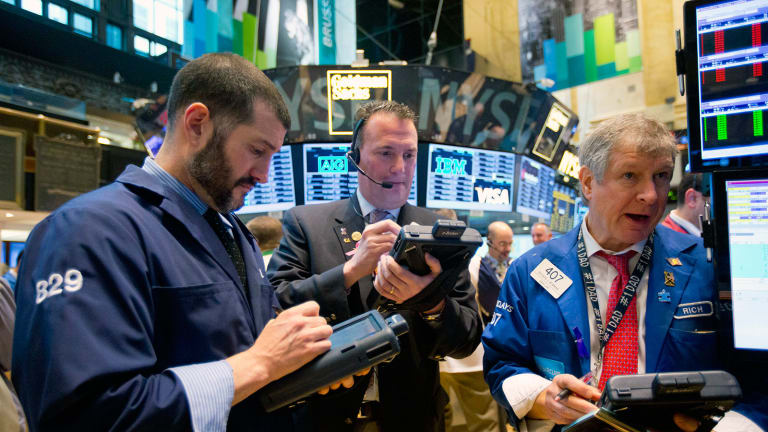 Stock Market Will Move Higher in Coming Days Before a Steep Selloff
The stock market is oversold on a technical basis, so get ready for a bounce in coming sessions. It won't last long, though, as a huge selloff is coming.
Editor's note: This story was originally published before Monday's gains. Traders who want to take advantage of this deep technical analysis may still have a few days to ride the predicted rally.
As if conditions weren't bad enough early Friday morning, with stocks down 200 points for a third day in five and with the consensus turning toward a near-certain Federal Reserve rate hike in mid-December, the news of the catastrophe in Paris took any last hope of a late-day recovery off the table, and stocks closed on their lows.
Stock futures were pointing higher Monday morning , as the markets have a new wall of worry to climb: increasing aggression by terrorists. Yet terror is not correlated with stock prices falling. Mood is. And, the mood of the market got worse last week, after only the Nasdaq 100 rose to higher highs in late October than earlier in 2015. All other indices (including the broader Nasdaq Composite) made lower highs, rolled over and have fallen since November began. Many people, having seen the news about the terrorist attacks and the market's losses last week might be thinking about selling early Monday. Such a reaction stems from our caveman brains: fight or flight! These neo-cortex instincts helped us survive  are some of the reasons our species survived for hundreds of thousands of years, but they often don't serve us when survival is not in question.  
Here's the objective data that should be considered early this week, when thoughts of wholesale selling might be swimming around in your head.
First, the McClellan Oscillator closed Friday at -203. This is an extremely oversold level that has only been worse twice in the last year. Both were times to be buying, at least for the very short term, rather than selling.  
Second, the Volatility Index closed above its upper Bollinger Band. Doing so sets up an S&P 500undefined buy signal upon the first close back below this upper Bollinger Band. This will likely occur either Monday or Tuesday.
Third, the S&P's daily stochastics reached the 10% oversold extreme Friday. The last two times this occurred were Sept. 29 and Aug. 24 -- the summer's crash low and the retest of that low.
Fourth, the advance/decline ratio was a mere 1.65-to-1 negative, favoring declining stocks, on Friday, which is much closer to flat than negative, given the 1% (or worse) declines of the major stock indices.
Fifth, the list of big momentum stocks that usually get bruised badly with big index declines was limited to just a few FANG names.
Click here to see the following chart in a new window
Therefore, our objective decision support engine, which doesn't take subjectively interpreted news events into account, is warning of a likely bear trap in the coming couple of hours to couple of days, where too-bearish late joiners capitulate at just the right moment to become trapped at the lowest prices of recent action, and bite off their limbs in short-covering "squeezes" to escape the doom that they put themselves in by trading with their neo-cortex, rather than from an objective perspective.  
Combined with a little known market timing tool, called The Bradley Model (which has a turn window of Nov. 17-19), these indicators, among several decision support engine components that cannot be shown, point to an inflection point by the middle of this week. Given the oversold extremes of several components, listed above, we are on red alert for at least a short-term low, followed by a corrective bounce of five to eight days. With this in mind, selling into this coming low is suboptimal, while buying it could be too dangerous, given the enormous risk that we have previously written about.
The best strategy is to avoid emotional reactions to what happened over the past week and calmly construct a plan in the next few days. Ideally, that would involve covering any shorts into any further probing of the higher green box in the daily bar chart of the E-Mini S&P 500 futures above (i.e., the 1978 +/-8 zone, basis the December futures contract), and or using buy stops at 2020 (also using the December futures contract) to protect those short profits from evaporating. Then, upon a bounce into the pink box, 2035 +/-13, more orderly selling would be indicated.  
For more of this kind of analysis, try our many DSE-based services with a free week of full-access to our highest level membership. Special pricing is available for TheStreet.com readers who subscribe AFTER a no-obligation, complimentary trial week.
This article is commentary by an independent contributor. At the time of publication, the author held a short position in the Russell 2000 index.