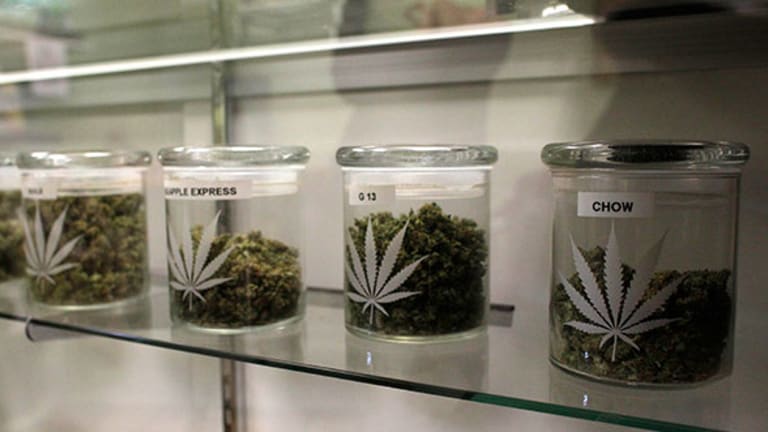 Stocks Ready to Benefit From Rising Marijuana Legalization, Usage
Legalization of marijuana for medical reasons or otherwise is already on the ballot in Arkansas, California, North Dakota and several other states.
In a matter of days, Americans will head to the polls to vote not only for the next president but also on other important issues.
And in a handful of states, the ballot will include a measure that could pad investors' wallets.
After decades of prohibition, public favor has finally turned toward the legalization of both medical and recreational marijuana. The marijuana industry is big business and poised for skyrocketing growth.
The legal marijuana market is projected to grow to $7.1 billion by the end of the year.
On Nov. 8, voters in Arizona, Arkansas, California, Florida, Maine, Massachusetts, Montana, Nevada and North Dakota will vote on weed legalization in some form or other, from medical purposes to straight-up recreational usage. If the initiatives pass, they will join the 26 other states, plus the District of Columbia, where pot has been legalized for at least medical use.
This is America's fastest-growing industry, and clearly, there are fortunes to be made for investors who get in before the new green rush hits full swing. Those include pot-centric agricultural stocks such as Terra Tech, those that manufacture accessories for legal weed, such as Kush Bottles, and perhaps most of all, biotechnology and pharmaceutical companies with promising marijuana-based products. 
The headlines in this area have been dominated lately by GW Pharmaceuticals (GWPH) - Get GW Pharmaceuticals PLC Sponsored ADR Report , a company working on therapies for patients suffering from epilepsy and multiple sclerosis, among other conditions.
This company's stock has soared to about $137 a share this month from $8.50 in 2013. That means investors who got in only three years ago could have banked profits of a breathtaking 1,500%.
Shares are up slightly on Monday, trading at a little more than $117 apiece.
The company's latest product is a treatment for children with severe forms of epilepsy.
Called Epidiolex, this drug is nearing Food and Drug and Administration approval and could be on the market as early as the first half of 2018. That means that there is a lot of potential for even more growth in the stock
This company is also rapidly becoming a sought-after takeover bid for bigger pharmaceutical enterprises. Deploying cannabis-based compounds for epilepsy treatment isn't new, but to have a drug that works is a major breakthrough.
A Reutersreport last month hinted that GW Pharmaceuticals is working with an investment bank to prepare for negotiations with potential acquirers.
GW Pharmaceuticals isn't the only player in the sector. Stocks such as Cara Therapeutics and Insys Therapeutics could also see significant gains when their cannabis-derived treatments take off.
AbbVie is also an interesting option.
The company's anti-nausea drug, Syndros, a liquid version of its Marinol soft gel capsules), is already FDA approved. The drug is based on a synthetic variant of THC (tetrahydrocannabinol) -- the principal compound found in marijuana. AbbVie offers a healthy dividend as well, with a yield of 3.96%.
If you don't mind risk, there are some smaller companies that offer potentially outstanding opportunities. The industry is in a nascent stage and demand for cannabis products will only increase as legalization becomes more widespread. 
If you really want to start seeing green, hop in on these cannabis-friendly stocks today.
---
85% Accurate Trader gives his Personal Guarantee: "Give Me 9 Minutes a Week and I Guarantee You $67,548 a Year." As you can see, Apple remains a great play for investors. But what if I told you I know a way you can see a $67,548 per year - or more - in profitable trades just by following this simple step-by-step process? The trader who is sharing this secret has been right more than 8 out of 10 times, turning $5,000 into more than $5 million for himself. Click here to see how easy it is to follow his lead and collect thousands of dollars in "Free Money" every month.
The author is an independent contributor who at the time of publication owned none of the stocks mentioned.