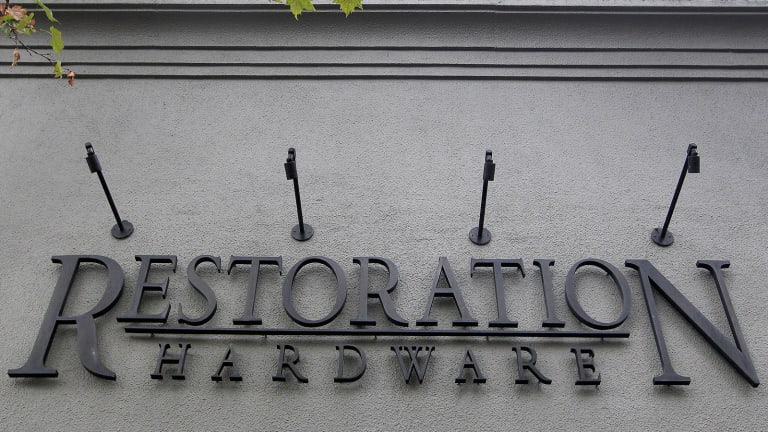 Stocks of These 3 Brand Dogs Look Poised to Make Big Moves Higher
Sometimes catching a falling knife can make investors money. Shares of Restoration Hardware, Express Scripts and IAC Interactive may be ready for a rally inside a bear market.
Trend-following is a smart investing strategy: Let winners run, and cut losers quickly.  
But it's aways interesting when a company that is a leader in its business is down a lot over the past 12 months and is trading above its eight-day exponential moving average. Many of the best rallies happen in bear markets.
It's wise to avoid stocks in downtrends, especially those that have had waterfall declines, until they can at least muster enough energy to get over the first hurdle of the eight-day moving average. There is often a clear path to the 21-day, and then an investor can reassess what the chart looks like as well as other technical indicators.  
Particularly noteworthy are top brands in downtrends that exhibit positive divergences and are above a short-term moving average. There is nothing wrong with a cashmere sweater at half price, right?
We searched our universe of 200 top brands for the worst performers over the past 12 months. Then we looked for those trading above the eight-day moving average, and lastly, we picked the top three charts using a variety of proprietary indicators.
It is very important for investors to have a plan when making a trade or investment. Knowing the difference is key to the time frame as well.
These are trades for now. Until these companies prove that they have merit over the long term, they are oversold bounce trades within major waterfall declines.
So caveat emptor: Catching a falling knife can make investors feel like geniuses or slice their hands miserably. Investors need to keep their stops tight (recent low) and watch the trade closely.
Here are the three top-brand, broken-stock trade ideas:
1. Restoration Hardware (RH) - Get Report
We wrote about this stock idea a few weeks ago when it was at about $38. It has since popped to $42 after the company released earnings a few days ago.
The company caters to the luxury-furniture buyer, and it has had some short-term hiccups. But those who have visited one of the company's showrooms know how sexy the furniture is.
Restoration Hardware has demographics working in its favor, and the stock has significant earnings power if management delivers on its goal for store openings.
This stock looks good in the long term as well as the short term, but for now, this is a trade opportunity to between $47 and $50. There is decent upside from here, and technicals are pointing up.
2. Express Scripts (ESRX)
One of the top pharmacy benefit managers in the world, Express Scripts has fallen on hard times. Anthem, a large health insurer and Express Scripts' largest customer, announced a major dispute and filed a lawsuit against the company, and the stock has been tanking ever since.
Anthem's business makes up about 14% of Express Scripts' business, but the stock is down 26% from the highs last August. Everyone knows that there is the potential for losing all or part of Anthem's business, so it might just be built in to the current stock price.
Deutsche Bank has a $61 target if Express Scripts loses 100% of Anthem's business, so there is certainly risk lower. The Anthem contract doesn't expire until 2019, but the stock is trading like the contract will be broken earlier.
The stock looks washed out and ready for an oversold bounce. Bottom line: Short-term uncertainty often offers value investors an attractive entry point within a positive long-term secular tailwind of controlling drug costs and serving a large older population.
3. IAC/InterActive (IAC) - Get Report
This is an investment in IAC/InterActive's Chairman Barry Diller and his team.
After years of acquisitions, IAC is a media and Internet giant. It owns About.com, Ask.com, CityGrid Media (Citysearch), Dictionary.com, HomeAdvisor, Investopia, Match.com, Shoebuy, Tinder, Vimeo and a variety of YouTube channels.
The company tried to buy Angie's List but was rejected. Now, there is talk of a significant share buyback that could provide a floor under the stock.
The brand is powerful in its own right as well as having top brands under its umbrella.
In terms of the chart, the stock is still in a downtrend, but technicals are perking up, and it appears that there is some smooth sailing to the $50 downtrend line where there could be some resistance. Above $50, and there is at least another 10% higher with no real resistance.
The stock seems like a pretty good risk/reward.
In summary, catching a falling knife isn't for everybody. If you study waterfall declines for a long period of time, you'll see how many stocks retrace their declines at some point.
Filter out companies that are leaders in their industries or top brands and that have positive technicals, and that's a prescription for a decent risk/reward trade. But remember, these are trades, not investments.
Let the stocks prove that they are worthy of a longer-term investment by breaking over major moving averages. Use the eight-day moving average as a stop, ride the stocks to the 21- to 25-day moving averages and then assess whether they should be held for longer.  
This article is commentary by an independent contributor. At the time of publication, the author held no positions in the stocks mentioned.