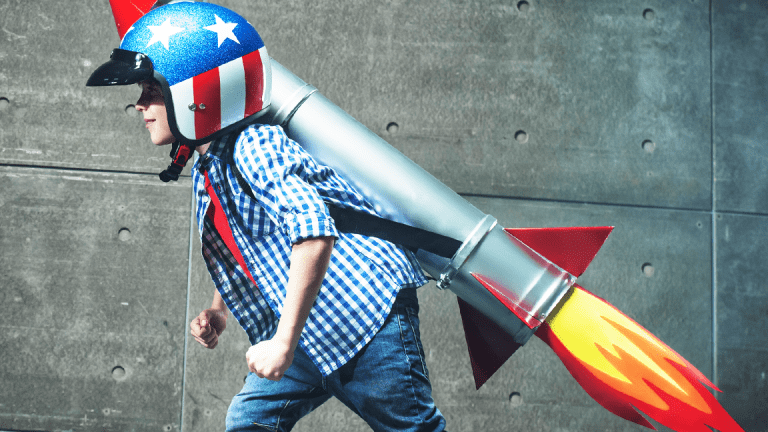 The S&P 500 Has Gone Parabolic, So Hurry Up and Buy These 22 Stocks
Stocks continue to show little desire to go down. With optimism over tax reform still rising, one research outfit has identified 22 stocks worth buying right now.
The stock market is on fire almost one full month into 2018, and if history is any indication the next 11 months may be quite lucrative for investors. 
Year to date the S&P 500 has soared a cool 6% as investors have grown excited about the profit potential of big companies in the wake of President Trump's tax reform plan. Such a steep push higher in January has created what research outfit Fundstrat calls a "parabolic acceleration." Fundstrat notes that from Sept. to Dec of 2017, the S&P 500 rose 8%, or 1.98% a month. That marked an acceleration from the 1.24% average increase from Jan. to Sept. 2017. 
Since 1928, Fundstrat says, this parabolic acceleration has only been seen eight times. Only two times did it indicate a sizable downtown in markets (1929 and 1946). The other six instances were positive signals for stocks -- the average gain from February to December was 20%. At its current pace, the S&P 500 may be on track to notch an explosive 26% gain this year to 3,350. In addition to tax reform, Fundstrat believes "animal spirits" and a rotation out of bonds will serve as fuel to the S&P 500's fire. 
Fundstrat lists 22 stocks that stand to benefit the most from the market's melt-up. They include: O'Reilly Automotive (ORLY) , Action Alerts Plus holding Comcast (CMCSA) , Home Depot (HD) , Time Warner (TWX) , Lockheed Martin (LMT) , UPS (UPS) , Emerson Electric (EMR) , 3M (MMM) , Action Alerts Plus holding Illinois Tool Words (ITW) , Adobe Systems (ADBE) , Motorola Solutions (MSI) , ADP (ADP) , Visa (V) , Action Alerts Plus holding Alphabet (GOOGL) , IBM (IBM) , Texas Instruments (TXN) , LyndellBasell (LYB) , Air Products & Chemicals (APD) , Blackrock (BLK) , Capital One Financial (COF) , Principal Financial (PFG) and PNC Financial Services Group (PNC) . 
And to think, it used to be tough making money in the stock market. 
Looking for quick tips on what to do with all your stock market gains or new bonus check? Check out TheStreet's 60 Second Tips.Watch and Subscribe to our Youtube channel.
More of What's Trending on TheStreet: