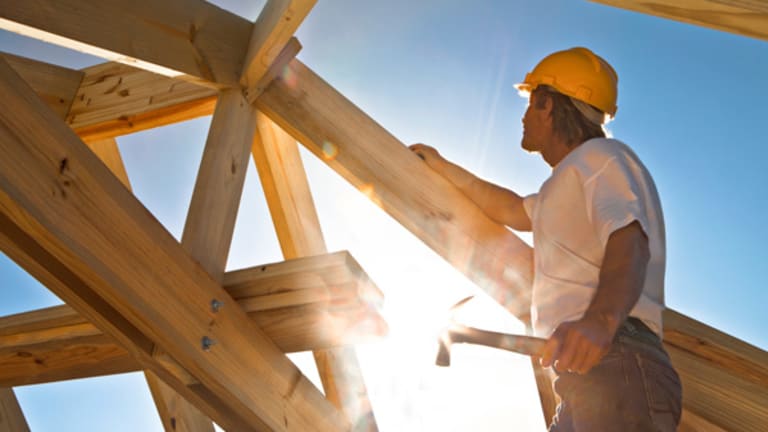 Stocks Facing Risk of Sequestration Price Cuts
Sell construction stocks and beware earnings misses.
NEW YORK (TheStreet) -- Wall Street analysts and buy side strategists continue the mantra that stocks are cheap. It seems like year-end price targets for the S&P 500 are raised almost daily. I disagree! I say that the S&P 500 faces a price sequestration as this index continues to lag my semiannual risky level at 1566.9 and its October 2007 intraday high at 1576.09.
While the S&P 500 lagged its semiannual risky level, the
S&P 500 Sector SPDR
(SPY) - Get Free Report
($154.36) tested its semiannual risky level at $156.59 with a high of $156.80 on March 14. Investors and traders following my buy-and-trade strategies had the option to be short SPY at $156.59. SPY is above my monthly pivot at $153.16, which is the near term downside risk. My annual value level lags at $134.74.
Four Reasons Why Stocks are at Risk of Sequestration:
Stocks have been trading under a ValuEngine Valuation Watch or Warning for several weeks with more that 60% of all stocks overvalued. Today 63.5% of all stocks are overvalued.
Technically, the weekly chart profiles for all major averages show extremely overbought 12x3x3 weekly slow stochastic readings. For the S&P 500 this week's reading is 93.67, well above the 80.00 overbought threshold.
The major averages as a group have entered my zone of semiannual pivots / risky levels. The Dow Industrial Average is above its semiannual pivot at 14,323 with the S&P 500 and Russell 2000 below their semiannual risky levels at 1566.9 and 965.51 respectively.
This month the underpinnings of the market have deteriorated with numerous downgrades to leadership stocks, most notably in the transportation and construction sectors. As I explained in Sell-Rated Stocks a Source Of Funds transports and the homebuilders are a source of funds.
Today the construction sector is 24.4% overvalued and 130 stocks out of the 159 in this sector are rated strong sell or sell according to
. With no buy-rated stocks, I say that the entire construction sector is now a source of funds. Here are three of the downgrades in this sector this morning:
KB Home
(KBH) - Get Free Report
($22.10) reported a loss of 16 cents per share for the quarter ended Feb. 28, which was better than the expected loss of 22 cents per share. The stock popped to a new multi-year high at $22.38 on Thursday versus my weekly pivot at $21.69 and annual risky level at $22.95. This morning the stock has been downgraded to strong sell from sell. KBH has become 40.4% overvalued and is projected to decline by 13.1% over the next 12 months. The stock has an elevated 12-month forward P/E of 76.2 and is trading with a market to book value of 4.5.
The manufacturer and distributor of building materials
USG
(USG)
($28.94) has been downgraded to sell. My semiannual value level is $25.90 with a monthly risky level at $31.21 versus the Feb. 13 multi-year high at $30.97.
Timber company
Weyerhaeuser
(WY) - Get Free Report
($30.75) has been downgraded to sell. My semiannual value level is $24.11 with an annual pivot at $28.69 and monthly risky level at $32.40 versus the Jan 24 multi-year high at $31.73.
Another warning that may be developing is stock-specific earnings misses:
In
12 Sell Downgrades Threaten Dow Transports
I profiled hold-rated
FedEx
(FDX) - Get Free Report
($96.50 vs. $109.07 on March 18). FDX reported quarterly results pre-market on March 20 and missed EPS estimates by 15 cents a share earning $1.23 per share. The stock maintains its hold rating and fell below my monthly value level, now a pivot at $96.86. The 200-day simple moving average is a key level to hold at $93.02.
In
Oracle Headlines Earnings this Week
I explained that the earnings bar was high for
Oracle
(ORCL) - Get Free Report
($32.30 vs. $35.69 on March 20).
Oracle earned the expected 63 cents per share for its fiscal third quarter, but missed the higher expectations I mentioned at 66 per share.
The stock was up against a solid resistance at its May 2011 high at $36.50 with my monthly pivot, now a risky level at $35.61. ORCL still has a buy rating and is above its 200-day SMA at $31.97 and semiannual value level at $31.89. The stock is also between my annual value level at $30.81 and my annual pivot at $34.68.
On Monday, I will evaluate some of the buy-rated stocks in the most overvalued consumer staples sector. On Tuesday, I will dissect the buy-dated stocks that underpin the Dow Industrial Average. Then on Wednesday, I will profile five stocks that report quarterly results on Thursday.
At the time of publication the author held no positions in any of the stocks mentioned.
This article is commentary by an independent contributor, separate from TheStreet's regular news coverage.
Richard Suttmeier has an engineering degree from Georgia Tech and a master of science from Brooklyn Poly. He began his career in the financial services industry in 1972 trading U.S. Treasury securities in the primary dealer community. In 1981 he formed the Government Bond Department at LF Rothschild and helped establish that firm as a primary dealer in 1986. Richard began writing market research in 1984 and held positions as market strategist at firms such as Smith Barney, William R Hough, Joseph Stevens, and Rightside Advisors. He joined
in 2008 producing newsletters covering the U.S. capital markets, and a universe of more than 7,000 stocks. Richard employs
a "buy and trade" investment strategy
and can be reached at
.