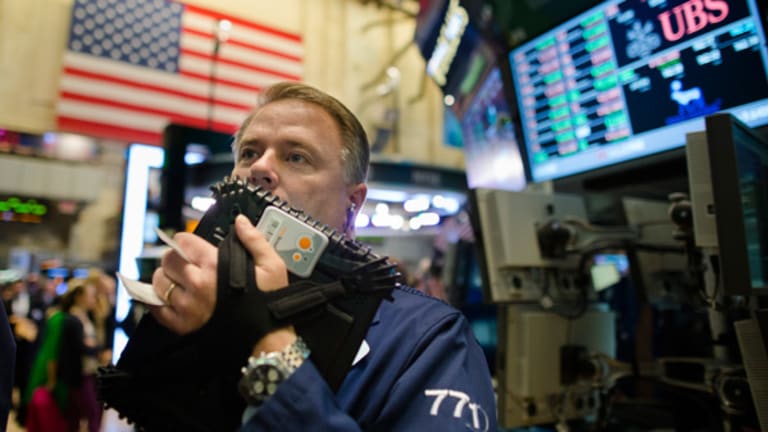 Stocks End the Day Lower and the Year With a Bang; What's Next?
The four major stock indices ended December lower.
NEW YORK ( TheStreet) -- The year 2014 ended with quite a bang in the stock indexes on Wednesday. All four indexes started the day higher only to take an abrupt turn lower to end the year's trading.
The DJIA fell by 160 points to finish at 17823.07 and the S&P 500 was off 21.45 to end at 2058.90. The Nasdaq lost 41.39 points to close at 4736.05 and the Russell 2000 was lower by 8.36 to finish at 1204.70.
What's interesting is the DJIA lost 1.28% for the week and was down 0.03% for the month of December. The S&P lost 1.43% on the week and .42% for the month. The Nasdaq was lower by 1.47% for the week and 1.16% for the month. The Russell 2000 lost .86% for the week but was higher by 2.68% for December.
Remember, these indexes were mostly lower for the week and the month of December on the heels of Fed Chair Janet Yellen delivering the "drugs" to keep the markets moving higher. That makes me wonder if the Fed drugs are finally not working.
The S&P 500 Trust Series ETF (SPY) - Get SPDR S&P 500 ETF Trust Report volume was higher than normal on the last trading day of the year, trading nearly 130 million shares. Of course, the volume on a down day appears to be higher versus those up days. That is not bullish.
In addition, there seems to be many negative daily and monthly divergences in the stock indexes that should have traders and investors staying cautious. These negative divergences are internal algorithm-based signals according to my internal process. They need to be recognized when developing a longer-term perspective on the markets.
It appears that one stock sector that should be high on traders' and investors' stock list is the IPath S&P Goldman Sachs Crude Oil Trust ETN (OIL) - Get iPath Pure Beta Crude Oil ETN Report . The weekly signal is extraordinarily oversold according to my process and should start to turn higher over the next week or two.
In sum, it appears that the end of the month selloff is not a bullish signal and coupled with other negative divergent indicators, investors need to be cautious until we have more clarity.
This article is commentary by an independent contributor. At the time of publication, the author held no positions in the stocks mentioned.