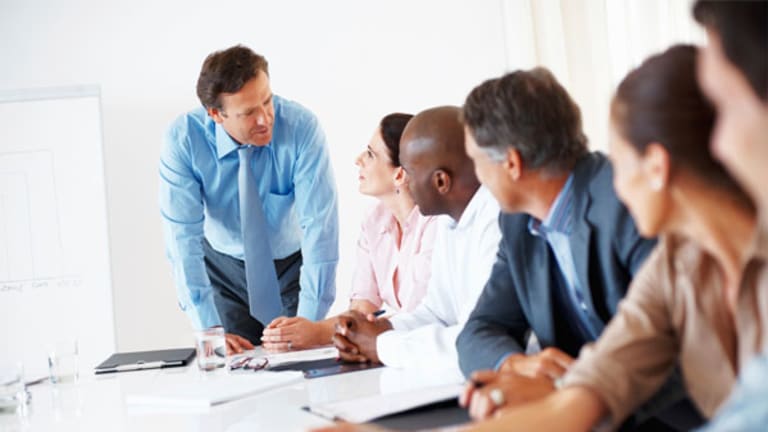 Stock Trading and Social Media: #Don'tBuytheHype
Twitter, Facebook and other social media are influencing trading and investing, according to people who have something to sell you.
NEW YORK (TheStreet) --
Twitter
,
Facebook
and other social media are increasingly influencing trading and investing, according to people who have something to sell you based on this notion.
Not so Mike Driscoll, a former Wall Street equities trader turned Adelphi University professor, who likens social media market commentary to anonymous chat rooms in the late 1990s where people tried to "pump and dump" obscure, thinly-traded stocks for a quick profit.
Institutional traders banned from using social media sites may actually be getting some work done
"I don't see how this in any different," Driscoll says of Twitter,
StockTwits
, and other offshoots.
One difference is the presence of online retail brokers like
Zecco Trading
, or
8 Securities
, an outfit based in Hong Kong started by former
E*Trade
(ETFC) - Get E*TRADE Financial Corporation Report
executives, that look to combine social media and trading.
Those companies share a common investor, Dutch financier Willem Willemstein, and allow users to see each others trades in real time.
10 Consumer Stocks for the Stay-at-Home Investor
"If you say that you like
Apple
(AAPL) - Get Apple Inc. Report
, and you bought Apple, people can see that it's true because your trades are posted automatically and people can go in your portfolio and see what you've bought and what you've done with it," explains 8 Securities executive chairman Matthias Helleu. Zecco, meanwhile, allows you to place a trade directly from your Facebook page.
Another way traders can make good use of social media, according to proponents, is via technology that captures tweets and other online commentary about the stock market and uses it to measure investor sentiment on a given stock. Johan Bollen, a professor at Indiana University, argued in a 2010 research paper that Twitter can predict directional moves in the Dow Jones Industrial Average a week in advance with 86.7% accuracy.
Still, while Bollen sells his research to hedge funds, he says he and his colleagues aren't ready to give up their day jobs.
"That 86.7% figure is widely quoted in the media. What people forget is that that might be true, but you might lose all your money in the 13 or 15% where you're wrong," Bollen says.
It is one thing, and far from a sure thing, to take a massive amount of Twitter data and try to synthesize it into a gauge of overall market sentiment. It is another to argue that Twitter is bursting with savvy market players who are just dying to share their expertise with anyone who will listen.
Some social media fanatics seem to want to make that argument. A company called
Gnip
, for example, mentions in its marketing material that Osama bin Laden's death first came to light on Twitter, a point reiterated to me by Gnip executive Seth McGuire in a phone interview last week. Gnip collects social media data and distributes it to large investors.
How many institutional investors are seriously interested in this data is hard to say. On Thursday, I sat on a panel at a conference hosted by the Security Traders Association of New York (STANY) where we offered an audience of perhaps 30 what amounted to an introduction to Twitter.
Another panelist, the blogger and investment adviser Joshua Brown, better known as The Reformed Broker (@ReformedBroker), says that in the future it will seem absurd that we had held such a panel. Social media, he argues, will eventually become every bit as integral to our lives as television and radio are today.
7 Companies That Keep on Growing
I think he's right, but I don't see tons of great investment advice on TV or radio, so I don't know why we should expect it from social media. As with all media, the majority of what's out there--especially the free stuff--isn't very helpful. Twitter isn't all free, by the way. Some investor newsletters get distributed through the medium, but for a price.
Like television and radio, social media seem better suited for marketing purposes.
Securities dealers like
Morgan Stanley
(MS) - Get Morgan Stanley Report
,
are exploring ways to use social media to that end
, though fearing an employee may say something that could invite regulatory scrutiny, they restrict access for all but a few carefully-vetted executives.
Rob Passarella (@robpas), a Dow Jones executive who spent much of his career on Wall Street and now sells news-related data to trading firms, was also on the panel with me on Thursday. He sees it as a grave injustice that Morgan Stanley and other investment banks deprive the bulk of their employees from what he sees as a critical flow of information.
"STANY brothers & sisters in the resistance can only read tweets using smart phones - since banks block everything - what a disadvantage," Passarella tweeted after our panel discussion.
10 Dow Dogs That Are Barking for Gains
Putting aside the question of lawsuits and regulatory crackdowns, I'm not sure investment bank employees are missing all that much. Who knows: without access to Twitter, Facebook or the next social media flavor of the month, they may even be getting some work done.
--
Written by Dan Freed in New York
.
Follow me on
Disclosure: TheStreet's editorial policy prohibits staff editors, reporters and analysts from holding positions in any individual stocks.