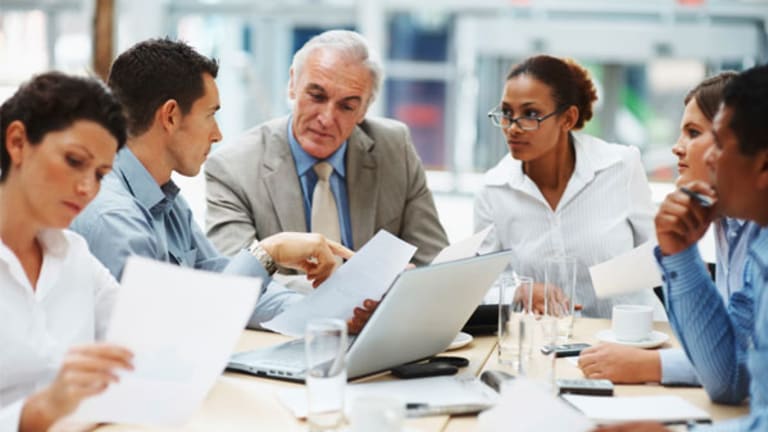 Publish date:
Stock Rally Is Cold Comfort for Wall Street
By many measures, Wall Street hasn't rebounded from the depths of the financial crisis, even as the stock market has rallied.
By many measures, Wall Street hasn't rebounded from the depths of the financial crisis, even as the stock market has rallied.
NEW YORK (
) -- It almost feels like they could take away the police guard from the charging bull sculpture located on Broadway just below Wall Street.
The S&P 500 just hit a four year high. Shares of
Goldman Sachs
(GS) - Get Report
and
Morgan Stanley
(MS) - Get Report
are up 12.19% and 16.46%, respectively, over the past month.
Heck,
buyout tycoon Mitt Romney is even starting to climb in the polls.
But there are other, more powerful signs, suggesting a return to anything resembling pre-crisis Wall Street is hard to fathom.
Investor pessimism about Wall Street hasn't changed even slightly since the stock market bottomed in March 2009.
Both Morgan Stanley and Goldman trade at price-to-tangible book valuations that, according to a report this week from Bernstein Research analyst Brad Hintz, "were last seen during the depths of the financial crisis when both firms were at risk of failure."
Equity trading volumes are another sign investor confidence is in the toilet. August volumes are headed toward the lowest monthly average since Sept. 2007, according to a report Wednesday from Sandler O'Neill analyst Richard Repetto. While this is partly a reflection of lower volatility, Repetto also makes a strong case that investor confidence is to blame. He points to the State Street Investor Confidence Index, which is at its lowest since Dec. 2008, and $16 billion in flows out of equity mutual funds so far in the quarter.
"We suspect the lack of investor confidence is one of the key drivers of soft equity volumes," Repetto writes.
Meanwhile, attacks on the banking industry are unrelenting, as Rochdale Securities analyst Dick Bove lamented in a research noted published Wednesday.
"The drumbeat continues with banks and bankers being put under greater scrutiny than any other business possibly in the history of this country," Bove writes.
And yet all the scrutiny seems to accomplished little, other than further gumming up the gears of the U.S. economy.
I asked Colorado Governor John Hickenlooper what Coloradans are thinking about Wall Street and the banking industry these days. He said, "most people are pretty frustrated with the amount of regulation that seems to inhibit the ability of small banks to give loans and yet doesn't really -- what I hear from out here they feel that it hasn't sufficiently addressed issues surrounding Too Big to Fail and the excesses in some of the largest banks in this country."
It's hard to believe things won't improve for the U.S. economy -- indeed, as I mentioned, there are many signs things are improving already. But it appears it won't be Wall Street that pulls us out of the mud. And maybe that's for the best.
--
Written by Dan Freed in New York
.
Follow this writer on
.
Disclosure: TheStreet's editorial policy prohibits staff editors, reporters and analysts from holding positions in any individual stocks.