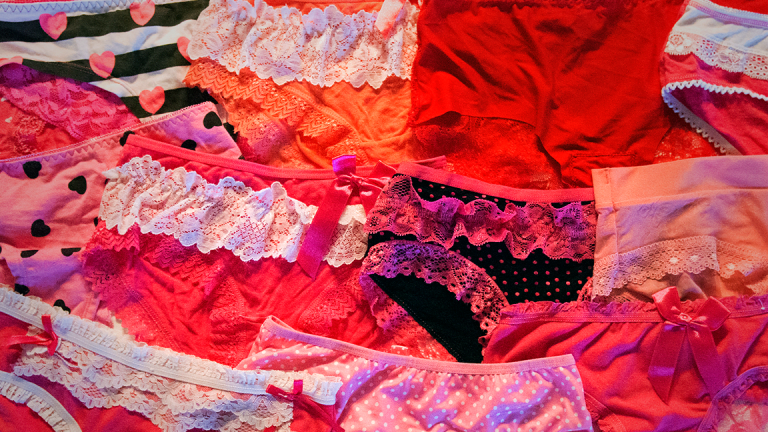 Stock Markets Are Booming Again but Panties Prices Continue to Plunge
It's Friday and that means it's time for a little fun. Did you know that the price of panties is plunging? True story. Meanwhile, here are some quick things to know about markets this week. To be sure, stocks have enjoyed quite the bounce.
We made it.
It's Friday People
Markets are exploding again. Bankers are already counting their 2018 bonuses. Google searches for "stock correction" have probably crashed (I just don't feel like checking right now). So let's have a wee bit of fun. Friday's fun comes from Jefferies, the reputable investment bank that tracks panties prices at Victoria's Secret, which is owned by L Brands (LB)  . According to Jefferies data, panties prices at Victoria's Secret have fallen to a 10-year low. Recent data suggested prices were currently down 10% from the prior year at the intimates chain. "This is a yellow flag as prices move lower and lower while more and more competitors enter the intimates arena." Bad news for L Brands, good news for American Eagle's (AEO) aerie intimates brand, great news for panties wearers in the United States. 
Back to the Market
OK, enough fun. Here are several things that have caught my attention from the markets as we prepare to end the week: (1) With 10-year yields still on the rise, housing stocks have lagged this week's rally. The SPDR S&P Homebuilders ETF (XHB) is only up 2% this week below gains for the Dow Jones Industrial Average and S&P 500. More broadly, homebuilder stocks such as Lennar (LEN) and Beazer Homes (BZH) have relatively lagged the past three months as the spring buying season could be dented by higher rates. (2) Action Alerts Plus holding Apple (AAPL) is having an impressive week helped by news Warren Buffett bought more shares in the tech giant. Shares are up a cool 5% this week. The stock has dusted every other FAANG stock this week (Facebook (FB) , Amazon (AMZN) , Netflix (NFLX) and Action Alerts Plus holding Alphabet (GOOGL) ).
Programming Alert
TheStreet will be talking with Coca-Cola (KO) CEO James Quincey LIVE Friday at 11:15 a.m. ET, hours removed from fourth-quarter earnings. Tune in on our homepage. Here is a first take on the results: Coca-Cola probably surprised many on Wall Street with 6% organic sales growth and a spike in profit margins thanks to cost cuts. Sales and profit outlooks solid, too. Shares popped immediately on the results. Relative to PepsiCo's (PEP) quarter earlier this week, Coke may be regaining the narrative on Wall Street as the beverage stock to own.
What's Hot
Quick analysis you should not be missing...
More from the Morning Jolt Archives: