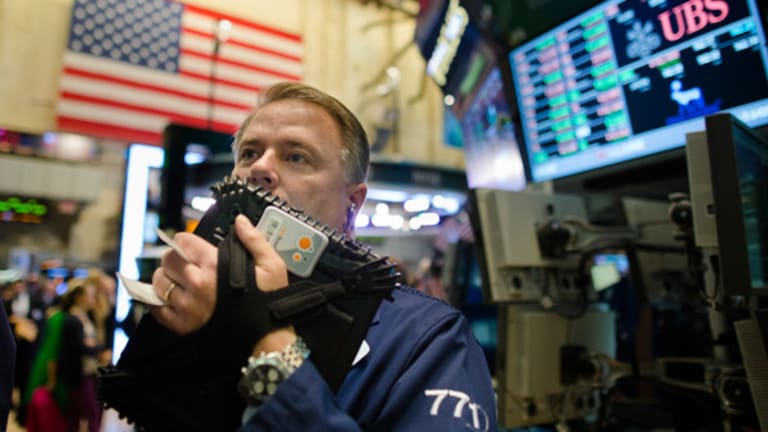 Stock Markets Continue Their Gains, Still on Lower Volume
As the stock indexes continued their relief rally on Monday, the upside volume was lower versus Friday, which was lower versus Thursday.
NEW YORK (TheStreet) -- The stock indexes on Monday extended their gains from Friday. The DJIA was higher by 16.05 points to close at 16569.98 while the S&P 500 was higher by 5.33 to close at 1936.92. The Nasdaq gained 30.43 to finish at 4401.33 and the Russell 2000 was higher by 10.58 to close at 1141.93.
It shall be noted that all the indexes were well off their daily highs and the volume continued to decelerate on the up days versus the down days.
The S&P 500 Trust Series ETF (SPY) - Get SPDR S&P 500 ETF Trust Report volume came in at over 74 million shares. That volume was down from the 117 million shares Friday when the S&P 500 was up over 1% and well below the 135 million shares traded last Thursday, a down day.
Again, traders need to pay attention. Decelerating volume on an up day is not bullish. This has been the trend for 2014. I will continue to call this to your attention. It does matter and it is not different this time as many Wall Street pundits would lead you to believe.
I am still of the opinion that the upward movement in the stock indexes the past two trading days is nothing more than a relief rally from a severe oversold condition in the indexes. I will change my mind when I receive the signal from my internal algorithm indicators. Until then, I will trade from a bearish point of view. Having a risk management process is the key to trading.
As a matter of fact, the Russell 2000 will show an overbought signal on Wednesday if it can continue its upward move on Tuesday.
Traders should not become overly optimistic because of this stock market move over the last two days. Relief rallies have a tendency to give the all clear signal and stocks should be bought across the board. I say not so fast.
The DJIA and the Russell 2000 are still negative for 2014, even after this huge move to the upside the last two trading days. That puts things in perspective.
On a side note, if this economy is doing so well, why does the 10-Year Treasury bond have a 2.42% yield attached to it? I do not except argument that it is a flight to quality. The real reason is because of growth slowing.
As we move ahead this week, I sold my Popular (BPOP) - Get Popular, Inc. Report on Monday that was purchased late last week on that extraordinarily oversold algo number for a very nice gain.
I added 2 new long positions on Monday that signaled an extraordinarily oversold condition. One was Mylan Inc (MYL) - Get Viatris, Inc. Report and and the second was Live Nation Entertainment (LYV) - Get Live Nation Entertainment, Inc. Report. I still hold Intel (INTC) - Get Intel Corporation Report and Coca-Cola (KO) - Get Coca-Cola Company Report longs.
Even though I am very cautious on this stock market, the opportunities are on the long side, even though those opportunities are dwindling, according to my process which can be found at www.strategicstocktrade.com.
At the time of publication, the author was long MYL, LYV, KO and INTC, although positions may change at any time.
This article is commentary by an independent contributor, separate from TheStreet's regular news coverage.