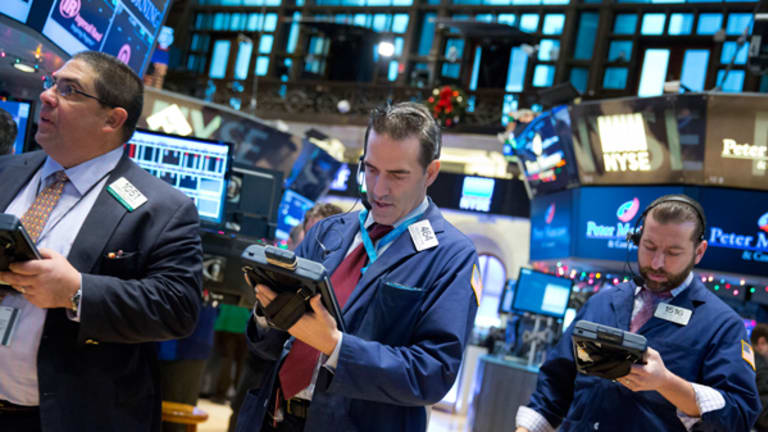 Stock Market Volatility Continues With No End in Sight Next Week
Better prepare for the end of the centrally planned stock market bubble.
NEW YORK (TheStreet) -- The volatility in the stock market this year is simply incredible. We have been expecting this volatility and it appears that it is here to stay.
In addition, this stock market has no memory from day to day.
After being up more than 200 points on Thursday, the DJIA lost 141.38 points on Friday to close at 17,672.60. The S&P 500 was down 11.33 points to finish at 2,051.82. The Nasdaq was higher by 7.48 to close at 4,757.88 while the Russell 2000 was down 1.44 to close at 1,188.93.
The S&P 500 Trust Series ETF (SPY) - Get Report volume was on the light side, trading just over 116 million shares.
It seems that the global, unelected central planners are intent on keeping this manipulated stock market bubble growing bigger and bigger. When this bubble will pop is anyone's guess, but it appears that we are near the end of the rainbow.
It may be another 12 months or so before the avalanche occurs and there are many indicators across multiple duration time frames that seem to confirm this stock market is at the tail end of the parabolic move that started in early 2009.
Over the last 46 years there have been only two other times that the stock market has been this overbought, according to my internal algorithm numbers. The first time was the dot-com era in 1998 and the other time was the beginning of the sub-prime collapse at the end of 2007.
It appears that we now have very similar extreme overbought conditions in the stock market. It would be very beneficial for traders and investors alike to take notice of where the markets are currently in relation to other bubble-like conditions.
The global central planners who think they can just devalue their countries' currency and flood the markets with free money in hopes of creating inflation are sadly mistaken. This stock market bubble will not end very well.
So prepare for the inevitable. It is no longer a question of "if" the stock market bubble will burst but a question of "when." The time is much closer than most Wall Street pundits think.
The crash will be much larger than anyone thinks simply because of the magnitude of the central planning intervention in the so-called free markets.
There will be many opportunities for traders and investors alike to profit from the upcoming avalanche, provided one is on the correct side of this stock market.