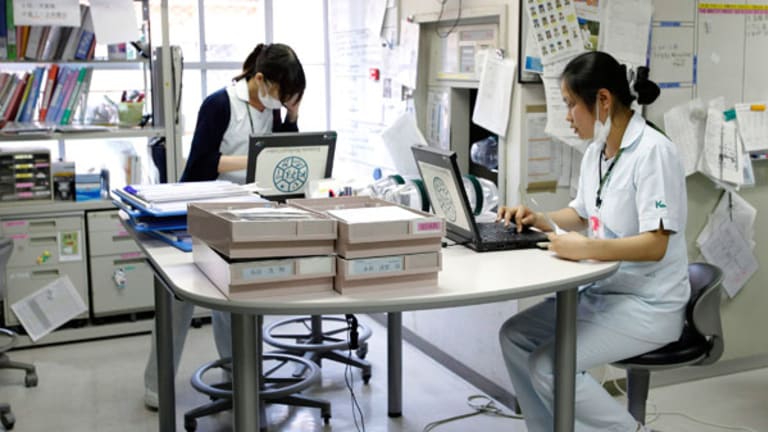 Stock Market Says Obamacare Is Winning
Companies that bet heaviest on the Affordable Care Act rose faster than the market Tuesday.
NEW YORK (
) -- The nation's health insurance companies have invested a lot in the Affordable Care Act.
They have spent money setting rates they believe will be both competitive and profitable. Since they have done this in the absence of hard data on loss ratios -- it's hard to make estimates on marketplaces that don't exist -- they have taken on considerable risk.
So if the ACA is such a bad deal, you'd assume traders would be selling these stocks as the health exchanges opened. You'd think the low prices being shown on most exchanges couldn't be sustained by experience, and that the insurers should be sold.
That has not happened. On a day when the
S&P 500
finished up 0.8%, here's how the biggest health insurers finished:
An even bigger gain was turned in by
Health Net
(HNT)
, which worked to set up the exchanges. That stock was up 3.6%. And
Walgreen
(WAG)
, which has reorganized around the ACA, with clinics that can manage chronic conditions for the newly insured, was up 4.54%.
Read: Shutdown Doesn't Stop Obamacare
Except for Universal American, which focuses on seniors with Medicare Advantage and Medicare supplement policies, all of these companies are near their yearly highs, most of which were achieved in mid-September, as hype over the exchanges began to reach a peak.
There are some analysts who insist that the ACA benefits "only" these large insurers, and they may be right. In Germany and the Netherlands, which also organize their health care around mandatory insurance purchases, there are only a handful of companies providing coverage. Yet they cover everyone, for a fraction of the 18% of GDP we have paid to cover only some of us.
Then I asked my wife to get some figures for me.
In addition to being the family accountant, she's also "the money." She's made more than me for a decade now and earns every penny of it. Her employers like her, and she gets excellent health coverage, for which we pay about $200 a month, including vision and dental. Her employer matches her contribution 4-1, so our family's policies cost about $12,000 a year.
Read: Small Businesses Struggle With Obamacare
Meanwhile, our daughter is still looking for work, and her policy, on the exchange, will be $205 a month, or $2,460, when she turns 26. That is before any discounts owing to her employment state. In the pre-exchange market her coverage would have been unaffordable. She would have gone without.
This is pretty much the way Stuart Butler of the
Heritage Foundation drew it up in 1989
, when the conservative think tank was looking for an alternative to the single-payer and employer-mandate plans being offered by Democrats at that time. The ideas were reflected in the "Health Equity and Access Reform Today Act" proposed in 1993 by 18 Republicans, including Bob Dole.
Read: Government Shutdown and Financial Collapse
The rigid opposition to the ACA today is a political act, and I really try not to do politics here. I prefer economics, numbers and markets. The economics, the numbers and the markets indicate that, for all Wall Street's boo-hooing, this law should work, and traders expect it to work.
If you disagree, might I suggest some options on HNT, some bets that its exchanges will fail. But be warned: The heavy action right now,
is on the calls.
At the time of publication, Blankenhorn had no positions in companies mentioned.
This article is commentary by an independent contributor, separate from TheStreet's regular news coverage.
Dana Blankenhorn has been a business journalist since 1978, and a tech reporter since 1982. His specialty has been getting to the future ahead of the crowd, then leaving before success arrived. That meant covering the Internet in 1985, e-commerce in 1994, the Internet of Things in 2005, open source in 2005 and, since 2010, renewable energy. He has written for every medium from newspapers and magazines to Web sites, from books to blogs. He still seeks tomorrow from his Craftsman home in Atlanta.