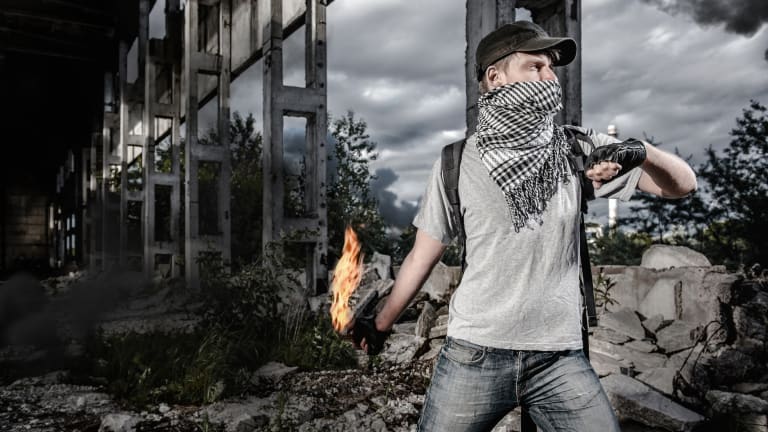 The Stock Market Is Being Torched Again and This Time It Makes Perfect Sense
The stock market is going up in flames again and investors are right to be concerned. On the other hand, McDonald's is rocking.
The war begins.
Op-Ed
You really need to watch TheStreet's newsroom discuss the market plunge on Thursday afternoon. Click this link and I promise you will be both entertained and educated. Stuck in the subway and can't watch? I feel you, so let me lay out what's happening to the market in 10 seconds. It's not the Trump tariffs that the market is worried about (despite carmakers like Ford (F) - Get Free Report , GM (GM) - Get Free Report and countless other steel users being hurt) per se, it's the broader implications for multinational companies in a protectionist world. How is today not riskier than yesterday for Starbucks (SBUX) - Get Free Report , a profit hungry beast of a company that does business all over the world? Investors have assigned a multiple to Starbucks' future earnings based on reasonable expectations on overseas profits - those multiples should now be reined in a bit thanks to Trumpian tariffs. Netflix (NFLX) - Get Free Report continues to push forward with its global expansion in the hopes of satisfying an investor base that could best be described as obsessed. How am I not more concerned today than yesterday that in a protectionist world Netflix may not be able to charge so hard? All in all, it's odd that a president that loves tweeting about stock prices ripping higher didn't connect the dots on the market impact of his comments about tariffs on Thursday. Oh well, one less Trump tweet to cover. Best start bracing for that $5,000 increase in the price of the 2020 SUV you plan on buying.
Water Cooler Talking Point
On Wednesday, TheStreet wrote the S&P 500 was nearing a critical point on the charts: the 50-day moving average. Well, that failed to hold. Next up is the 100-day moving average at 2,665 (Thursday's close: 2,677). If that doesn't hold, the 200-day is next at 2,588. You know it's getting rocky out there when you pull stock charts for analysis.
McDonald's Is Doing You Right
A value war has broken out across the restaurant industry. On the positive side, said UBS, price cuts have correlated with nice bumps in traffic for many fast-food chains. So profit margins may actually be on the rise as a result. The winner of the value wars right now is your resident artery clogger McDonald's (MCD) - Get Free Report thanks to its new $1, $2, $3 value menu. Darn thing offers some good value, I must admit. "McDonald's is the value leader by a wide margin, with consumer 'good value' perceptions well above quick-service restaurant peers," UBS's new research showed. "Fifty-two percent of consumers associated McDonald's with 'good value'' in our 2018 survey, a slight increase from 2016's survey." The Golden Arches also received high consumer perceptions related to "good promotions" and "good selection of low-priced menu choices." Worse value in fast-food for your buck? That goes to Jack in the Box (JACK) - Get Free Report , said UBS. McDonald's stock has fallen 10% this year -- it could be worth taking a bite here.
More from the JoltArchives: