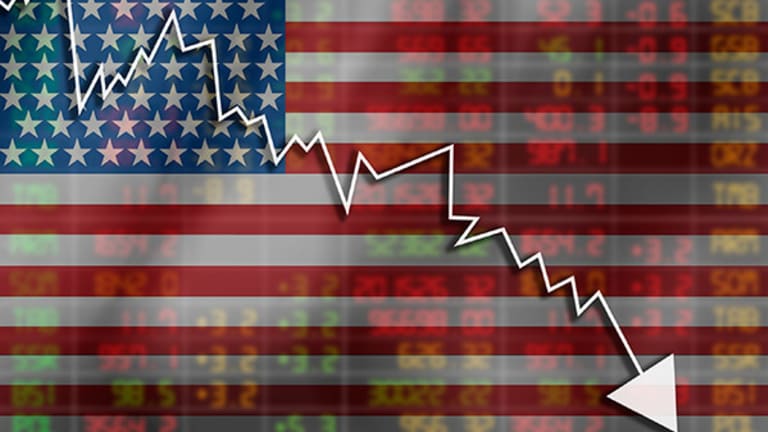 Stock Market Crash? It's Coming, and This Chart Shows How It Will Unfold
Market conditions now match those when stocks were at their November peak. Sell your stocks now or you'll wish you had.
Editors' pick: Originally published March 17.
Let's just get it out of the way: There's a big elephant in the room, and it looks like early November. If you don't remember what happened back then, the daily bar chart below will remind you. It shows the SPDR S&P 500 ETF Trust (SPY) - Get SPDR S&P 500 ETF Trust Report , an exchange-traded fund that tracks the S&P 500 index. 
Click here to see the following chart in a new window
Note the huge rally off the Aug. 24 mini-crash low, after the market had become so bearish. That low is indicated by the left-most green box on the upper price pane. At the time there was a 12% bulls (10-day average) reading on the daily sentiment index. Along with the plunge in price to the lower six-standard-deviation band (which statistically impossible to maintain for more than hours), the close below the lower Bollinger Band (purple dashed line) and the extreme oversold stochastics reading of 10%, that 12% bulls reading set the stage for the largest rise since the May all-time high.
By Nov. 3, that bearishness had reversed and where there were no bulls at the 12% level. Now there were 67%, on the same 10-day smoothing. Price had also risen to the upper Bollinger Band, and in a large up/down/up corrective pattern. Then, the rally-killer appeared: the red boxes showing the higher high in price vs. the lower high in stochastics. This is what we call a bearish divergence sell signal. Our decision support engine informed members of our live-market Trading Room that major trouble was due at any time. This analysis from Oct. 26 came just a week before the November peak, and this analysis came just three days after it. Although it is nice to look backward and wish someone had told us about a big market reversal about to happen, the world doesn't grant everyone's wish. So, you have to take control and make your wishes come true. That opportunity is knocking again, right now. 
Click here to see the following chart in a new window
Note how the market's condition right now is similar to its condition at the November high. You can compare the red box at the upper right with the red box in November. In both instances, there are 67% bulls readings on a 10-day smoothing basis. In both instances, prices are bumping up against the upper Bollinger Band. In both instances, stochastics are making lower highs while stock prices are making higher highs. In both instances, there are very large upward/corrective patterns of up/down/up cadence. In both instances, there is no evidence of an objective buying opportunity.
Remember what an objective buying opportunity looks like. It occurs when you see green boxes in the price and stochastics panes simultaneously, and that is not happening right now.
Therefore, if you have long positions in U.S. stocks or index ETFs, the decision support engine suggests you use the $200 level on the SPDR S&P 500 ETF Trust as your sell stop. If you're flat, consider establishing short exposure above the $200, and if you're already short, hold tight or add more. 
The red arrows on the right-hand side of the chart show what the coming decline should look like, and it looks like it will be worse than the selloffs of last August or this January.
Interested in this kind of market analysis? Sign up today for a FREE 7-day trial of our Decision Support Engine Premium Service at no obligation. Inquire about special pricing for TheStreet.com readers after your complimentary trial.
This article is commentary by an independent contributor. At the time of publication, the author held Direxion Daily Small Cap Bear 3X Shares (TZA) and ProShares Trust UltraPro Short QQQ ETF (SQQQ)