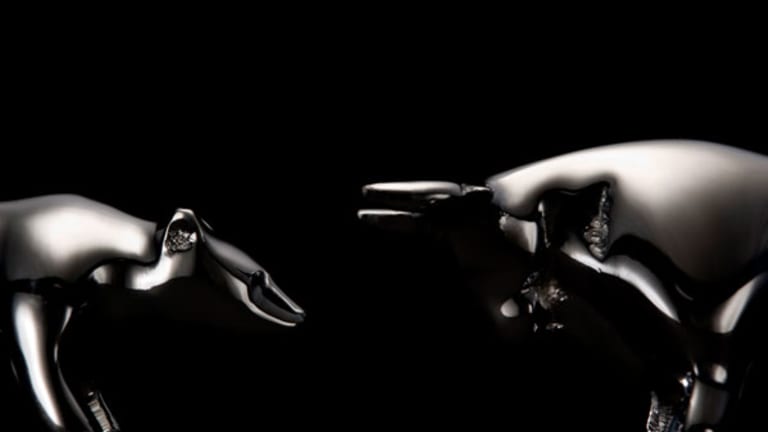 Stock Market Continues 'Trend Bearish' Selloff on Accelerating Volume
Any relief rally will be met with selling.
NEW YORK (TheStreet) -- The stock market had another ugly down day on Thursday as volume continues to accelerate on the downside. I will continue to reinforce the notion that the stock market is in a "Trend Bearish" condition. Wall Street pundits are still on the side of bullishness.
The DJIA was down another 75 points on Thursday at 16368, although it was off its lows for the day. The S&P 500 was lower by 10.67 at 1909.57. The Nasdaq lost 20.08 points to 4334.97and the Russell 2000 was down 5.79 at 1119.76.
The short hedge funds continue to press the short side of this market. As many of you readers of my column know, this is what it looks like when the market loses a bid underneath. A stock market that is controlled by the hedge funds act in unison. We are now seeing the flip side of the runaway, bubble bull market. Risk starts out slow then all of a sudden happens fast.
My S&P 500 Daily Trading Range for Thursday was Buy Trade - 1897 and Sell Trade - 1931. The actual day low on the S&P was 1904.78 and the day high was 1928.89. So it was an extremely volatile trading day.
For those of you who are traders, these daily ranges become priceless. You have an extreme advantage over most traders and investors. Knowing when to buy and sell will keep traders out of serious trouble.
I am hosting a Free Chat Friday tomorrow at www.strategicstocktrade.com. Feel free to join us and get a closer look at how we risk management our process.
The stock indexes are in oversold territory, as I mentioned on Wednesday. The indexes are now approaching extreme oversold territory on a down open Friday. I am looking for an intraday turn to the upside any day now. The turn should prove to be a strong, tradable move higher.
This does not mean a new bullish trend will develop anytime soon. Many technical levels would have to be overcome. Make no mistake about it, the markets are in "Trend Bearish" mode. Traders are using every opportunity to sell into strength.
We were well ahead of the curve when it came to calling for a "growth slowing" economy and were well ahead of being cautious on this stock market. The Russell 2000, a growth index, was signaling a bearish market ahead back in March 2014. It may have taken a while for the other indexes to conform, but we were correct in our analysis.
On Thursday, I sold Glu Mobile (GLUU) - Get Glu Mobile Inc. Report from Wednesday for a better than 2% profit. I added to my Popular (BPOP) - Get Popular, Inc. Report position. BPOP has an extraordinarily oversold signal. I am still long Coca-Cola (KO) - Get Coca-Cola Company Report. I sold the remaining Flowers Food (FLO) - Get Flowers Foods, Inc. Report for a minimal gain.
At the time of publication, the author was long BPOP and KO, although positions may change at any time.
This article represents the opinion of a contributor and not necessarily that of TheStreet or its editorial staff.