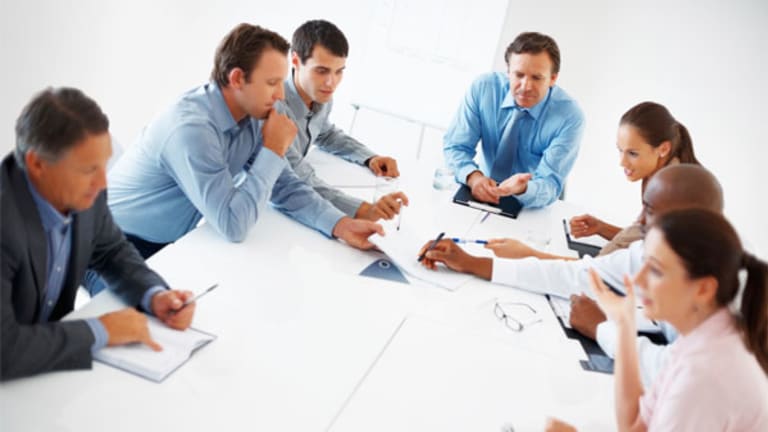 Stock Market Collapse Makes No Sense
Elliott Morss says the U.S. recovery is fragile, but it is moving in the right direction.
NEW YORK (TheStreet) -- Panic is more often than not ill-founded, based on an incorrect assessment of the future. The current malaise causing the S&P 500 to lose more than 9% since the beginning of April is a case in point.
Virtually every indicator suggests the U.S. economy is recovering. Slowly, yes, and hirings are lagging, and the real estate cycle has not turned up. But still, there is progress.
We read daily about the euro crisis and hear talk of contagion. Contagion is a scary word. What does it mean in the context of the eurozone? Ever since questions were raised about euro sovereign debt,
I have said things are going to get a lot worse before they get better. I believe that before it is all over, Greece, Italy, Portugal and Spain will not be in a "zone" with Germany, the Netherlands, and Austria.
In what follows, I will look closely at these two areas of concern.
The U.S. Economy
The table below provides data on U.S. economic conditions. The U.S. still has a large inventory of real estate to work off. Nevertheless, housing starts continue to trend upwards. Vehicle sales are up as are other retails sales, albeit slowly. Capacity utilization is about as high as it gets.
For the two ISM indicators, anything over 50% signifies growth, and they are both more than 50%. And finally, both the leading indicators and corporate profits are up.
But employment is only recovering slowly, a common occurrence coming out of a recession. Recognize that since March 2010, the U.S. private sector has added 3.4 million jobs. That sounds pretty good, but we need another 3 million+ jobs to get back to full employment. And while the private sector is generating jobs, "austerity" has resulted in the loss of 459,000 government jobs, with most job losses coming from local governments. Not only is employment coming back slowly, but wages continue under pressure as U.S. labor adjusts to be competitive globally.
What does this all mean? The U.S. recovery has some momentum. It is coming back. Not very rapidly, and certain sectors,
such as construction, have a long way to go. A sustained, albeit slow, recovery will continue.
The Euro Crisis
There is fear/panic here because nobody knows what will happen. I expect the worst -- bank failures, higher unemployment, political uprisings and more riots in the streets. How can this all affect the US economy? We hear a lot about contagion -- a scary sounding term. What does contagion mean in this context? Two things:
1. Banking problems in Europe are not contained and spread to U.S. banks, prompting the need for yet another bailout. The Fed can do this on its own by guaranteeing whatever foolish loans/investments the banks made. No need for Congress to get involved. With the recent practice the Fed has had, it can be expected to do a better job second time round.
2. Slower growth in eurozone countries will reduce the demand for U.S. products. But on this score, things just got much better. As evidenced by the recent G-8 meetings, there is growing support for the notion that growth rather than austerity will be the vehicle for solving the euro crisis. This is good news, just the opposite of what the strong euro nations have been forcing on its weaker sisters.
If such policies are enacted, euro growth will be higher than it is currently projected to be. But on the concern that slower euro growth will reduce demand for U.S. products, consider this: in 2010, about 10% of U.S. exports go to eurozone countries. That constitutes 1.2% of U.S. GDP. A small downtick in that amount won't matter much. For example, suppose the euro demand for U.S. goods falls by 1%. That would reduce U.S. GDP by .012%. Globally, euro imports are 6% of global GDP. So they slow down by 1%? The global economy will survive.
Conclusions and Investment Implications
I believe the fear gripping stock markets is due to unknowns. When I look carefully at the unknowns, I see the markets as oversold. Sure, the U.S. recovery is fragile, but it is moving in the right direction. The eurozone? A real disaster in the making. But contagion fears are way overblown.
Am I so sure of my conclusions to take any investments chances? No. I look for 4 to 6% returns in emerging market countries --
WisdomTree Emerging Markets Local Debt
(ELD) - Get WisdomTree Emerging Markets Local Debt Fund Report
and
TCW Emerging Markets Income I
(TGEIX) - Get TCW Emerging Mkt Income I Report
. I also figure the U.S. real estate market will recover sometime in the future, so a 4% return for now is reasonable --
Fidelity Real Estate Income
(FRIFX) - Get Fidelity Real Estate Income Report
. And I recently added to my
Brookfield Asset Management
(BAM) - Get Brookfield Asset Management Inc. Class A Report
position.
This commentary comes from an independent investor or market observer as part of TheStreet's guest contributor program, which is separate from the company's news coverage.
Elliott Morss is an economic consultant and an individual investor in developing countries. He has taught at the University of Michigan, Harvard University, Boston University, among other schools. Morss worked at the International Monetary Fund and helped establish Development Alternatives Inc. He has co-written six books and published more than four dozen articles in professional journals.