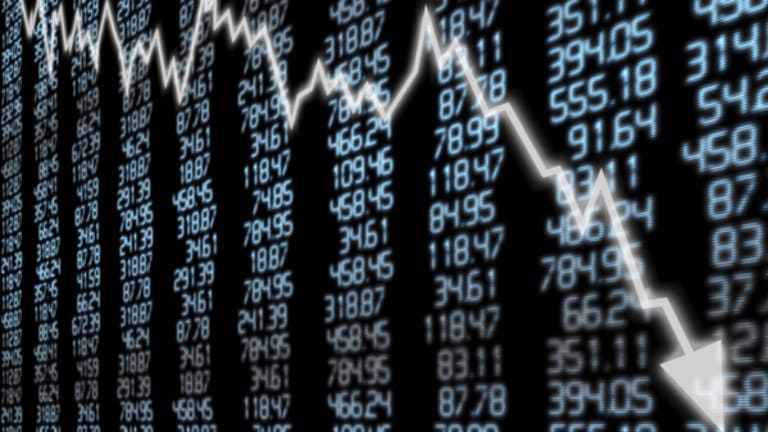 Stock Market Momentum Reverses Course Amid Bearish Signals
What the hedge funds were chasing and buying a few short weeks ago has now switched to selling those same issues
What the hedge funds were chasing and buying a few short weeks ago has now switched to selling those same issues
NEW YORK (TheStreet) -- The stock market momentum that we had just a couple of weeks ago to the upside is now becoming an inverse momentum stock market to the downside.
The DJIA lost 99.99 points on Monday to close at 17,180.84 while the S&P 500 was lower by 12.70 to finish at 1,989.62. The Nasdaq was lower by 48.43 points to close at 4,605.15 and the Russell 2000 was down 12.15 to close at 1,140.29.
The Russell 2000 is now down 2% in 2014.
Must Read:
Jim Cramer's 5 Best Stock Picks for the Biotech Sector
The S&P 500 Trust Series ETF (SPY) - Get Report volume was, once again, on the high side, with nearly 190 million shares traded on Monday.
Since oil related issues are at the forefront of this stock market, it appears that oil stocks and the iPath S&P Goldman Sachs Crude Oil Trust Index ETN (OIL) - Get Report are nearing extreme oversold levels for the first time since October 15, 2014.
The OIL volume on the daily time frame has been nothing short of incredible. This past Friday traded a huge 3.7 million shares and that was followed by an incredible 5.2 million shares on Monday.
This was the largest two day volume in over 2 years. The question becomes, is the oil market in the midst of a capitulation downside move? Only time will tell, but if the oil markets open to the downside on Tuesday, we will have an extremely oversold signal.
For those who may be looking for an oversold sector to buy, it seems as though the oil and energy sector provides the greatest risk/reward to the upside at current levels.
It appears that the "v" shaped recovery that the stock market displayed from the October 16, 2014 low will not be repeated this time. In October, both the weekly and the daily stock indexes were confirming an oversold signal based on my indicators. As of Monday, the daily stock indexes are in oversold territory, but the weekly indexes are heading lower from an overbought condition. This is a distinct difference versus the October time period.
In the short term, it does appear that the indexes are due for a bounce to the upside. However, this seems to be within a bearish trend, so be cautious.
Must Read:
Jim Cramer's 4 Best Stock Picks for the Defense Sector
This article is commentary by an independent contributor. At the time of publication, the author held no positions in the stocks mentioned.