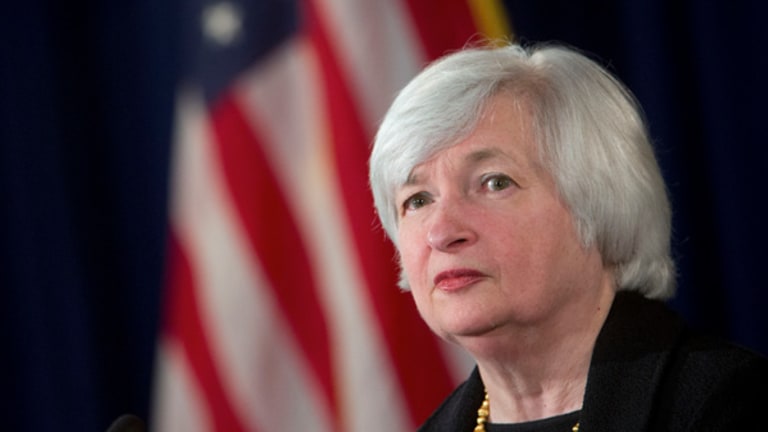 Stock Indexes Soared Wednesday With Help From Fed Chair Janet Yellen
After the conclusion of the FOMC meeting the stock market resumed its bubble-like features.
NEW YORK (TheStreet) -- With the help of the Federal Reserve Chair Janet Yellen, the stock market resumed its upward trajectory on Wednesday.
The stock indexes were counting on the Fed to provide the necessary boost for the markets to regain their footing after huge losses the past two weeks. And the Fed did not disappoint.
The DJIA gained 288 points to close at 17,356.87 and the S&P 500 gained 40.15 to close at 2,012.89. The Nasdaq was higher by 96.47 points to finish at 4,644.31 and the Russell 2000 gained 35.46 points to close at 1,174.83.
The S&P 500 Trust Series ETF (SPY) - Get SPDR S&P 500 ETF Trust Report volume was, once again, impressive on Wednesday with over 250 million shares traded. The volatility and volume that has been lacking for most of 2014 has regained its strength and is firmly in place currently.
After the market's rally today, there is but one large-cap stock that appears to be showing an extreme oversold signal. That large-cap stock is MGM Resorts (MGM) - Get MGM Resorts International Report .
The question now for traders and investors alike is, was the recent selloff in the stock market enough of a correction to allow the stock indexes to reset for another move higher?
It appears that it is too early to answer that question. There are still resistance levels that need to be overcome before the markets can resume their uptrend. As of now, it appears that the stock market is showing nothing more than a bounce.
This article is commentary by an independent contributor. At the time of publication, the author held MGM.