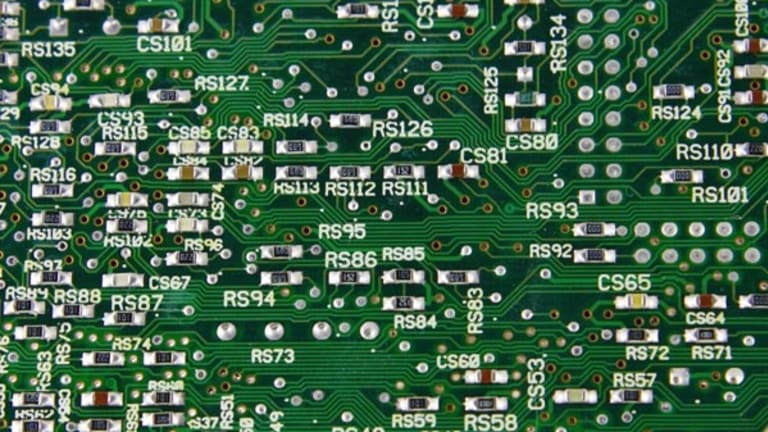 STMicroelectronics Is a Declining Tech Losing Its MEMS In the iPhone
STMicroelectronics is a European semcionductor manufacturer with declining revenue and business segments. Channel checks suggest it has lost all MEMS business for the iPhone 6. So is it doomed?
Note: This article discusses one or more stocks with a market cap between $350 million and $2 billion. Such small-cap stocks tend to be volatile.
NEW YORK (TheStreet) -- STMicroelectronics (STM) - Get STMicroelectronics NV Report is a semiconductor manufacturer whose shares have seen a strong runup lately based on hype over its MEMS (microelectromechanical components) business and an article in Barrons suggesting it's a Google (GOOG) - Get Alphabet Inc. Class C Report (GOOGL) - Get Alphabet Inc. Class A Report takeover candidate.
In reality, Google has absolutely no interest in acquiring STM. Nor should it.
STM is a legacy, high-cost, European company that produces a wide variety of commodity products, and none of its technology is new or sexy. The majority of its business is in automotive parts, something that Google wouldn't want any part of.
What's more, STM has expensive semiconductor fabrication technology and plants, and doesn't have the technological savvy and originality to compete with more nimble pure plays. Except for Motorola, which Google bought for its patents, Google only acquires focused firms that have original, creative, cutting-edge technology.
Google has never acquired a semiconductor company. Even if it wanted STM's MEMS products, given their potential application in wearables, it would be folly to do such a large and complex deal just to gain the few hundred million dollars of revenue from it. The market reaction to another $10 billion technology hardware acquisition in need of extensive restructuring would almost certainly be a negative.
More importantly, STM has proven to be a secular share loser, with declining revenues across most of the segments it competes in. 
STM's Mobile Devices Business: Overhyped and Losing Business Quickly
Like many semiconductor darlings, STM has gotten a lot of hype and valuation credit for selling MEMS devices. This includes its devices sold to Apple (AAPL) - Get Apple Inc. Report for the iPhone. These MEMS, including the gyro and accelerometer, measure movement of the mobile device and have received a lot of attention since they enable gaming and other applications. 
Well, it turns out STM is losing steam. STM has been losing MEMS market share to Invensense (INVN) , which is gaining share with Apple and Samsung at STM's expense. Invensense is a pure play MEMS company with superior technology that's focused on exciting applications like mobile devices. 
For the iPhone 5S, Apple designed out STM's accelerometer and replaced it with one from Bosch. STM's other major MEMS device in the iPhone is the gyro. STM has supplied this part from the iPhone 3GS onward.
But an analyst friend conducted a channel check with a source in the iPhone supply chain in Taiwan. That source said that STM will lose the gyro socket in the iPhone 6 coming this fall.
I believe Apple is now buying Invensense's gyro for the iPhone. Since the gyro is a 70-cent to $1 part, that represents a loss of up to $150 million in revenues. More importantly, this also means that STM has lost all its MEMS business at Apple.
This loss of business is coupled with shrinking revenue for the past few years.
Courtesy of White Diamond Research
Invensense has a long history of innovation in MEMS technologies and producing superior components. As a result of its technological prowess and focus, it makes better, more efficient gyros than STM, and those parts are used more in tablets and smartphones from Samsung (SSNLF) and Apple. For example, Nintendo's (NTDOY) Wii remote is possible because of Invensense's gyro sensors.
Samsung is giving more share to Invensense from STM. Why? In part because Invensense uses a patented manufacturing process that lowers cost. Invensense is a fabless MEMS vendor, while STM has its own fab. The majority of STM's MEMS are sold into automotive applications, where it has a strong position, so its performance in mobile is even worse than the overall segment trend would suggest.
Automotive and Industrial Business: STM Is a Stodgy European Laggard
STM's major business is selling commodity automotive electronic components in China. But it's so hard to compete with the semiconductor manufacturers there. STM has its factories in Europe where labor is expensive, whereas in China companies can hire workers for cheap. STM has a high-cost European structure, with manufacturing facilities that are expensive to run. The company can't efficiently hire and fire employees because of tough European regulations. 
Stuck Between a Rock and a Hard Place
Wall Street certainly has the wrong idea about STM. It has missed consensus earnings estimates every time for the past five quarters.
STM's problem is that it's a slow, plodding company that doesn't have the strategic vision, charismatic management, end market applications expertise or efficient R&D organization to compete with smaller pure play companies like Invensense. At the same time, it doesn't have the cost structure to compete with the Chinese and Taiwanese manufacturers that make simple, commoditized products.
The following companies are "purer" plays or technology leaders that are either outperforming or taking share from STM. 
Microcontrollers (MCUs): Microchip (MCHP) - Get Microchip Technology Incorporated Report, Atmel (ATML) , Silicon Labs (SLAB) - Get Silicon Laboratories Inc. Report
Microelectromechanical components (MEMS): Invensense (INVN)
Audio ICs: Maxim (MXIM) - Get Maxim Integrated Products, Inc. Report, Analog Devices (ADI) - Get Analog Devices, Inc. Report, Texas Instruments (TXN) - Get Texas Instruments Incorporated Report
Automotive: Infineon (IFX), ON Semi (ONNN) , Freescaleundefined, International Rectifier (IRF)
Automotive Infotainment and Telematics: NXP Semi (NXP) - Get Nuveen Select Tax-Free Income Portfolio Report
Clocks and Timers: IDT (IDTI) - Get Integrated Device Technology, Inc. Report, Silicon Labs
Power Management: Maxim, Monolithic Power (MPWR) - Get Monolithic Power Systems, Inc. Report, Power Integrations (POWI) - Get Power Integrations, Inc. Report, Texas Instruments
Digital Set Top Box: Intel (INTC) - Get Intel Corporation Report, Broadcomundefined, Maxlinear (MXL) - Get MaxLinear inc Report
Imaging ICs: Aptina, ON Semi, Omnivision (OVTI)
RF Transistors: Freescale, Hittite (HITT)
TV and Monitor: Asian manufacturers
The results come out in STM's financials. Even after years of attempted restructuring, it has the worst EBITDA margins among its peers.
Courtesy of White Diamond Research
STM was squeezed in the digital television and set-top box markets by the emergence of Asian vendors Mediatek and Realtek at the low end and Broadcom and Intel at the high end. Mediatek merged with Mstar last year; both companies are from Taiwan.
Mstar has taken semiconductor market share from STM, building parts cheaper and more efficiently. STM hasn't been growing, whereas the Chinese and Taiwanese companies have been.
Taiwanese and Chinese companies have also been successful penetrating the market for low-end commodity discrete devices. Such devices require minimal R&D, so Asian suppliers with very low cost structures can be very aggressive on price. 95% of what STM sells are standard, less-differentiated products. 
STM sells discretes for cars, which automobile manufacturers can buy from 10 different companies as a catalog part. But what a company like Apple has in its iPhone is often tailored for the iPhone. That means STM isn't a good supplier for Apple because STM doesn't make specific, tailor-made products.
The following is STM's revenue per segment for the last three years. The important segments of poor performance are highlighted in red.
Courtesy of White Diamond Research

Valuation
With stagnant revenues and profits, STM should trade at an enterprise value-to-EBITDA of at best 5 times. For most of the period between 2010 to 2012, STM traded below 5 times EV/EBITDA.
At the moment this multiple is at a whopping 9.5!
This loss of market share throughout STM's segments makes its current EV/EBITDA unjustifiable. For STM to have an appropriate EV/EBITDA of 5, its share price would be $5.27, which is where the stock should be trading now.
Calpine Sees Risk to Geothermal as Green Energy Grows
Time for Nike and Under Armour to Pay College Athletes
Lululemon, eBay and Staples: 3 Retailers United Under a Red Flag
Smith & Wesson and Coach: High Hopes and Low Expectatations
At the time of publication, the author was short STM.
This article represents the opinion of a contributor and not necessarily that of TheStreet or its editorial staff.