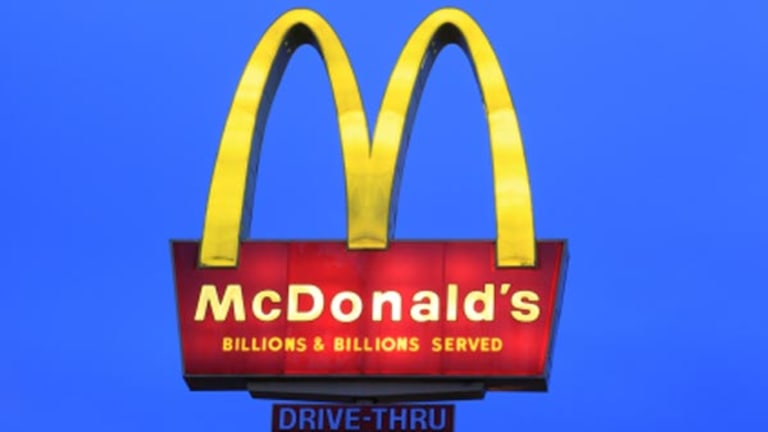 Still Too Early to Declare Restaurant Stocks Spoiled
Shareholders soured on recent quarterly results from McDonald's and Chipotle. But it's wise to wait for reports from other restaurant names before declaring the sector dead.
Shareholders soured on recent quarterly results from McDonald's and Chipotle. But it's wise to wait for reports from other restaurant names before declaring the sector dead.
NEW YORK (
) -- A handful of recent earnings misses in the restaurant sector have some wondering whether the great run for that sector is indeed on its last legs.
Restaurants typically are top performers
after
a recession, but they defied logic following the financial crisis by performing well during the recession, too.
As much as consumers have suffered, eating outside the home seems to have been one of the last items cut from the budget. Now we are seeing some high-profile restaurant names missing their numbers, and it raises the question of whether a slowdown is in the works.
Last week,
McDonald's
(MCD) - Get Report
reported third-quarter revenue that was in line with consensus estimates; however, earnings of $1.43 missed the $1.47 consensus estimate.
To be sure, it wasn't a terrible quarter for the fast food giant, which still had a 30% net profit margin, but there is reason to be cautious going forward.
A combination of Europe's economic woes, slowing growth in Asia and increasing commodity costs at home could prove challenging.
Frankly, I've been concerned about the commodity cost issue for quite a while now -- prematurely, I might add. But I suspect that we are much closer now to seeing some significant increases in costs, and restaurants have two choices here: raise prices, or suffer margin declines.
McDonald's shares fell about 4% following its earnings release, but
Chipotle Mexican Grill
(CMG) - Get Report
suffered a much larger selloff.
Chipotle had been the industry's greatest growth story in recent years, but its shares plunged 15% on Friday on the back of disappointing third-quarter results.
Earnings of $2.27 per share missed the consensus estimate by 3 cents. But that's not what had everyone so concerned. Sales growth is slowing, and it appears as though the days of double-digit growth are over, at least for now. In terms of the sector, the Chipotle miss does not concern me as much as the potential "slowdown" (if you can call a 30% net margin a slowdown) at McDonald's.
Chipotle's growth had been on steroids for far too long, and expectations remained too high. When a growth story such as this one begins to slow down, many investors head for the exits. Just three months ago, Chipotle shares traded for more than $400, and they have since suffered a 40% drop.
data by
Still, I'm not ready to declare the restaurant sector dead. True, I am concerned about commodity costs and the apparent slowdown in the economy following what was a tepid "recovery."
I want to see results from some other names that aren't as high profile as McDonald's or Chipotle.
I want to hear from
Cracker Barrel
(CBRL) - Get Report
, which plans to report earnings Nov. 16. I want to hear from "forgotten" brands such as
Denny's
(DENN) - Get Report
, which has made a fairly significant recovery in recent years and plans to report Oct. 30. I want to hear from
Wendy's
(WEN) - Get Report
(reporting Nov. 8), a name that has been very disappointing, and one that I finally gave up on.
Finally, looming in the background is the "fiscal cliff." If the current tax rates are not extended, I also wonder how the higher-yielding restaurant names will be affected, due to the impending increase in the tax on dividends. McDonald's currently yields 3.5%,
Darden
(DRI) - Get Report
yields 3.7%, and Cracker Barrel yields 3.1%. Several others are in the 2%-plus range.
data by
At the time of publication, Heller was long DENN
.
This article is commentary by an independent contributor, separate from TheStreet's regular news coverage.
Jonathan Heller, CFA, is president of KEJ Financial Advisors, his fee-only financial planning company. Jon spent 17 years at Bloomberg Financial Markets in various roles, from 1989 until 2005. He ran Bloomberg's Equity Fundamental Research Department from 1994 until 1998, when he assumed responsibility for Bloomberg's Equity Data Research Department. In 2001, he joined Bloomberg's Publishing group as senior markets editor and writer for Bloomberg Personal Finance Magazine, and an associate editor and contributor for Bloomberg Markets Magazine. In 2005, he joined SEI Investments as director of investment communications within SEI's Investment Management Unit.
Jon is also the founder of the
, a site dedicated to deep-value investing. He has an undergraduate degree from Grove City College and an MBA from Rider University, where he has also served on the adjunct faculty; he is also a CFA charter holder.