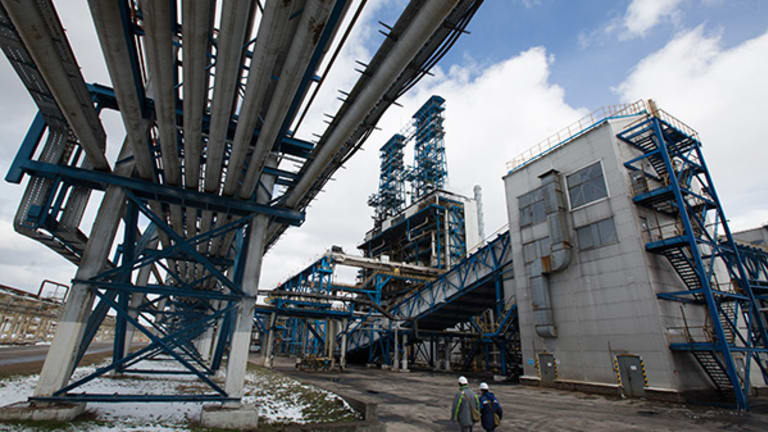 Still Plenty of U.S. Natural Gas Stock Picks Despite Gazprom Action
Dan Dicker tells Joe Deaux that not much attention has been paid to the natural gas producers here in the U.S., but that is a good thing for investors
NEW YORK (TheStreet) --With all the attention in energy focused on the oil markets and the fast moving United States shale plays for oil, everyone's seem to have forgotten that the shale revolution is still going on with natural gas.
Recently, Gazprom cut off its supplies of natural gas to Ukraine, using its strength of production to achieve the political goals and protest the new government in Kiev.  But this story has literally flown under the radar in light of the more serious military skirmishes going on in Iraq.
The ongoing reality of natural gas exports in the form of liquified natural gas (LNG) has helped to support prices here in the United States. After years at giveaway prices, nat gas has finally found its floor and has been slowly creeping back up to now reach almost $5 per thousand cubic feet. 
With the continuing boycott of natural gas from the Russians and the new EPA proposed limits on emissions for power plants, we are looking at a future renaissance for natural gas and natural gas fracking.
Because of the red-hot oil story, not much attention has been paid to the natural gas producers here in the U.S., but that is a good thing for investors because there is a lot more value in nat gas names now than in the increasingly hot momentum US oil shale names.  
The strength for these names will increase in the future. I have been using this time of streaking oil E+P stock prices to rotate into some natural gas names for the fourth quarter of this year.
I am buying Southwestern (SWN) - Get Southwestern Energy Company Report, EQT Corp (EQT) - Get EQT Corporation Report and even some Cabot Oil and Gas (COG) - Get Cabot Oil & Gas Corporation Report, a recent disappointment in the Marcellus.
I talk more about natural gas with Joe Deaux in the video above.
At the time of publication the author had a position in SWN.
This article represents the opinion of a contributor and not necessarily that of TheStreet or its editorial staff.
>>SolarCity Acquisition to Spark Industry Consolidation, Growth: StockTwits.com
Dan Dicker has been a floor trader at the New York Mercantile Exchange with more than 25 years of oil trading experience. He is a licensed commodities trade adviser.