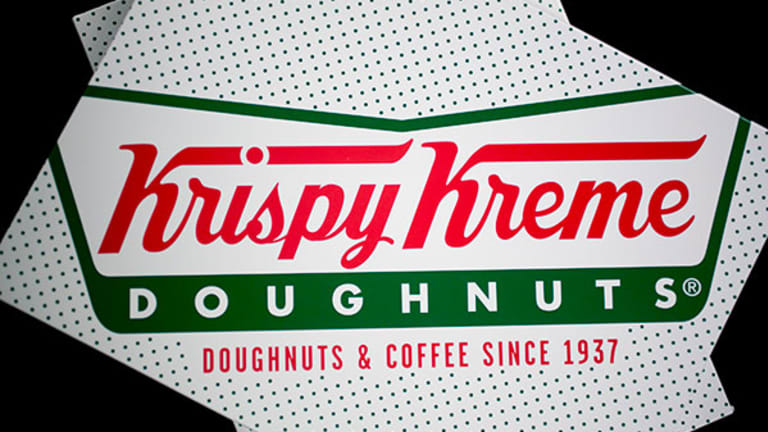 Sticking With Krispy Kreme
The stock has gotten expensive, but I'm sticking with it.
NEW YORK (TheStreet) -- Shares of donut-maker Krispy Kreme (KKD) have staged a solid comeback since a less-than-stellar second-quarter earnings report in late August gave the shares a one-day 15% haircut. That drubbing came after an earnings miss of 2 cents per share disappointed a growing body of Krispy Kreme investors, but the stock has gained back all that ground and more, and currently trades at a nine-year high.
The reasons for the growing excitement, and willingness to get past that less than stellar quarter, have to do with a few recent announcements that bolster the notion that Krispy Kreme is in growth mode. Two weeks ago, the company trumpeted its entry into the South American markets, with a deal to open 25 stores in Colombia over the next five years. Last week came the announcement of its first outpost into Singapore, with a 15-store franchise deal by 2017.
Clearly, this is not the 2000-era Krispy Kreme, which ultimately came close to crashing and burning. Today's Krispy Kreme is focused on international growth, especially in emerging markets. Some investors are surprised to find out that of the company's 790 total stores, 546 or nearly 70% are outside the U.S. Furthermore, management remains confident that it can grow its international store base to 900 by 2017.
Not that the company is struggling domestically. Last quarter represented the 19th-consecutive quarter of same-store-sales growth for company-owned stores. Krispy Kreme also is continuing attempts to make inroads into the coffee business, announcing a deal to sell its ground coffee in some of
Walmart's
(WMT) - Get Walmart Inc. Report
Sam's Club
stores in the Southeast. We'll see how that goes. But the driving force for what has historically been perceived as a U.S. icon is growth from international franchising.
As a value investor, I sometimes purchase stocks of companies that have seen better days. These are turnaround plays, and I like to be early to the party. This means seeing some redeemable quality about what appears to be a broken company, sticking to your guns, and seeing it play out. It does not always end positively, but when you are right, the rewards can be nice.
Examples over the past several years include
Saks
(SKS)
,
Cabelas
(CAB)
,
Denny's
(DENN) - Get Denny's Corporation Report
and
Gannett
(GCI) - Get Gannett Co. Inc. Report
. However, being early to the party as a value investor means often being early to leave. Once the growth crowd becomes interested, I am usually gone, and this sometimes means that money is left on the table as shares run higher. As painful as that might be, you can't look back. You do the research, purchase shares in the "broken" company, and once it reaches the point that it's no longer cheap, you move on.
Occasionally, however, I'll hang on a bit longer, as I have with Krispy Kreme, which nearly imploded less than a decade ago. The balance sheet remains tidy, ending last quarter with $60 million in cash and just $1 million in debt. There's also a bit of an asset play here, as the company owns the land and building for 42 locations, and the building only for another 23.
In terms of valuation, however, investor expectations have risen appreciably, and the stock currently trades for 73-times trailing earnings and 30-times consensus estimates for 2015. That's typically way too rich for my blood, and means that it may be prone to wild swings if quarterly earnings expectations are not met. But that I can accept. This company has produced an incredible turnaround, and I believe the long-term prospects are solid. So this value investor is sticking with this growth story: An incredible brand wrapped up in a rather small $1.46 billion enterprise value.
KKD
data by
We'll get our next view of the company's progress when it reports third quarter earnings on Nov. 18.
At the time of publication, Heller was long Krispy Kreme and Gannett.
This article is commentary by an independent contributor, separate from TheStreet's regular news coverage.
Jonathan Heller, CFA, is president of KEJ Financial Advisors, his fee-only financial planning company. Jon spent 17 years at Bloomberg Financial Markets in various roles, from 1989 until 2005. He ran Bloomberg's Equity Fundamental Research Department from 1994 until 1998, when he assumed responsibility for Bloomberg's Equity Data Research Department. In 2001, he joined Bloomberg's Publishing group as senior markets editor and writer for Bloomberg Personal Finance Magazine, and an associate editor and contributor for Bloomberg Markets Magazine. In 2005, he joined SEI Investments as director of investment communications within SEI's Investment Management Unit.
Jon is also the founder of the
, a site dedicated to deep-value investing. He has an undergraduate degree from Grove City College and an MBA from Rider University, where he has also served on the adjunct faculty; he is also a CFA charter holder.