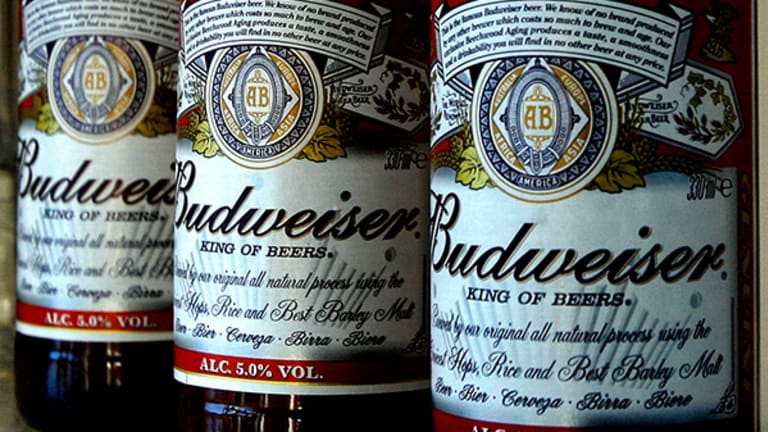 Stick With Anheuser-Busch Despite Q2 Revenue Miss
The stock should reach $135 to $140 in the next 12 to 18 months, driven by sustained revenue growth.
A second-quarter miss on revenue has kept shares of Anheuser-Busch InBev (BUD) - Get Report from staying bubbly. Shares of the global alcoholic beverage giant gained more than 3% on Friday, reaching $129.53. This marks a return of almost 11% since I recommended the stock at around $117 on February 24. But it would be a mistake to take profits now.
Aside from the earnings report on Friday, Anheuser-Busch shares are higher on reports that the board of directors of SABMiller (SBMRY) have green-lighted Bud's takeover offer of nearly $104 billion, which Anheuser-Busch's board sweetened earlier this week with a higher bid price. The combined company will have immediate access to markets that would otherwise take years to develop and grow. In other words, although the stock is now near all-time highs, holding for the long term is a smart play here.
With its shares up only 3.6% year to date, against a 6% rise in the S&P 500 (SPX) index, Anheuser-Busch has been a relative under-performer. Combined with SABMiller, however, the stock is poised to become solid bounce-back candidate for second half of 2016.
This is because, Anheuser-Busch, which reported a 4.3% increase in second-quarter operating income Friday, was already doing well on its own, thanks to stronger-than-expected demand for leading brands like Budweiser, Corona and Stella Artois. Those three brands combined saw more than 8% in revenue growth, driven by a 13% rise in Corona.
And with SABMiller coming on board, Anheuser-Busch now has a way to not only grow in key emerging markets like Africa, the company will reduce its reliance on in geographies like the U.S. where people aren't drinking as many Budweisers and Bud Lights as they used to. This means, Anheuser-Busch, which will now have a virtual monopoly in some key markets, should command a higher stock price.
From current levels of around $129, the stock should reach $135 to $140 in the next twelve to eighteen months, driven by sustained revenue growth. Add in its 3.77% annual dividend yield, that's tons of premiums to toast to.
This article is commentary by an independent contributor. At the time of publication, the author held no positions in the stocks mentioned.