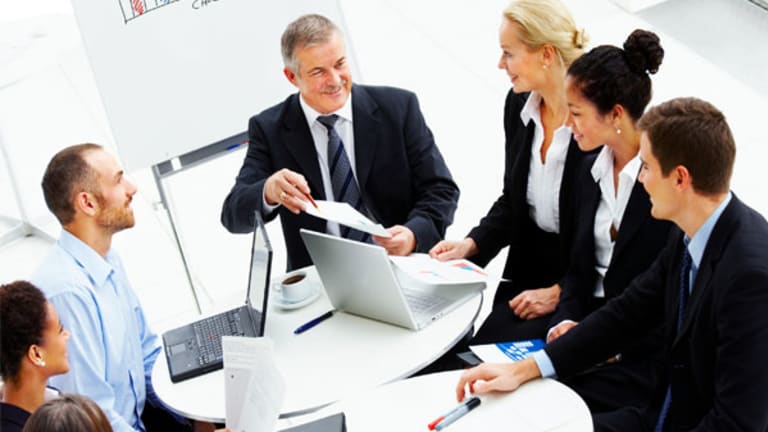 Steve Jobs' Bucket List
Before Jobs makes his final exit, there are a few achievements left to cross off: China, iTV, total domination ...
NEW YORK (
) -- As many now look back to write an epitaph of Steve Jobs and his many accomplishments at
Apple
(AAPL) - Get Apple Inc. (AAPL) Report
, Jobs is still looking ahead, laying the ground work for his legacy.
On Wednesday, during his third medical leave, Jobs held to his promise of relinquishing his position as chief if he were unable to meet the demands of the job. He wrote: "
Unfortunately, that day has come
."
Handing over the CEO title to No. 2 executive Tim Cook, Jobs vowed to stay on as chairman of the company.
With Jobs Apple's co-founder, savior and visionary, there is understandable concern that the company will
be depleted of some inspiration
, urgency and focus.
But if anything, Jobs' own plans for the company are now only more immediate.
As the newly-anointed chairman, Jobs has a few final accomplishments to achieve. And aptly, there's nothing less than monumental to get crossed off the list. Read on.
China
Here's one clue that Jobs is busy with more than formalizing Apple's executive succession plan.
Just a week before Jobs resigned his hectic duties as CEO, he was "personally negotiating with
China Mobile
(CHL) - Get China Mobile Limited Sponsored ADR Report
" to sell the iPhone,
.
Apple already sells iPhones to the smaller carrier
China Unicom
(CHU) - Get China Unicom (Hong Kong) Limited Sponsored ADR Report
, but even doomsayers would have to agree that if Jobs nailed down the world's largest mobile phone seller (count: 600 million users), there might be some boost to iPhone sales.
China Mobile -- and China overall -- represent the single greatest growth opportunity for Apple. And as a new market with rising prosperity, Apple clearly stands to gain a strong foothold in a market where increased consumer spending can start to feed the sales of gadgets like iPods, Macs and iPads.
Steve Jobs wants to make China happen for Apple.
Retail
Glassy = classy.
The underpinning tenet of Steve Jobs' retail strategy is to bring the coolest products in the coolest way to you -- the totally cool and affluent consumer.
Make no mistake, Apple has no interest in opening stores that
anchor a community turnaround project
. Apple is by all measures a capitalizer, not a gentrifier.
But in addition to affluent-only locations, Jobs pushes for a store design -- usually a geometric form almost always made of glass -- that has become the distinctive look of Apple retail.
The glass cube at Apple's 5th Avenue New York City flagship, at the tony southeast corner of Central Park, is a prime example. But even the
two patents that Jobs holds on glass staircases
illustrates just how critical the Apple look is to Jobs' vision of the company's retail future.
Jobs wants to sculpt the face of Apple retail, even if he has to do it one staircase at a time.
iTV
Anyone else would have pulled the plug on this project -- anyone but Steve Jobs.
Microsoft
(MSFT) - Get Microsoft Corporation (MSFT) Report
,
AOL
(AOL)
and
Cisco
(CSCO) - Get Cisco Systems, Inc. Report
have all attempted to combine the firehose of the `Net with the ubiquity of television. All have failed. Even Apple has failed with the first two iterations of Apple TV.
Kudos to Jobs for pushing ahead on the project despite the odds.
Analysts expect Apple's next new attempt at a blockbuster product to be iTV. Piper Jaffray's Gene Munster describes the product as a "
," an ambitious all-in-one device that combines the computing power of an Apple operating system, the programming from iTunes and iCloud inside a big screen HDTV.
Morgan Stanley analyst Katy Huberty has estimated the new product to be a $19 billion annual sales opportunity for Apple.
If anyone has the force of will to make the living room transformation of iTV happen, it's Jobs. Hey -- he got people to stop buying cheap MP3 players that held volumes of pirated music in favor of iPods that sold them $1 songs from iTunes.
So who knows what he could do to television?
Total Domination
Maybe it's because Jobs was fired from his company in 1985 as Apple was being crushed by Microsoft and the Windows-driven PC market. Maybe it's just the natural selection process, where some companies head for extinction as others ascend. Or maybe it's Jobs' brush with death during his 2004 battle with pancreatic cancer.
Whatever the case, Apple's road to success has left a bloody trail of one-time rivals.
Last week,
HP
(HPQ) - Get HP Inc. (HPQ) Report
, the world's No. 1 PC maker, said it's considering plans to break up the company and spin off its consumer business.
Nokia
(NOK) - Get Nokia Oyj Sponsored ADR Report
and
Research In Motion
(RIMM)
, once kings of the hill in smartphones, are now fighting for survival.
Apple has always had a go-it-alone approach to business, and Jobs has often been described as maniacally-focused on every aspect of product development. This innovation engine has been a jackpot for Apple -- and
pain for the rest of the sector
.
Jobs autocratic pursuit of his vision certainly hasn't been kind to competitors. And there's no sign yet that this steamroller is slowing down.
Apple's Astral Headquarters - Mausoleum
Nothing showed Steve Jobs as a man on a mission more than his building permit presentation before the fawning city officials of Cupertino, Calif.
Just hours after delivering what may be his last product showcase in June, Jobs gave a detailed overview of his plans for what he called the "best office building in the world." (Fittingly, the enormous circular glass building is planned for HP's former property.)
The spaceship-like facility will feature vast underground parking lots to preserve the green space above. It will be powered entirely by its own state-of-the-art, natural-gas fired electric generating station.
It's hard not to see the building as one of Jobs' crowning achievements, and, in many ways, a lasting memorial to a man who has had a deft hand in creating his own legacy.
--Written by Scott Moritz in New York.To contact this writer, click here: Scott Moritz, or email: scott.moritz@thestreet.com.Follow Scott on Twitter at MoritzDispatch