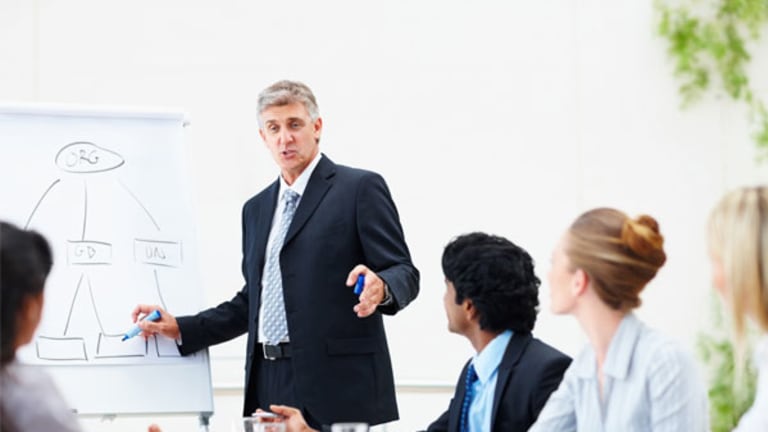 Steve Jobs' Big Mistake: Firing Line
Apple's chief is brilliant but not immortal. He needs to do a much better job at succession planning.
The Wall Street Journal
reported this week that Steve Jobs has been deeply involved in the tactical decisions about
Apple's
(AAPL) - Get Apple Inc. Report
new touch-screen tablet computer. He reportedly scrapped the initiative twice in the past year or so because of memory and power issues.
Jobs returned to the front office in June after a medical hiatus. His medical issues, including a liver transplant, raised eyebrows on Wall Street because the company communicated about them cryptically. As a public company, Apple has certain fiduciary duties with respect to disclosure of material facts, and many believed Apple failed to adequately disclose what was happening to its chief.
During Jobs' absence, employees took on more responsibility, and this is a good thing. Good leaders need to help those underneath them grow and take initiative. In a
, I discussed succession planning at
Yahoo!
(YHOO)
,
Merrill Lynch
(MER)
,
Lehman Brothers
,
Bear Stearns
and
Citigroup
(C) - Get Citigroup Inc. Report
.
Leaders must allow those under them to make mistakes and learn. As a leader, I recognize that the people I attempt to empower will come up short on occasion. I certainly do. But I also work to make these "successful failures" that provide useful lessons that can can be applied down the road to improve our organization.
This probably won't be news to anyone, but Jobs is not going to live forever, as his recent medical leave demonstrates. Eventually he will need to hand the reigns over to someone else. Apple needs to decide sooner rather than later whether it is a cult or a religion, the difference being that religions survive the loss of their leaders. Currently, Jobs is Apple. He appears to Main Street and Wall Street as the brand and the brains. If Apple suffers an unexpected loss of its leader, or someone isn't ready to step up and take command, the company is going to take a hit.
The captain of a ship always has the right to head down to the engine room to check what's going on. As a matter of fact, I encourage it. Getting up close and personal with your people, listening to their concerns and caring for their well being helps build a strong organization.
But there's a fine line between shaking hands with the folks in the engine room and moving them out of the way to push the throttle forward. If the captain of a ship has done his job correctly, the chiefs leading the sailors in the engine room are top notch, properly trained and know that the captain trusts them to execute.
A leader sets the vision for an organization and develops a strategy to support it. From that strategy, managers develop operational objectives and the tactics necessary to achieve them. A leader who feels he or she must be deeply involved in the tactics hasn't done a good job setting the strategy or doesn't trust his or her employees. Either way, it's not a formula for long-term success.
I'm personally bearish on Apple. An investor who agrees with my thesis could consider selling a front-month call spread. The September 175/180 call spread brings in a net credit of $1.35. With implied volatility at 30%, there's a 70% probability of the stock being below $176.35 (the breakeven) by expiration.
But when I "red team" this thesis I know that Apple stock has been supersonic lately, nearing its August 2008 highs. It's up over 100% since we cratered in March and was recently trading for more than $169. The company has a loyal following and makes great products. Betting against Apple is not for the faint of heart.
Firing line: It remains to be seen if this ascent is sustainable when the veteran pilot ejects without a copilot and leaves a crew that is accustomed to being told what to do.
Matthew "Whiz" Buckley is the Managing Partner of
, a business-consulting firm specializing in leadership development, risk management, and strategic planning for Fortune 500 companies and related organizations. Whiz flew the F-18 Hornet for the U.S. Navy. He's a graduate of TOPGUN, has close to 400 carrier landings, and flew 44 combat sorties over Iraq. He transitioned to the business world after he was scheduled to fly his first flight as an airline pilot on 9/11. Instead, he ended up flying combat air patrol over the U.S. He rose rapidly though corporate America, starting as Managing Director of Strategy at a Wall Street firm, to CEO of a financial media company. He is an internationally recognized speaker and combined his unprecedented experiences in the military and corporate America in the writing of From Sea Level to C Level.