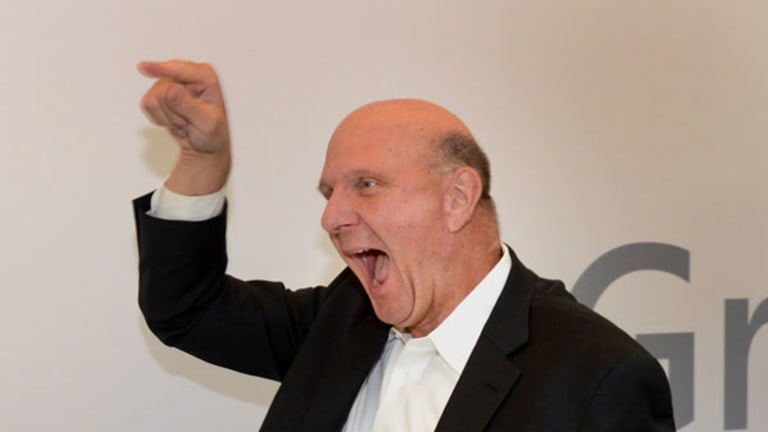 Steve Ballmer: The Rob Ford of Tech
A BloombergBusinessweek piece exposes Microsoft's Steve Ballmer for the incompetent CEO he was.
A BloombergBusinessweek piece exposes Microsoft's Steve Ballmer for the incompetent CEO he was.
NEW YORK (TheStreet) -- I like to heavily promote articles written by authors at TheStreet. And I do so often. Keeping it within the family.
But, from time to time, writers/reporters at other media outlets do work that's so good I feel no provincial guilt for sending you to another site.
Plus, over the last year, I have cited the source -- BloombergBusinessweek -- repeatedly. Because they just keep churning out excellent work.
The latest -- a story by Dina Bass, Beth Jinks and Peter Burrows -- titled Microsoft's Nadella Manages Legacy of Ballmer-Board Split.
The only gripe I have with BW over this article is the headline. It doesn't do justice to the explosive contents of the piece. If there was ever a time when for an over-the-top lede, this was it.
The story expertly (and concisely) chronicles how Steve Ballmer navigated failure at Microsoft (MSFT) - Get Report.
I won't excerpt the heck out of it. Just read it.
But, while it's difficult to decide on one, my favorite parts have to be the section on Ballmer's outburst over the Nokia (NOK) - Get Report talks ...
Ballmer was so loud that day in June his shouts could be heard outside the conference room. people with knowledge of the matter said. He'd just been told the board didn't back his plan to acquire two Nokia units, according to people with knowledge of the meeting. He later got most of what he wanted, with the board signing off on a $7.2 billion purchase of Nokia's mobile-phone business, but by then the damage was done.
... and the section on the failure of Microsoft's Surface Tablet:
The tablet Microsoft finally came out with in October 2012, the Surface, was a dud. Windows 8, with a touch-based design, was released to mixed reviews. The smartphone operating system, Windows Phone, wasn't a hit either -- but Ballmer remained committed to it. A deadline was looming that would result in one of his last rolls of the dice.
I still believe, as I argued last summer, that the SEC should have scrutinized -- or worse -- Ballmer and Microsoft for their misleading comments on Surface tablet sales before the company took a massive writedown on the failed device:
--Written by Rocco Pendola in Santa Monica, Calif.
Disclosure: TheStreet's editorial policy prohibits staff editors, reporters and analysts from holding positions in any individual stocks. Rocco Pendola is a columnist for
TheStreet
. Whenever possible, Pendola uses hockey, Springsteen or Southern California references in his work. He lives in Santa Monica.