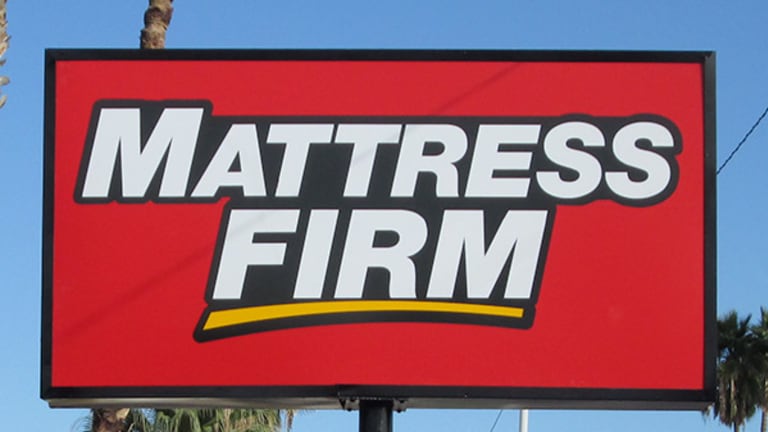 Here we go with the wackiest acquisition to date in this nutty 2016: Steinhoff International Holdings (SNH) - Get Senior Housing Properties Trust Report to buy Mattress Firm (MFRM) , the gigantic mattress retailer, for $64 a share in cash. When you add in the debt load, Steinhoff is shelling out $4 billion for the largest bedding retailer.
Do you know that until this bid, there were many in the hedge funds community who believed that Mattress Firm might not make it? This thinly capitalized company had taken down $1 billion in debt to buy all sorts of rivals, including Sleepy's last November for $780 million. The acquisition, which made it a coast-to-coast retailer, also cause real growing pains as the company proceeded to miss two quarters in a row in this highly cyclical business.
That's how 41% of its float got shorted. Given that this company's stock went out at $29.74, just a couple of bucks from its low, there will be a massive short cover Monday.
I discovered Mattress Firm as a high flier that could go either way. But the last acquisition proved terribly cannibalizing, and there seemed no coming back from it if housing stalled.
Clearly the judgment of Steinhoff is that the stalling's not occurring, a judgment that seems to be in line with the very strong RTH ETF.
I don't think I can convey properly just how shocking this is. It makes me wonder if the $11 billion Best Buy (BBY) - Get Best Buy Co., Inc. Report couldn't be rallying as it has without someone sniffing around. It's got me thinking about the $5 billion Williams-Sonoma (WSM) - Get Williams-Sonoma, Inc. Report . And even the $1.1 billion Restoration Hardware (RH) - Get RH (Restoration Hardware) Report . These are all heavily shorted stocks. After this deal, you have to wonder if the collective paid will be too great not to cover and cover aggressively.
At the time of publication, Jim Cramer's charitable trust Action Alerts PLUS held no positions in stocks mentioned.