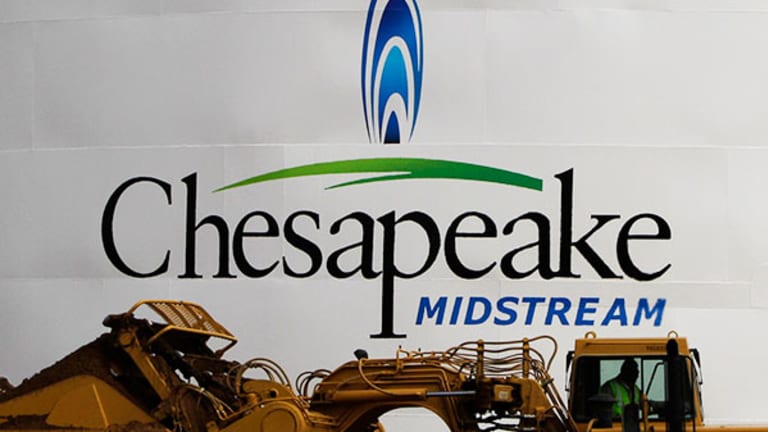 Steer Clear of Chesapeake Energy
This Oklahoma City-based producer of oil, natural gas and natural gas liquids has been on a steady decline, with no bottom in sight.
Chesapeake Energy (CHK) - Get Chesapeake Energy Corporation Report has been plummeting all year, with no end in sight. After its November 2014 high of $24.43, the Oklahoma-based producer of oil, natural gas, and natural gas liquids now hovers at around $8.
A majority of the downward trend can be attributed to the fall in crude oil prices. Over the past 12 months, the price of WTI crude oil has roughly halved from $80 per barrel on the NYMEX to about $47.
Oil prices have come under immense pressure as the U.S. pumps more oil and demand shrinks from Asian dragon China, amid a slowdown in its economy. Combine this with the Organization of the Petroleum Exporting Countries' (OPEC) fierce competitiveness for market share and the world is staring at a glut.
But the drop in energy prices isn't the only culprit for the stock's collapse. The company also has made grievous mistakes. Chesapeake isn't the only stock to avoid as this list of the market's 29 most dangerous stocks now.
After the
 and Eastern Utica shale assets last year, Chesapeake Energy confidently announced a liquidity position of approximately $9 billion. However, this figure is now just as shaky as everything else about the company, and it may barely close at $5.5 billion this year. In September, the company laid off about 15% of its workforce, most of the employees at its Oklahoma City headquarters.
The $9 billion has a slightly more complex story to tell. Cash on hand stands at $4.1 billion. The other $4 billion is the available capacity on its credit facility, undrawn for two years.
Chesapeake Energy will probably burn a total of $3.5 billion to $4 billion on its regular capex for growth by the end of the year. Since its cash outflows are not even close to its inflows, the company is using cash on its balance sheet to seal the hole.
Also, additional cash outflows for dividends, later suspended, would have led the company to outspend its cash flow to about $2.1 billion. Accordingly, the company's net debt has now jumped without any change in total debt.

Why are the financials this appalling?
The company's financials also display figures that are deeply disappointing. Not only has the net income for the most recent quarter turned into a net loss, it's plunged abysmally, to the tune of 2,250.8% year over year.
In line with the beaten-down stock price, EPS posted a 2,950% downswing to -$6.21 from $0.22 in the same quarter a year ago.
Apart from eroding net income, a higher debt management risk is another concern, with the debt-to-equity ratio at 1.29 times compared to 0.62 times for the industry.

So how's the competition faring?
Admittedly, these are dark times for everybody in the energy patch.
ConocoPhillips (COP) - Get ConocoPhillips Report , BP (BP) - Get BP p.l.c. Sponsored ADR Report and Anadarko Petroleum (APC) - Get Anadarko Petroleum Corporation Report have also gone down with crude, but they haven't displayed the level of under-performance as showcased by Chesapeake Energy.
While the stock prices of these three players have witnessed falls of between 10% and 20% so far this year, Chesapeake has nosedived with a descent of roughly 60%.
The upshot: Stay away from Chesapeake and these other dangerous stocks.
There are far better places to place your money.  
This article is commentary by an independent contributor. At the time of publication, the author held no positions in the stocks mentioned.