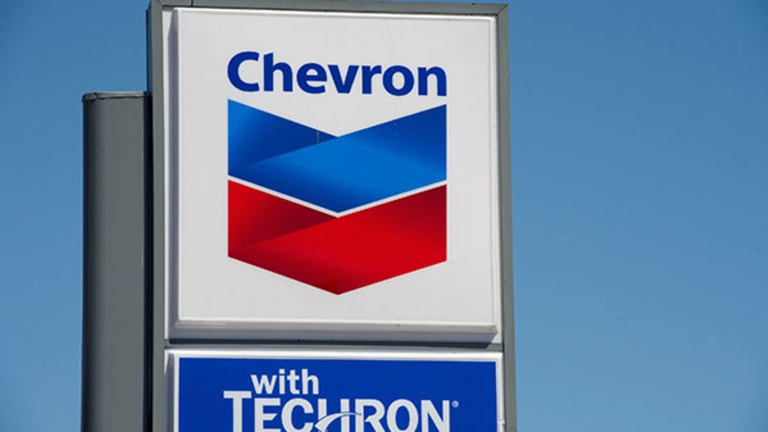 Stay Away From Chevron Stock Ahead of Fourth-Quarter Earnings
Until the economics of Chevron's business make sense again, investors should stay away.
NEW YORK (TheStreet) -- There was concern three weeks ago when oil prices broke a five-and-a-half year milestone, falling to less than $50 a barrel. On Wednesday panic set in as the price of crude oil fell to less $45.
That means Chevron (CVX) - Get Chevron Corporation Report will report quarterly earnings Friday amid a particularly gloomy environment for large oil companies.
Chevron shares closed Wednesday at $103.71, down 4.2%, and had lost even more ground early in Thursday's session, trading at $102.67 around 10 a.m. EST.
As of midmorning Thursday, shares had lost 8.5% so far in 2015, compared with declines of 3.4% and 2.8%, respectively, for the Dow Jones Industrial Average and the S&P 500. Worse still, shares of Chevron, which is headquartered in San Ramon, Calif., have lost almost 23% of their value in the last six months.
The main problem is a supply glut combined with the Organization of the Petroleum Exporting Countries' decision not to cut back on output. And that was its stance at $75 down to $50. Now analysts are predicting oil prices won't reach bottom until around $40 per barrel.
In this setting, an oil major such as Chevron must adjust its revenue and earnings projections and rethink the merits of its production projects. This is because with oil prices at depressed levels, the economics of the business/projects no longer make sense. This issue will also affect companies such as ConocoPhillips (COP) - Get ConocoPhillips Report , ExxonMobile (XOM) - Get Exxon Mobil Corporation Report and Royal Dutch Shell (RDS.A) .
Doug Leggate, an analyst at Bank of America who recently downgraded Chevron shares to underperform, says that Chevron's growth projection assumes oil prices at $110. With prices now at around $44 per barrel, there is a $66-per-barrel gap, and don't forget Chevron's net debt position of roughly $2 billion.
For Chevron's fourth quarter ending in December, analysts will be looking for earnings of $1.64 per share on revenue of $30.65 billion, representing year-over-year decreases of 36% and 45%, respectively. For the full year, analysts will be looking for earnings of $9.75 on revenue of $212 billion, down 12% and 7%, respectively.
As long as the glut of oil remains on the market, Chevron is likely to see revenue and profits decline. The company's ability to produce more oil is no longer an asset. And until the economics of Chevron's business makes sense again, investors should stay away from the stock.
This article is commentary by an independent contributor. At the time of publication, the author held no positions in the stocks mentioned.