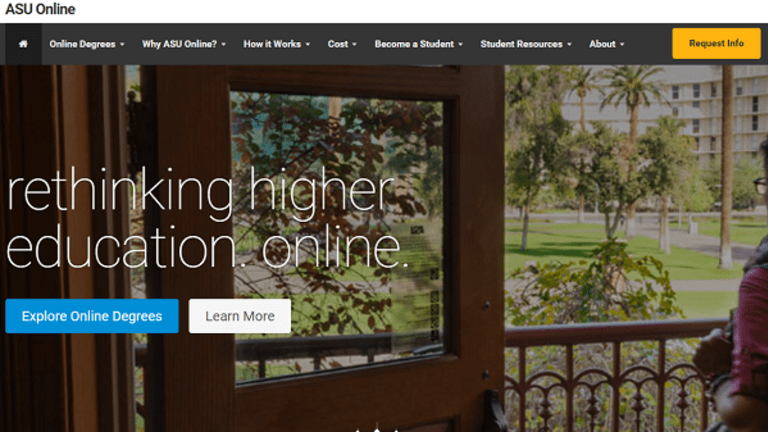 Starbucks Partnership With ASU Benefits Education Giant Pearson
Pearson's restructuring aligns the company with an increased focus in digital education and a partnership with Arizona State and Starbucks is driving results.
Pearson (PSO) - Get Pearson Plc Report is positioning itself well within the online education market, as traditional education continues to move towards a digital service.
The largest educational publisher in the world saw a total enrollment in its online higher education segment increase 24% year-over-year to 134,000 in the first half of 2015. The reason? A partnership between Pearson, Arizona State University and Starbucks (SBUX) - Get Starbucks Corporation Report . The company saw strong growth within its ASU Online program, as its known. And a key component to this increase was the strategic partnership between ASU and Starbucks where the coffee chain agreed to cover 100% of online tuition for qualified employees to ASU Online. 
The Starbucks tuition reimbursement plan has been expanded to over 140,000 full and part-time employees. This powerful connection will provide growth to ASU online enrollment for years to come. With Pearson operating as a provider and manager of the online platform, the company will benefit from the growing online higher education segment.
Pearson stock has struggled this year, experiencing nearly a 40% decline within the last three months. The stock is currently at 52-week low levels. Pearson's restructuring with an increased focus in the digital education technology sector positions the company well for the long term in the evolving education industry.
data by
In 2013, Pearson made strategic shift in attempt to increase the company's presence within the education technology sector. This was a critical move for the educational giant, diversifying itself away from print publishing, a main source of the company's revenue. To narrow the company's focus in the digital education space, 2015 saw Pearson sell several of its holdings, including the Financial Times, Economistand Power School, for a proceeds of $2.3 billion.
The shift hasn't been just good for Pearson. Starbucks gets a program that helps with employee retention and Arizona State has won accolades as well. U.S. News & World Report recently named ASU the Most Innovative College in the Nation beating out Stanford and MIT for the top spot in the survey.
Contractual Losses Not What They Seem
Pearson has received plenty of negative coverage due to losing several state-wide education contracts recent years. Since 2014, Pearson has been unable to secure contract renewals from some key state-school systems for their testing services, including a $220 million contract with Florida, a $240 million contract with California and a $340 million contract with Texas.
Testing only accounts for 7% of Pearson's total revenue, according to CEO John Fallon, and the total impact to the company of these contractual losses amounts to $100 million. Pearson still maintains the powerful engine necessary to expand its global education market share through a digital service transition.
This article is commentary by an independent contributor. At the time of publication, the author held no positions in the stocks mentioned.