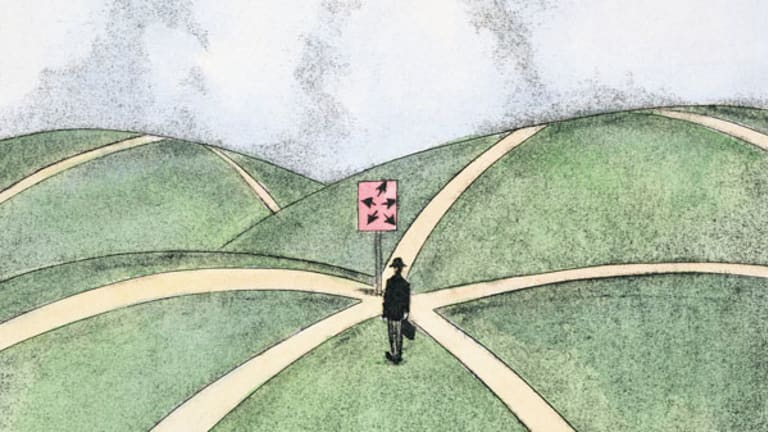 Starbucks' New Logo: Sleek or Bleak?
Starbucks unveils a new wordless logo. Is it a smart move for the coffee chain or a foolish move that will alienate customers? Vote in our poll and see what readers of TheStreet think.
(Starbucks new logo poll updated with additional commentary.)
SEATTLE (TheStreet) -- Starbucks (SBUX) - Get Starbucks Corporation Report unveiled a new logo last week.

In a video posted on its Web site last Wednesday,
Starbucks CEO Howard Schultz talked about the symmetry of updating its emblematic logo on the 40th anniversary of the company in March.
Starbucks' revised, streamlined logo removes the outer green circle that bares the Starbucks Coffee name, enlarging the inner siren, sometimes referred to as a sea nymph, in the company's signature green hue.
Vote: Is Starbucks' New Logo Sleek or Bleak?
Schultz said "this new evolution of the logo does two things that are very important; it embraces and respects our heritage and at the same time evolves us to a point where we feel it's more suitable to the future."
The CEO pointed out that the original Starbucks logo was brown, but was changed to green in 1987. It has gone through two other small changes since then. But now "the world has changed and Starbucks has changed," he said.
"The new interpretation of the logo at its core is the exact same essence of the Starbucks experience. And that is the love we have for our coffee, the relationship we have with our partners and the connection we build with our customers. What I think we've done is we've allowed her to come out of the circle in a way that I think gives us the freedom and flexibility to think beyond coffee. But make no mistake. We have been, we will continue to be, and we always will be the world's leading purveyor of the highest quality coffee."
Removing the word coffee from its logo is "an important step," Michael A. Yoshikami, president and chief investment strategist at YCMNET Advisors, told
TheStreet
.
"Starbucks knows that future growth will be in leveraging their brand into other products and markets," he added. "Eliminating
the word coffee helps the brand be more flexible in terms of products associated with the company."
"I think it's nuts," James Gregory, chief executive of brand consulting firm CoreBrand, told
Reuters
. "What's it going to be -- the coffee formerly known as Starbucks?"
Vote: Is Starbucks' New Logo Sleek or Bleak?
Gregory said the nameless logo is likely to hurt Starbucks the most in terms of the products it sells in supermarkets and other retail locations.
"There you're dealing with people who aren't enthusiasts. You're looking at something that's almost generic, and it's not shouting out as something that is Starbucks."
>> 10 Restaurant Stock Winners of 2010
"If they want to extend the brand, they can keep the 'Starbucks' and lose the 'Coffee'," Alan Siegel, CEO at strategic branding firm Siegel+Gale, told the newswire.
Harvard Business School professor Nancy Koehn wrote that, "what I am certain of is that Starbucks and its CEO, Howard Schultz, have a history of breaking new ground with the company's brand, and that one of the core attributes of this brand is
customer engagement
. Seen from these two vantage points, I'm betting that Starbucks will come out a winner with this move."
Writing in the Harvard Business Review, Koehn said Starbucks spent decades creating what is known as the Starbucks experience, "and this engagement helps us understand the passions aroused in the current debate about the logo. Whatever your opinion about Starbucks and its new logo, you are not likely to be indifferent or blasé."
Also on the HBR Web site, Nigel Hollis, chief global analyst at brand research consultancy Millward Brown, wrote that, "if the name "Starbucks" is so strongly associated with coffee that you have to remove the name in order to launch another product, does that not suggest that the corporate strategy is out of sync with customer understanding?"
Vote: Is Starbucks' New Logo Sleek or Bleak?
Starbucks said its brand is so ubiquitous it no longer needs to display its name around the logo in order for customers to recognize it, calling to mind other easily recognizable brand logos like those of
Nike
(NKE) - Get NIKE, Inc. (NKE) Report
and
Apple
(AAPL) - Get Apple Inc. (AAPL) Report
. A logo without words also reflects
Starbucks' expansion plans in China and other international markets, it said.
HBR's Hollis pointed out, however, that Apple removed the word "computers" from its company title only after it had established its reach beyond the PC with products like the iPod, iPhone and AppleTV. Starbucks, he argued, "is dropping the word coffee in anticipation of venturing into new territory."
A Rice University study on consumer reaction to logos showed that Starbucks' new logo could prove beneficial in the long run as it expands in Asian markets.
"The logo of a brand is much more than a pictorial representation of the brand," said Rice Professor of Marketing Vikas Mittal, co-author of two studies on customers, logos and brand commitment. "For consumers who are highly committed to the brand, the logo represents a visual conduit that enables a customer to identify with the brand. Our studies have shown that highly committed consumers also have very high levels of brand attachment. As such, any changes to the brand conduit -- the logo -- are seen as a violation of the psychological contract between the brand and the consumer."
One of Mittal's studies found that rounded logos are widely accepted in Asian countries such as India and China where interdependency and collectivism are cultural norms, as opposed to Western cultures which tend toward independency and individualism, according to the Rice University report.
Perhaps discount retailer
Target
(TGT) - Get Target Corporation Report
already knew that to be true.
Vote: Is Starbucks' New Logo Sleek or Bleak?
Recently, with no fanfare or press release to go along with it, Target, which already had a rounded logo, removed the words from its iconic bulls eye.
Fashion blog
Styleite
seems to be the first to have noticed after watching an episode of television game show
Million Dollar Money Drop
in which a contestant was asked to identify how many red rings surround the bull's-eye in Target's logo. (The answer is one.)
Mittal and his co-authors also found that negative consumer reaction to logo changes are strongest among a brand's most committed customers.
"It is important for companies to refresh their logos, but the process of doing so must be carefully managed," Mittal said. "Our research shows that companies need to carefully consult customers -- whether through Internet sites or chat rooms -- to ensure that customers feel they have been heard in the redesign and repositioning process. That will ensure that highly committed customers -- who are also often the heaviest consumers of the brand -- feel connected to the brand."
The professor said that while some loyal U.S. customers may feel alienated, Starbucks' new logo could drive new loyalties in strong emerging markets like China, India, Taiwan and Singapore.
That bodes well for
Starbucks, which recently announced plans to grow its presence in China by 40% this year, opening 200 new stores in the country over the next three years.
Starbucks also has plans to expand in India, according to an alliance with
Tata Coffee
, announced in mid-January.
Vote: Is Starbucks' New Logo Sleek or Bleak?
Under the terms of the deal the pair will collaborate on sourcing and roasting green coffee beans in Tata Coffee's Coorg, India-based facility, as well as jointly exploring "the development of Starbucks retail stores in associated retail outlets and hotels."
"This
memorandum of understanding is the first step in our entry to India," Schultz said. "We are focused on exploring local sourcing and roasting opportunities with the thousands of coffee farmers within the Tata ecosystem. We believe India can be an important source for coffee in the domestic market, as well as across the many regions globally where Starbucks has operations."
Ways in which Starbucks has been expanding beyond its signature coffee are through the marketing of Seattle's Best Coffee products and through its Via Ready Brew product line, instant coffee served in preportioned single-serve packets. Via was introduced last year to a surprisingly warm reception from customers. Earlier this week Starbucks rolled out a new variety of Via, a French Roast blend, now available at all Starbucks stores in the U.S. and Canada.
The coffee shop chain also offers customers artisan breakfast sandwiches, such as veggie, egg and Monterey jack cheese, and bacon, egg and gouda, along with other food items such as cookies, pastries and other snack foods. For years it has sold coffee paraphernalia such as coffee mugs, tumblers and hot drink holders, as well as CD compilations of music played in its stores.
"Even though we have been, and always will be, a coffee company and retailer, it's possible we'll have other products with our name on it and no coffee in it," Schultz said on a Webcast.
Still, Starbucks knows not all corporate redesigns come about smoothly.
Just a week after a clandestine unveiling of a new logo on its Web site,
Gap
(GPS) - Get Gap, Inc. (GPS) Report
announced in October it was backing off its infamous new design.
The Gap's old logo is at left; the logo it adopted and abandoned in the face of massive scorn is at right.
PepsiCo
(PEP) - Get PepsiCo, Inc. Report
had a similar blunder when it redesigned the packaging of its Tropicana Pure Premium orange juice cartons. The lackluster redesign elicited private-label or generic supermarket-brand juice containers, not the iconic and well-loved Tropicana most consumers knew and loved.
In February of 2009 Pepsi executives admitted defeat and said it would bring back the look consumers really wanted -- the classic orange with a red-and-white-striped straw poking out.
Pepsi's SunChips brand even had to abandon its progressive, fully compostable bag, released last year, because consumers complained the bags were too noisy.
With all this in mind, what do you think? Is Starbucks' new logo a smart, streamlined move for the coffee chain behemoth or a blunder-in the-making? Vote in our poll and see what readers of
TheStreet
think.
-- Written by Miriam Marcus Reimer in New York.
>To contact the writer of this article, click here:
Miriam Reimer
.
>To follow the writer on Twitter, go to
http://twitter.com/miriamsmarket
.
>To submit a news tip, send an email to:
.
READERS ALSO LIKE:
>> Starbucks Expected to Return 27%: Analyst
>> 10 Top Dividend Stocks for 2011
>> Bankruptcy Watch: 20 Riskiest Restaurant Stocks
>>See our new stock quote page.
Get more stock ideas and investing advice on our sister site,
Disclosure: TheStreet's editorial policy prohibits staff editors and reporters from holding positions in any individual stocks.