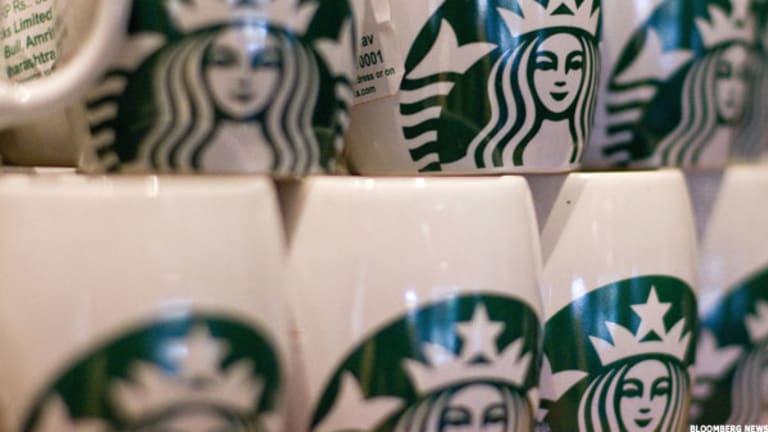 Starbucks Needs to Study Chinese History
Here's what Starbucks needs to understand in order to smooth over relations with China and Chinese customers.
NEW YORK (TheStreet) -- The recent drama between China and Starbucks (SBUX) over prices and margins isn't the first time the coffee company has rubbed Chinese sensitivities the wrong way.
In 2007, Starbucks' Forbidden City location became a focus of an Internet firestorm of debate. In what I would describe as "nationalism gone wild," Starbucks was forced to close the location. I saw the Starbucks, and it didn't take away from my experience of the Forbidden City.
I also know that many Beijing residents haven't even been to the Forbidden City, which makes me wonder how much they genuinely care anyway.
In order to understand why a Starbucks location in the Forbidden City or the price of coffee can turn into a powder keg of controversy, it's vital to understand China's history.
At one time, China and India accounted for more than half of the world's economic output. China was once the dominant power in the world, and Chinese considered their country to be the center of civilization. That's why the two characters that constitute the word "China" mean "Middle Kingdom."
In relatively recent history ("relatively" being the key word, given China's long history), China has endured foreign invasions and occupations, from Mongolians in the north, English in the south, and French, Russian, German, Japanese, the U.S., Portugal, and others everywhere in between.
One by one, each occupier pointed a gun and stated that either China surrender a piece of territory or go to war. Needless to say, these were anything but gracious and courteous affairs.
The scars from these conflicts are permanently seared into the collective consciousness. Chinese officials may grudgingly tolerate foreign brands in order to facilitate foreign sales, but it doesn't mean they're going to give an inch more than they need to.
It's no wonder that officials are quick to protest a foreign company's action if it appears that Chinese are being treated as less than equals. After
Apple
(AAPL)
was accused of offering Chinese customers inferior warranties compared to those offered in the West, Apple didn't make excuses or talk about differences in the markets. It quickly changed the warranties in question and CEO Tim Cook made a trip to meet with officials.
Apple demonstrated how to handle a problem in what will soon be the largest consumer market in the world. Starbucks, on the other hand, could do a much better job. Starbucks should focus on the strength of the Chinese market.
By changing the conversation to one that is about the robustness of the Chinese economy, Starbucks can defuse pricing concerns much easier than trying to simply justify higher (and perceived to be exploitative) prices and margins.
It wouldn't hurt for Starbucks' CEO Howard Schultz to make a trip demonstrating how valuable the market is to the corporation and the value of the partnership. After all, the Chinese aren't asking for much, just a fair deal that anyone of us would want.
At the time of publication, Weinstein had no positions in securities mentioned.
This article is commentary by an independent contributor, separate from TheStreet's regular news coverage.
Robert Weinstein is an active trader focusing on the psychological importance of risk mitigation, emotion and financial behavior of market participants. Robert co-founded the investing blog
, where he writes a journal about his trading activity and experiences.
In addition to
TheStreet
, Robert also contributes to
Real Money Pro
, providing real-time trading ideas for stocks, options and futures.