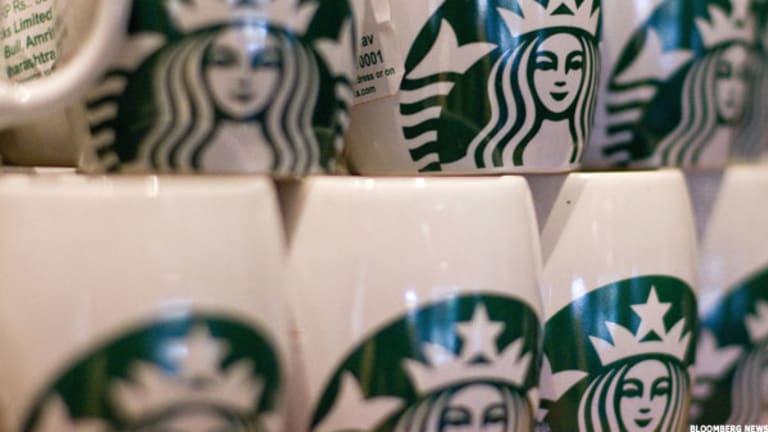 NEW YORK (TheStreet) -- Consumer discretionary companies are doing their best to pull in dollars as we head into the holiday season.
But many indicators are pointing toward rough sledding this holiday season. There's the tough employment situation, payroll axes and falling consumer confidence.
Some savvy companies are attempting to fight the trend by embracing the holidays and integrating holiday themes into their brands and products. L Brands (LB), Starbucks (SBUX) - Get Starbucks Corporation Report and Williams-Sonoma (WSM) - Get Williams-Sonoma, Inc. Report are three such companies.
L Brands owns a bunch of exciting brands: Victoria's Secret, Pink, Bath & Body Works, La Sensa and Henri Bendel.
Shares of the company have gained about 39% so far this year, buoyed by strength in the consumer discretionary sector and the broad markets.
L Brands recently released its Victoria's Secret holiday catalog, which is full of products with holiday themes. The Very Sexy, Bombshell and Dream Angels lines underwent changes to reflect the season. By offering consumers an opportunity to match their wardrobes to the season, Victoria's Secret looks set to create additional demand during the holidays.
Moreover, L Brands has even incorporated its Pink brand into the season with separate holiday offers.
I've looked and written about Starbucks quite a bit in 2013, maybe because the company has outperformed all comparable companies and averages with returns of 52% so far this year, or maybe because I visit a Starbucks almost every day.
A couple of weeks ago I published an article here where I looked at the driving forces of the company's astonishingly loyal customer base.
I briefly discussed the company's seasonal offerings as a driver of loyalty throughout the year. It is no secret that Starbucks has pioneered coffee seasonality.

Seasonal offerings include the Pumpkin Spice Latte, Peppermint Mocha, Egg Nog Latte, Gingerbread Latte and Loaf.
How many of us can say we went to Starbucks on Thanksgiving or Black Friday or Christmas over the last year? I would say many of us have.
The company has successfully created products connected to something larger -- the holidays -- and now gives its customers something to look forward to throughout the season.
Lastly, let us quickly take a look at Williams-Sonoma, the company that brought the concept of Peppermint Bark to many people. For only $27, you can pick up a decent-sized box of this sweet treat for yourself or a friend.
Williams-Sonoma truly embraces the seasons year after year. Sections within the company Web site such as "Celebrate the Season" really highlight this focus.
The company offers holiday-themed products in all of its lines: food, entertainment, bakeware and decor.
Of the three companies we're discussing today, Williams-Sonoma caters to perhaps highest-earning customers.
Analysts recently have suggested that higher-end retail will outperform this holiday season. I would think Williams-Sonoma really fits this bill as the bulk of its product offerings are available only to high earners. I feel the combination of seasonal focus and higher-priced luxury products sets the company up well for this holiday season.
I expect these three companies to outperform the vast majority of consumer-discretionary companies this holiday season.
This article is commentary by an independent contributor, separate from TheStreet's regular news coverage.
Nate Matherson is currently a student at the University of Delaware where he is pursing degrees in Finance and Economics. Over the last year, Nate has actively produced investment analysis and opinion for a number of financial media companies including TheStreet.com. Upon graduation in 2016, Nate would like work within asset management.